The Grapevine Art & Soul Salon
WHY WE LOVE ATLANTA
One advantage of having an online journal is its virtual reach over a range of cultures and into the lives of as many readers as we can find who in turn find interest in The Grapevine. The main disadvantage is that we miss having a local habitation with a name. We are grounding our journal by paying attention to Atlanta, north by northwest in the state of Georgia, USA, Planet Earth, where most of us who write for The Grapevine live and move and have our being.
We are always on the lookout for soulstirring places and people within the city and the metro area.
One of the many reasons for loving Atlanta is the city's outreach to other places in the world through individual citizens and organizations where "giving back"to the world is a motivating force.
The organization we want to report on in this issue of The Grapevine is a group called Wells for Hope, established after publication of a book co-authored by Estelle Ford-Williamson with Majok Marier. We highly recommend the book, as you will see by reading our review of Seed of South Sudan: Memoir of a "Lost Boy" Refugee published in The Grapevine just after the book came out in 2014.
Reading the review (and the book, of course) will greatly enrich your appreciation of these photos and comments.
***
WELLS FOR HOPE: Estelle Ford-Williamson
Each March, inspired by young people wanting to give back, we have a Walk for Water in downtown Atlanta. The next walk will be on March 11, 2018, and will leave from the Carter Center parking lot.
Fundraising such as this has resulted in the construction of wells in three rural villages near Rumbek, South Sudan, bringing clean water and reducing the enormous burden of women and children walking for miles to gather water every day.
Women are now growing crops for market as well as for their homes, so they actually receive cash for their products. Up until the well was built, they were subsistence farmers. Also, because they have these new business opportunities, they are staying in the village rather than following men to the cattle camps, dry season temporary camps they've gone to for centuries in order to find water for cattle herds. So lives are changing in the villages.
Our next project is to provide basic health care services to reduce maternal and children's deaths in these rural villages. Our most recent fundraising project:
On Sunday, September 10, Finders Keepers Boutique and Menswear store hosted a Shop Fall Fashion for a Cause event, and 1 in every $5 in purchases went to Wells for Hope. Fashion students from Grady High School helped select a smashing fall look from all the couture clothing and accessories at the store, 2134 N. Decatur Road, Decatur (near Emory U.).
For more on our schedule, including upcoming appearances in Atlanta and Cleveland, Ohio, go to http://www.seedofsouthsudan.com.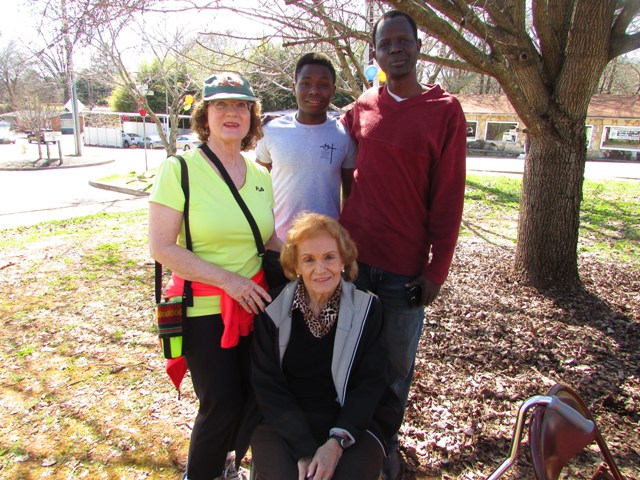 Estelle and Majok and young friend with "Mama" Gini Eagen, a Catholic Church pastoral associate, who welcomed Majok and other Lost Boys to the Atlanta area and has helped them in many, many aspects of their lives, including traveling back to South Sudan with them at the end of the Sudanese Civil War in 2005 as they reunited with their families. Gini helped Majok and Estelle and many other volunteers create Wells for Hope.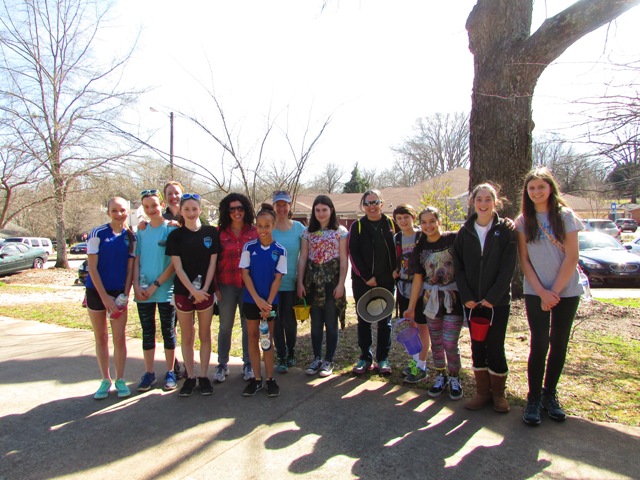 Inman Middle School seventh graders who turned out for the Walk for Water in 2016.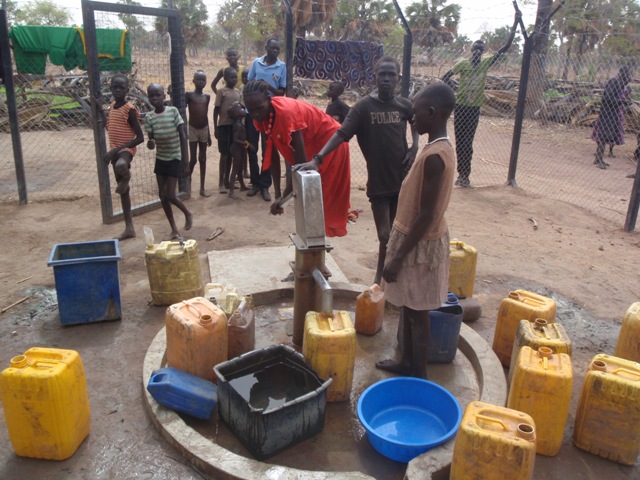 The villagers in Billing Daldiar watching and waiting to carry the water a woman pumps for women of the village so that they can be tending to their work.
*******
Estelle Ford-Williamson is a novelist and writer, co-author with Majok Marier, Seed of South Sudan: Memoir of a "Lost Boy" Refugee published by McFarland & Co. (http://www.mcfarlandpub.com/). She is also an advisory board member,Wells for Hope, Inc. You can Like the organization on Facebook: Wells for Hope/Seed of South Sudan. Her profile is on LinkedIn.
*********************************************************
Archived features showing WHY WE LOVE ATLANTA
Jonathan Knott: Harry Crews Redefines Freedom of Speech in Fiction
Charles Knott: Launching a Book in a Brew Pub: Shades of Harry Crews
Beckett Event and Emory University's Irish Connection
Jonathan Knott: THE MICHAEL C. CARLOS MUSEUM AT EMORY UNIVERSITY
Jonathan Knott: THE HEART OF THE FOX: MIGHTY MO IS PUMPING
Jonathan Knott: THE UNUSUAL PLEASURES OF OAKLAND CEMETERY
Jonathan Knott: CENTER FOR PUPPETRY ARTS, Great Expectations
Barbara Knott: Ole! To CALO THEATRE COMPANY's Once Upon a Christmas In Olelucia
Searching for International Atlanta
Tracking History: ATLANTA HISTORY CENTER Visualizes the Civil War a Century and a Half Later
MASK THEATRE Production of 'The Heart of Rumi"
Looking at Western Art, with some Delightful Digressions
Curiosity and Flamenco Create a New Wonderland
I Got Stung at the Yellow Jacket

Copyright 2017, Barbara Knott. All Rights Reserved.