The Grapevine Art & Soul Salon
Views and Reviews: Barbara Knott
Searching for International Atlanta
In our quest for intimations of art and soul in Atlanta, we settled in on Saturday night at Vino Libro, a sexy lounge/winebar/bistro/bookstore in "edgy" East Atlanta's Glenwood Park, a mixed-use project of 28 acres off I-20 at Bill Kennedy Way that also features a coffeehouse happily named Perk.
We went primarily for the flamenco dancing performed on the first Saturday night of each month by Calo Gitano and settled into the large lounge with hardly a glance at the book room or dining room. I was attracted to a giant chair in the corner and sat down there for a moment before I was alerted by a waitress that the chair has a tendency to break. Her warning was more giggle than grim, and her good humor lasted through the evening. She and others were attentive and casual, sometimes sitting down with us to rest a moment while they waited for us to make up our minds which wine or tasting plate we wanted next.
Of these, I had a glass of shiraz and shared a bowl of hot pita triangles that we dipped into roasted garlic and herb hummus. On our low table in front of couch and armchair were also plates of cheese, crab cakes and skewered steak with fresh and delicious sauces.
Most dishes are below $10. I recommend buying a bottle of wine for $30-$40 or so rather than paying around $10 per glass.
How I found out about Vino Libro and was lured there to the flamenco performance is more interesting than the ambiance, though that was thoroughly enjoyable.
Last time I took my car to be serviced, I rented one from Enterprise. The driver who picked me up and did the rental paperwork was noticeably uncommon. I could tell by his appearance (tall, handsome enough to have risked shaving his head, impeccably dressed in suit and tie) and his diction (educated, articulate) that he had more going on than appeared in this circumstance. When he learned that I am a humanities teacher, he opened his naturally friendly face to a deeper interest and turned my attention to flamenco, eliciting from me a declaration of admiration for Manuel Maya, known as Manolete, the great dancer from Granada nicknamed for Spain's renowned bullfighter. Turned out my driver is a full-time medical student, but that fact seemed incidental to another: he is a flamenco dancer, not yet well known in Atlanta but increasingly sought out. Witness: I went to Vino Libro to see him and invited friends to join me. We were not disappointed.
His name is Kwajo Abeyie. He calls himself "Joe" on the job and El Moro on stage. Of the stage persona I will write more later.
He invited us to Vino Libro to experience the young, lovely and lively art of Calo Gitano, a dance troupe that runs a dance school and performs in Atlanta.
I say "young": the lead dancer and co-founder of the group, Marianela (Malita) Belloso, has been dancing for 25 years. But then she started in her native Venezuela at the age of 6. She joined up with flamenco guitarist Farzan Kendrick (Iranian) in 2000 to found Calo Gitano in Atlanta. He also has more than 20 years experience as a guitar soloist and accompanist to flamenco singers and dancers. In 2004 they engaged Kevin Wilson from Lansing, Michigan, with a background in theater and music. An attorney by day, Wilson goes Dionysian by night to sing of bittersweet life that always suffers, sometimes is torn to pieces, and often, in flamenco songs from the south of Spain, emerges triumphant in the face of death. He and Kendrick weave the musical threads for the passionate dancing of Malita Belloso and Ania Yeas (Poland), Diana Corico (Switzerland) and Isabel Blankenship (Brazil). Together they reflect the cultural diversity that is making Atlanta seem now like an international city.
The previous comment was not given without conviction. Atlanta has appeared to be an international city for many years, but much of the claim was premature. I have felt the art of other nations to be well represented here many times, especially by touring performers such as the Chinese Opera or Riverdance from Ireland or Ballet Folklorico de Mexico, and visiting exhibits, like the artworks from the Louvre on display now at the High Museum.
But tonight was the first time I have felt the emergence of international art from within the city (except occasionally in the summer in Piedmont Park when African drumming fills the air). This evening took me back to Geneva, Switzerland where I first saw a live performance of flamenco.
Calo Gitano's art is not raw and hopeful; it is accomplished. All four dancers are exquisite to look at, with long, willowy torsos in fitted dresses like liquid silk, flowing into billowing long skirts, crashing against the surf of the music and turning with it to begin again the passionate crescendos. Rhythms are hammered out by the pounding of so-intelligent feet wearing shoes encrusted with tiny nails on the heel and toe. In pairs or solo, the dance movements are like fire struck from the drumming of feet on floor. Fire and water, earth and air. How the dance imitates the elements and makes one rush into metaphors that crash and flame and flow! Farzan Kendrick's guitar gives the dancers musical form, and Kevin Wilson's singing adds the passion of the voice to that of their feet.
When Malita finishes a piece in which she has expressed duende, too simply defined as a trance-like immersion in the passionate conjunction of art, sex and death, Kevin calls out his praise. Malita is not only a dancer; she is also (recently) his wife. His excitement in this case is for the dance. She is clearly a master of the forms and a vessel for the passion of flamenco.
Back to Joe, who is known to the dancers as El Moro (the Moor). At the end of each set of dances, there is an invitation to the audience to come forth. Malita calls for El Moro, who delays his participation only for a moment, which feels like the teasing that is so much a part of flamenco "courtship." Then he performs: stamping and turning, arms held in front and aloft, sudden bursts of declaration with his feet, retreat and return to gestures held briefly in stasis and then absorbed again in motion. When Malita joins him for an all-too-short duet, the excitement is intensified, and I wonder that Calo Gitano has not added a male dancer to their troupe, given the focus in flamenco on masculine displays and rhythms, of which El Moro makes such a splendid show.
Perhaps in time. For now, I am content, as my friends are content, to enjoy the luxury of such fine entertainment in such a promising setting as Vino Libro. Bill and Pearla Kennedy, who traveled in the spring to Spain where they visited gypsy caves of Granada for the flamenco music and dancing, compliment Calo Gitano and El Moro, revealing their enthusiasm for the performance here and now by comparison to their experiences in Spain, which were impressive but less satisfying.
Jonathan Knott made the following photos, prepared by Bill Kennedy for the website.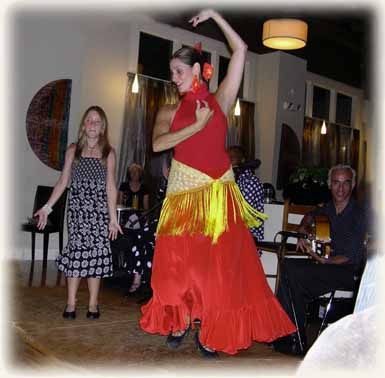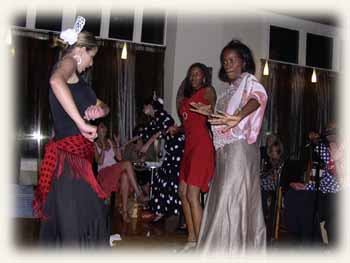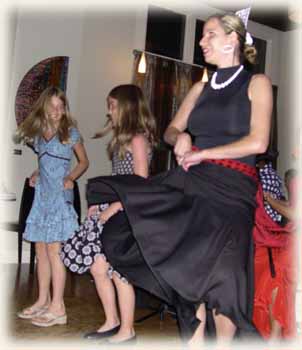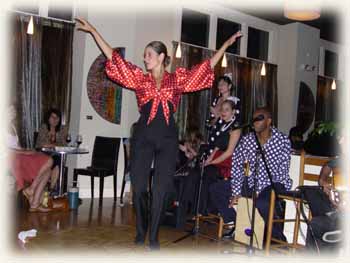 Above you can see Malita in orange dress and later in pants and shirt, with Farzan on guitar and Kevin in the dotted shirt. Izabel dances with members of the audience.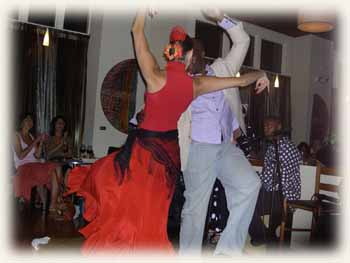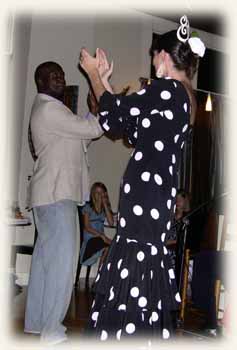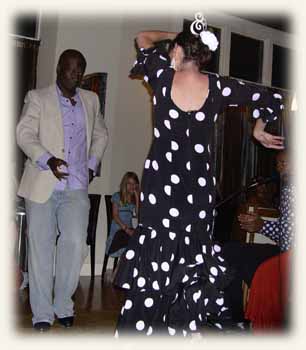 And here is El Moro dancing first with Malita and later with Diana in the polka-dotted dress.
COMING UP in the next issue: more on EL MORO and DUENDE.
Copyright ©2007 Barbara Knott · All Rights Reserved
Contact the
Webmaster