The Grapevine Art & Soul Salon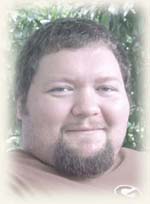 Tracking History: Jonathan Knott, Host
Valley of Fire
During my recent trip to Las Vegas, it had been my intention also to visit the Grand Canyon. After finding out that wasn't going to be practical, I decided to put that idea on the back burner for a future trip. I stumbled instead across another Nevada state park (its oldest, since 1935) and national treasure: the Valley of Fire.
Less than an hour's drive from Vegas, the Vally presents one of the most stark contrasts imaginable. As my companions and I drove our rented SUV down the long, straight, nearly deserted highway I marveled once again at the scale of things in the Southwestern desert. There are fantastic blue-grey mountains in the distance that, despite being in the middle of the Mojave Desert are snow-capped! Between the highway and the mountains are endless rocks, cacti, mesquite trees and the occasional hardy desert flower that manages to thrive despite its harsh surroundings.
At one point a railroad track ran parallel to the highway, and I found myself driving right next to a good old BSNF freight train exactly like the ones that pass my house daily (There's one blowing it's whistle now as I type). It was fun to drive alongside and measure the train's speed with my own vehicle's instruments, but the lesson in scale occurred when the track veered off at an angle so the train could go around a huge concrete bunker (I have no idea what it was or why it was out there) and by the time I saw the train again half an hour later, it was a tiny, barely discernible thing in the distance despite being a mile and a half long at least. But it looked no closer to the distant mountains at all. Imagine trying to walk to them on a nice hot day…yikes! I expect there are many bleached bones out there from people who misjudged that very distance in the past.
Eventually, we reached the exit for the Valley of Fire highway, which is a little two lane road that goes off perpendicularly and seems to lead right out into nowhere. The plants and rocks and tumbleweeds were closer now; the connection to the landscape more intimate.
The closest plants become recognizable: prickly poppies, ghost flowers, yellow desert primroses and owl's clover, all poking out here and there through the sand and brush as if in defiance of the elements. Then the road got narrow and windy, with slightly awkward grades and corners that required slower travel and were exactly the sort of conditions in the dry summer that cause breakdowns in vehicles not kept in top shape. At this point we all looked at each other and expressed relief that we had opted to rent a new Lexus SUV rather than trust in something with greater mileage and/or lesser engineering (I thought in particular of the number of times I'd been stuck on the side of the road as a teenager from driving a worn-out vehicle; this definitely wasn't the place for that).
After 15 miles or so, you travel downward and enter into the Valley itself, and my goodness it is an amazing sight. What was a freshwater sea hundreds of millions of years ago has become 46,000 acres of red sandstone (Aztec sandstone) formed in time from shifting sand dunes into fascinating shapes and outcroppings that seem to be on fire in the shimmering sun. The rich silt left behind from the sea explains the plant life and pieces of petrified wood scattered throughout; at first glance it doesn't appear to be a place where humans could have thrived, but in fact several cultures did and left behind plenty of evidence.
The oldest we know of were the Gypsum people, nomads who lived there in caves from around 2000 BC to 200 AD. They hunted to near extinction the abundant Bighorn sheep native to the area. Not knowing how to plant and cultivate crops, they finally had to move on. The Basketmakers (known as such for making high quality, multi-use containers out of willow) were better able to adapt by hunting smaller animals (turtles, rabbits, lizards) and planting corn, beans and squash. Towards the end of this period (50 BC to 500 AD) they moved out of caves and into pithouses near streams that helped them irrigate their crops. They became known at this point as the Anasazi or "ancient ones." From this time we see pictographs that show gods and daily life, as well as the first known images of the popular flute-playing fertility god Kokopelli.
The Anasazi developed the bow and arrow about 500 AD (everyone to that point had been using the atlatl, a spear-throwing device that originated in Africa thousands of years ago and spread to other areas through migration), and the result was another near extinction of the poor Bighorn sheep. The Anasazi then learned to trap smaller animals and spent spring and fall hunting in the valley, and the rest of the year cooling off in the mountains. They also developed a trade network that extended to California and Mexico. However, the rivers and streams eventually dried up as the climate changed and they were forced to abandon their crops and leave.
The Southern Paiutes (aka "The People") emerged around 900 years ago and thrived by their ability to move around from season to season and be in the right place at the right time to hunt animals and gather wild growing plants and grains. More recently, they were adaptable enough to avoid the invading Spanish and Western migrants and are still the resident Native Americans of Nevada.
Nobody lives in the Valley now, however, outside of the visitor center. There is a paved route through the park, though, where one can see and climb on the most spectacular outcroppings, and places where several Hollywood movies were filmed (for example, all of the outdoor scenes on Mars from "Total Recall," which give one an idea of how alien it looks, as well as Kirk's death scene from "Star Trek: Generations"). The Silica Dome, Elephant Rock, Windstone Arch and Fire Wave are a few examples of places in the valley where one can stop and look for pictographs and petrified wood, and perhaps spot some of the wildlife now thriving again. There are hiking trails and spots to hook up one's RV for camping. I can imagine what it's like to be there at night!
It's quite a change of pace to head from the Valley back to the glamour and glitz of the enormous hotels, casinos, fountains and palm trees filling Las Vegas, a place where NONE of these things should be able to exist. Both the valley and the city not far from it are things one can only see in America. I just hope the newly-protected Bighorn sheep aren't holding a grudge.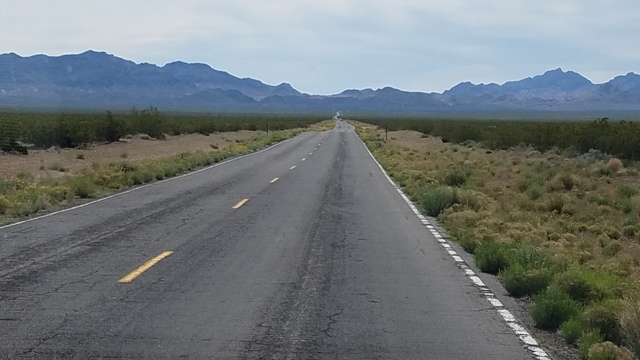 On the Road to Valley of Fire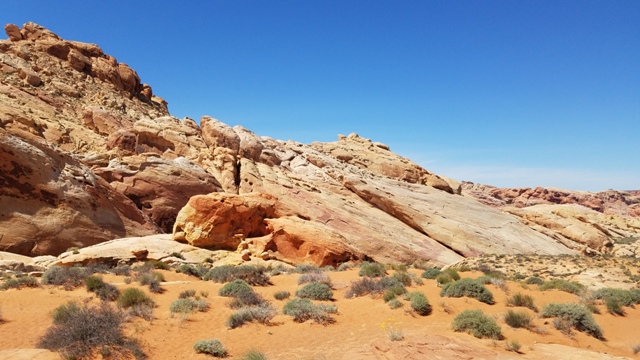 Arriving
Valley of Fire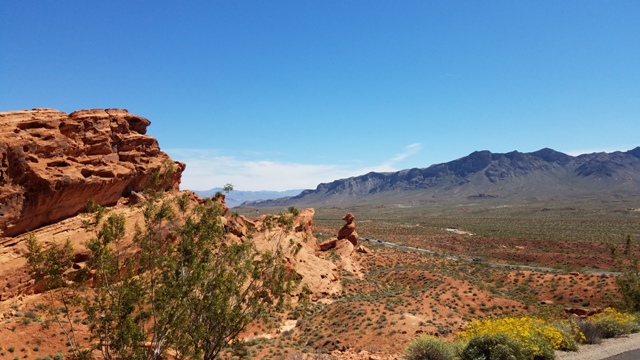 View from Valley of Fire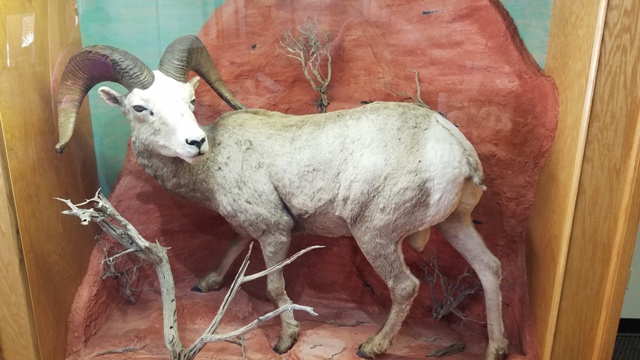 Bighorn Sheep Preserved
*******
The Wild Side of Cities: Las Vegas
Every city has its own vibe, color and character. While exploring cites as a whole (especially the museums) is a pastime I thoroughly enjoy, I always make sure to check out the one area every major city has, where at certain times (in America usually Friday and Saturday nights) restrictions are relaxed and tourists gather to observe and mingle with the wildest and most interesting of the local people in the one environment where everyone is allowed to let their hair down. These places usually have sawhorses up to keep traffic out of the area so people can wander en masse, as well as enhanced police presence to prevent violence, while holding a "look the other way" attitude towards anything short of that in an effort to promote tourism.
As for the aforementioned tourists, they're similar everywhere I've been. The American ones have achieved a reputation (which I'm afraid I tend to agree with for the most part) of often being obnoxious and uninteresting, even more so when going abroad. But the locals are unique from place to place, and these zoned-off environments preserve the shaggy soul lurking at the heart of every worthwhile metropolis.
Prior to my recent trip to Las Vegas, I had visited several such special places. Beale street in Memphis is almost entirely blues bars and BBQ joints, with rows and rows of gleaming Harley-Davidsons parked on the sidewalks, the only vehicles allowed in on Friday and Saturday nights (motorcycles, that is—not just that brand). Crowds of long-legged girls in cut-off blue jean shorts and cowboy boots prance by hirsute locals playing blues guitar for change on the sidewalks outside the clubs, all hoping to headline inside one day. Most of them would headline in the blues bars of other cities, but Memphis is the epitome of that discipline and acknowledges only the best.
Bourbon street in New Orleans has a much more eclectic vibe, as it's a port city (and all port cities are a little rowdier than inland ones in my experience) and was settled over hundreds of years by different cultures. The French, Spanish, African and Haitian influences are all on display in the architecture, in world-class Cajun and Creole food, as well as in the varied and colorful outfits and customs of the local people. It is virtually impossible to "stand out" on Bourbon street (or the French Quarter in general) where one might see just about anything, especially during festivals. It's the birthplace of jazz, and these colorful folks are apt to break out in a party of some sort at any time, even (and especially) at a funeral. There is also an undeniable undercurrent of old-fashioned magic and mystery that I find particularly appealing.
The Temple Bar district in Dublin, Ireland, is now a favorite of mine. The streets are blocked off from traffic 24-7 because why? The party never stops. The streets are full of tourists doing their shopping at the stores designed for them; the real culture is indoor at the pubs because the weather is usually terrible. The pubs are warm and inviting, with rich old woods and extremely skillful bartenders (as one might imagine with Ireland's well-deserved reputation for drinking). Most of the chairs are there mainly for taking the occasional rest, as the patrons tend to dance and sing constantly. Nobody parties as continuously hard as the Irish; the wildest time I had there was at ten o'clock on a Sunday morning. It's a warm and welcoming place where everyone seems to be compatible and completely comfortable in their skin; it's the only place I've ever been dragged out onto the dance floor and handed an imaginary microphone by crowds of complete strangers.
The funkiness of Greenwich Village in New York, the happy hippieness of Haight-Ashbury in San Francisco, the wild abandon of St. Patrick's Day on River street in Savannah (where even the waters of the river run green), the ambitious street poets of Little Five Points in Atlanta, the tantalizing grittiness of La Zona Norte in Tijuana … I have enjoyed them all. What would Fremont Street in Las Vegas have to offer?
Located in the "old" part of Vegas away from the more modern strip, it begins at an intersection of four of the older hotels and casinos and ends … well, I'm not sure as I only made it a few blocks. It doesn't have any old architecture or unusual cultural influence; it makes up for these things in typical Vegas fashion: glamour, glitz, volume and spectacle. The blocked off traffic and relaxed open container laws are the same as the previous places I mentioned, but the difference is visible even in the reaction of the tourists. Out-of-towners stand around gaping as their eyes and ears are bombarded with lights and soundstages set up in the street with live bands playing eighties cover music at enormous volume, outdoor bars and women dancing in high heels on the countertops … the street is even covered by a metal canopy about 50 feet off the ground that acts as a giant video screen roof, lest there be any viewable direction without bright lights and imagery. There are even four parallel ziplines running from building to building under the canopy so every minute or two people go flying over your head in special harnesses that allow them to still hold their drinks.
Celebrity imitators are everywhere, from Prince to Chewbacca to, of course, a fleet of Elvii, any of which would be glad to take a pic with you and your crew.
There are stores and stalls that sell Native American art and trinkets, others that sell Indian art and trinkets, and others that market most everything in between. Much like the rest of the city itself, Fremont's uniqueness is not because of any one influence, but rather that most major cultural styles have been appropriated en masse and reproduced on a slightly smaller scale individually (the Great Pyramid at the Luxor Casino is smaller than an actual Great Pyramid, but still huge; the reproduction of Venice in the Venitian is not as large as the actual city, but seems so, and so on) but all at once, overwhelmingly, in the middle of the desert where there ought be nothing but cacti and toads. No other country could produce such a place, nor would it occur to them to do so. The local wild folk here aren't embracing and projecting the blues, or jazz, or centuries of foreign influence. They are embracing and projecting Americana in all its excess. The impossible made possible for no apparent reason, other than the idea that if you can dream it, it can become a reality. On Fremont Street, the reality is a lot of fun, if lacking somewhat in substance.
The photos below are all of Fremont Street in Las Vegas.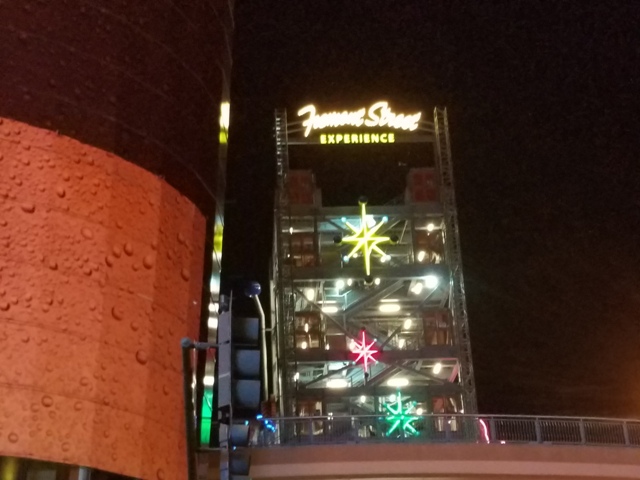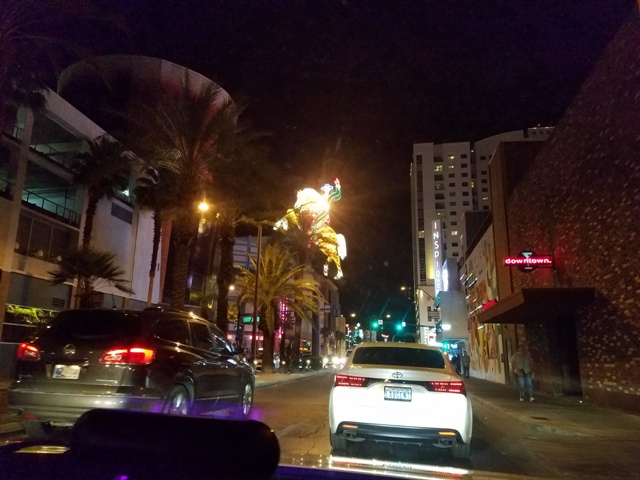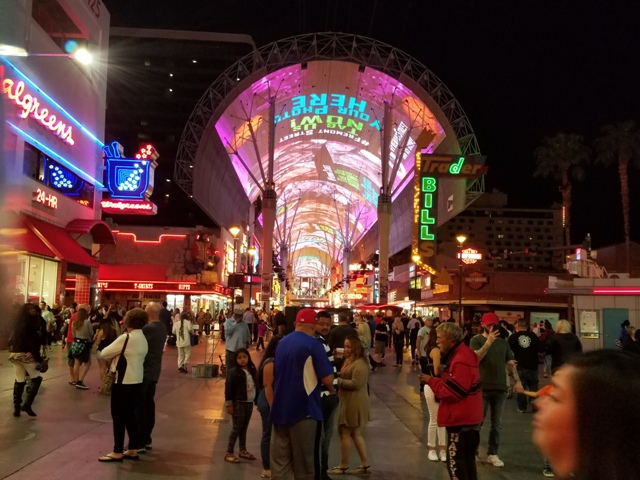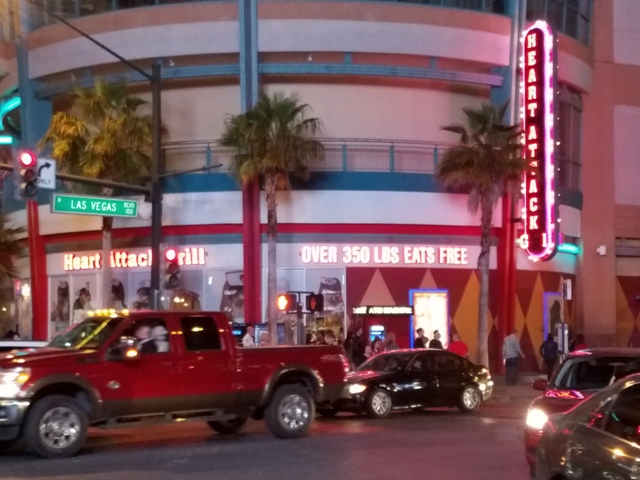 *******
TRACKING HISTORY ARCHIVES