The Grapevine Art & Soul Salon
WHY WE LOVE ATLANTA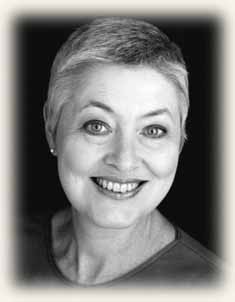 >
BRENDA BYNUM
Brenda Bynum's professional theater work in Atlanta as an actor and director goes back to 1974 and includes over 60 plays at The Alliance Theater, The Academy Theater, Callanwolde Theater, Theater Emory, Imaginary Theater, Seven Stages, Actor's Express, Theatrical Outfit, Theater in the Square, Theater Gael, Southeastern Playwright's Project, PushPush Theater and others. She has also developed or adapted a large number of plays and performance pieces on women's lives, including a collaboration with husband R. Cary Bynum on two oral history projects, Cabbagetown: Three Women and Ponce de Leon, and a project she created called Notional Women, based on the lives of four Southern women and anchored by a dramatic portrait of Frances Freeborn Pauley.
Her work in Emory University's Department of Theater Studies, from which she retired in 2000, gave her an academic setting and resources to pursue her dream of bringing playwright Samuel Beckett's entire dramatic canon to Atlanta in a collaborative project with several theaters. Brenda starred in and/or directed this full cycle and took Enough (one of only two American productions invited) to the International Samuel Beckett Festival at The Hague in 1992. She received Emory University's Heilbrun Distinguished Emeritus Fellowship for 2004-2005.
In the summer of 2011 she completed the Alliance Theatre production of the Pulitzer Prize-winning Tracy Letts play August: Osage County, leaving audiences with their heads shaking in wonder at her fierce and funny and profane portrayal of an aging woman who dominates her family and lashes out relentlessly with her tongue to tell her version of one truth after another, which may not be what anyone wants to hear, but by god she will say it, tender feelings be damned. It is a supremely skillful performance and a fitting finale to a stage career that may...or may not yet...have reached its pinnacle. One can never tell with Ms. Bynum, who officially retired from professional theater a decade ago but who returned in 2003 to star in Sandra Deer's play The Subject Tonight is Love and again in 2011 to give the performance that won her a Suzi Bass Award nomination for best actress in a leading role.
The above information is taken from our 2011 Grapevine interview with Brenda Bynum. In 2013, the same year that she became a recipient of the 2013 Distinguished Emeritus Award at Emory, Ms. Bynum is again presenting one of her own performance creations in Jordan is So Chilly: An Encounter with Lillian Smith. Since she opened with the performance reviewed in this issue of The Grapevine, she has done several more and has several others booked for next year, including ones at Emory University, the University of Georgia and Georgia State University, and a foray into Alabama. Here are links to our the interview and to reviews of her Lillian Smith presentation and an earlier similar reading of Flannery O'Connor:
Barbara Knott: Brenda Bynum Unbound
Brenda Bynum Brings Lillian Smith to the Stage
Manners and Mystery--A Review of Brenda Bynum's Staged Reading of the Letters of Flannery O'Connor to Betty Hester

Copyright 2013, Barbara Knott. All Rights Reserved.