The Grapevine Art & Soul Salon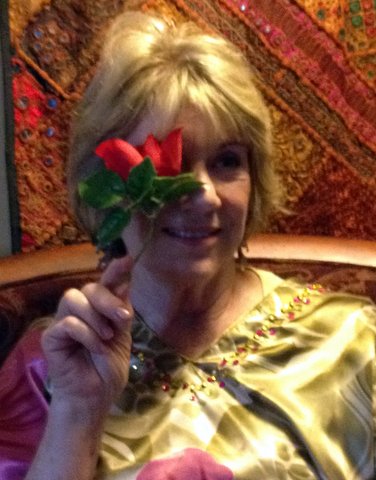 AROUND TOWN WITH NANCY ROSE
Out of Town and Around Eastern Europe
Instead of writing my usual column about happenings in Atlanta and surrounding areas, I would like to share some of my favorite memories of the three weeks in June I spent in Eastern Europe on a Viking cruise.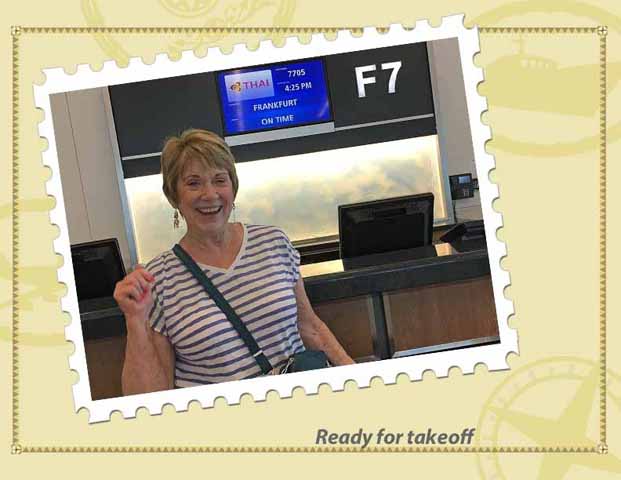 Ready for Takeoff
On June 3, I departed with a friend from Hartsfield Airport on a Lufthansa flight to Frankfurt, Germany. From Frankfurt, we flew to Amsterdam where we would be taken on board the Viking riverboat Bragi.
The flight from Atlanta to Frankfurt was uneventful: no one was dragged off, no terrorist threats, not even a crying child. The trip got a little more interesting while going through security at Frankfurt. My friend and I each had one carryon bag. I went through first without any problems. My friend didn't. Her bag set off the alarms. The TSA agent stopped her. When I turned around to check on her, she was surrounded by policemen with the TSA agent searching her and her bag. Apparently, he had sent for a backup policeman who was followed by another policeman armed with an automatic rifle. We had planned to document our trip with photographs. I wanted to take a picture of her being detained and searched, but I was afraid I would be arrested and taken to a Frankfurt jail, never to be seen again. Of course, there was nothing illegal in the bag. Apparently, the number of bottles of medicine triggered the alarm. We made our connection to Amsterdam without further delays.
We were met in Amsterdam by Viking personnel and taken by bus to the Bragi where our cabins and food awaited us. After a quick but delicious meal, we headed out to look at Amsterdam. In our few hours there, we toured the city on the trolley. Actually, we toured it twice because we got on a trolley going the wrong way from where we wanted to go.
People associate many words with Amsterdam (tulips, wooden shoes, marijuana, red light district), but I think of bicycles. It is a city where bicycles rule. A flat city with narrow streets, Amsterdam is considered to be the most bicycle-friendly city in the world. Bike paths connect the whole country. All types of people ride all types of bicycles: old people, young people, business people, parents with children. Seldom do they wear helmets. There are bike lanes and pedestrian lanes, but a pedestrian would do well to yield to the bicycle. Since sixty percent of the trips in the city are made by bikes, there is traffic congestion and inadequate parking for bikes. I saw a bicycle garage with parked bicycles stacked on top of each other.
I visited the Netherlands' state museum, the Rijksmuseum, and viewed Rembrandt's The Night Watch, one of the most famous examples of l7th century Dutch paintings. Some things I learned: It was common practice for a military company to commission and pay for a portrait of themselves. Usually paintings of this nature showed the military company standing in a straight row or seated at a banquet table. In Rembrandt's painting the company is in full military dress, ready to march and attack. The title is also misleading. It does not depict a night scene as was thought at the time. "It's subdued lighting was caused by the premature darkening of its multi-layered varnish."
We returned to the Bragi to begin our cruise down the Rhine, Main and Danube rivers. Bragi is the Norse god of poetry, music and eloquence. I liked sailing on a ship named after a god.
In addition to Amsterdam and Kinderdijk in the Netherlands, we toured the following cities in Germany: Cologne, Koblenz, Miltenberg, Wurzburg, Bamberg, Nuremberg, Regensburg and Passau. In Austria, we visited Melk, Krems and Vienna and continued on the Danube to Budapest. From Budapest, we took a six-hour bus ride to Prague, Czech Republic.
Kinderdijk is the land of windmills, which were built in the 1700's to prevent flooding of the low-lying area. The Dutch have become so adept at water management that their engineers have worked with officials in New Orleans and New York to prevent future flooding disasters.
Next stop was Cologne, which included a tour of a gothic 14th century cathedral as well as a brew house where I enjoyed a local favorite, pig knuckle with sauerkraut, and beer.
The Hohenzollernbrucke Bridge in Cologne displays one of the most impressive symbols of lovers showing their affection for each other: by taking a padlock, writing their names on it, locking it on a bridge and throwing away the key, lovers believe they can never be parted.
We continued sailing down the Rhine with beautiful views of vineyards, half-timbered houses, fairytale castles and majestic palaces. I learned that the Brothers Grimm grew up in this area in the town of Hanau.
Marksburg Castle is famous for its torture chamber. We were not reluctant to leave.
On the middle Rhine from Koblenz to Miltenberg, Germany, is the location of the Lorelei Rock where, according to legend: Drawn there by the singing of the fair Lorelei, many a sailor lost his life "by the rapid water lashing him against the rocks." Of the numerous poems written about Lorelei, here is a translation of the one written by German poet Heinrich Heine in 1823.
The Lorelei
I know not whence it rises,
This thought so full of woe;
But a tale of times departed
Haunts me, and will not go.
The air is cool, and it darkens,
And calmly flows the Rhine,
The mountain-peaks are sparkling
In the sunny evening-shine.
And yonder sits a maiden,
The fairest of the fair;
With gold is her garment glittering,
And she combs her golden hair:
With a golden comb she combs it;
And a wild song singeth she.
That melts the heart with a wondrous
And powerful melody.
The boatman feels his bosom
With a nameless longing move;
He sees not the gulfs before him,
His gaze is fixed above.
Till over boat and boatman
The Rhine's deep waters run:
And this, with her magic singing,
The Lore-lei has done!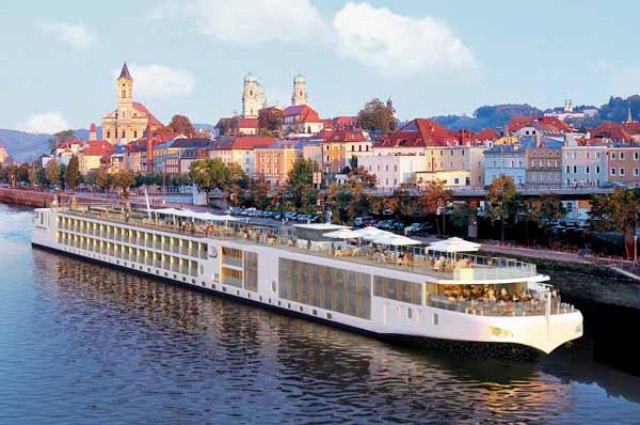 Viking Ship Bragi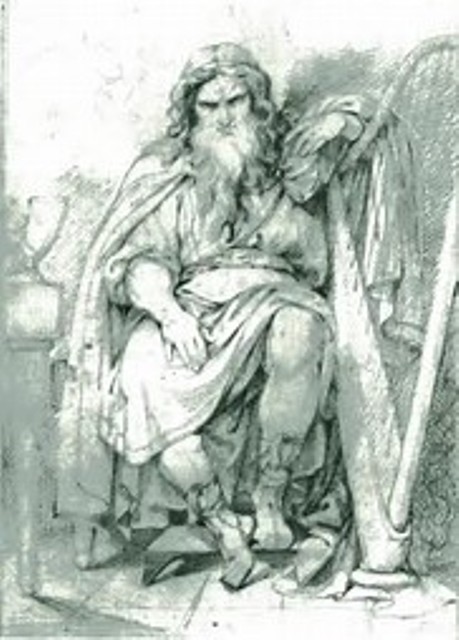 Norse god Bragi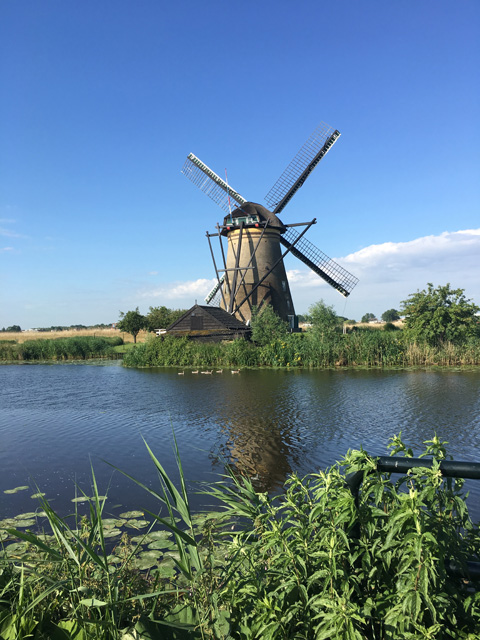 Kinderdijk Windmill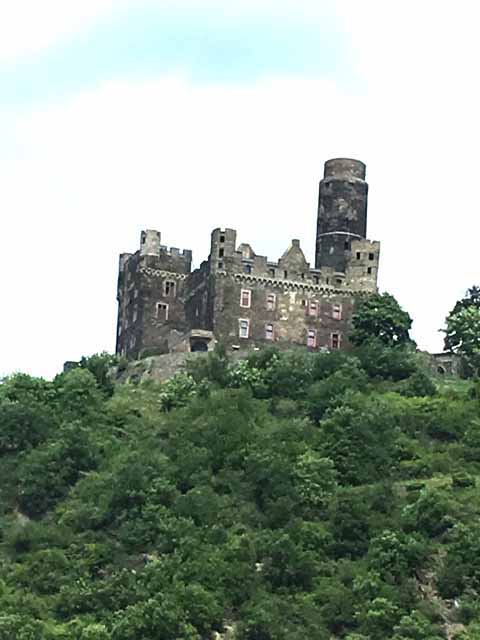 Marksburg Castle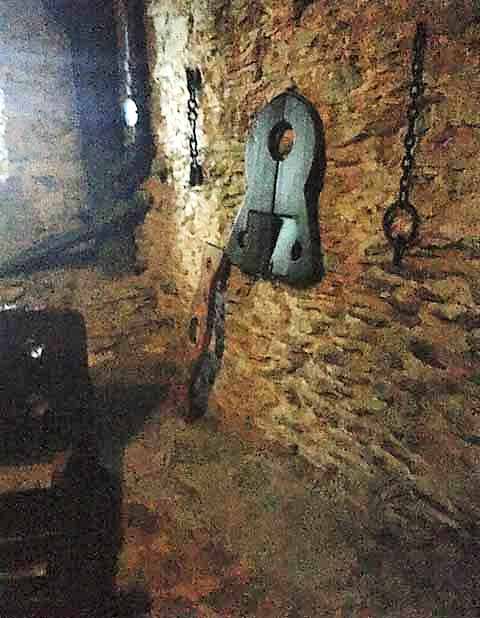 Marksburg Castle Torture Chamber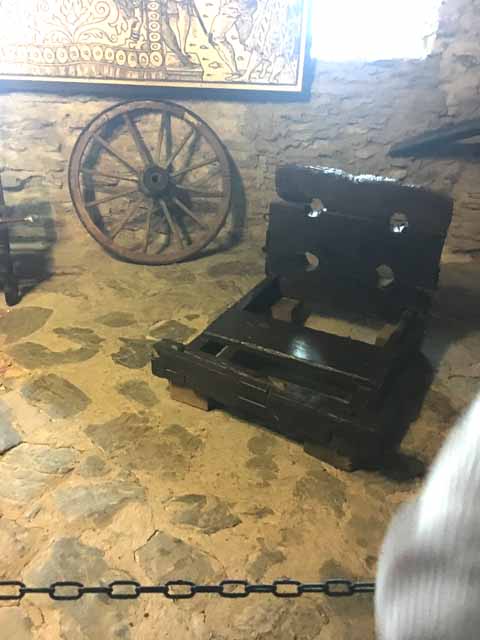 Marksburg Castle Torture Instrument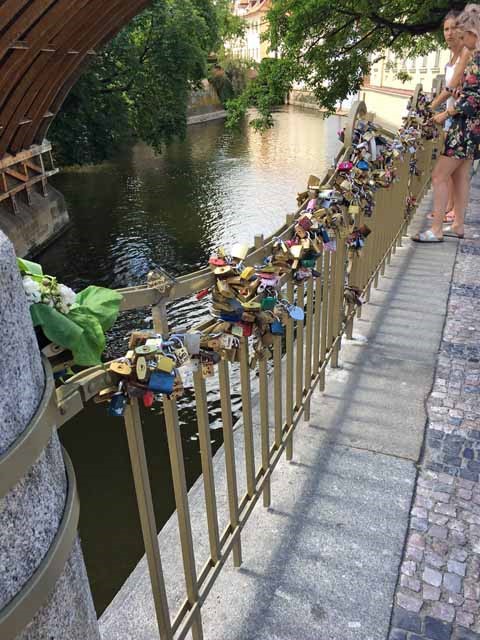 Padlocks for Lovers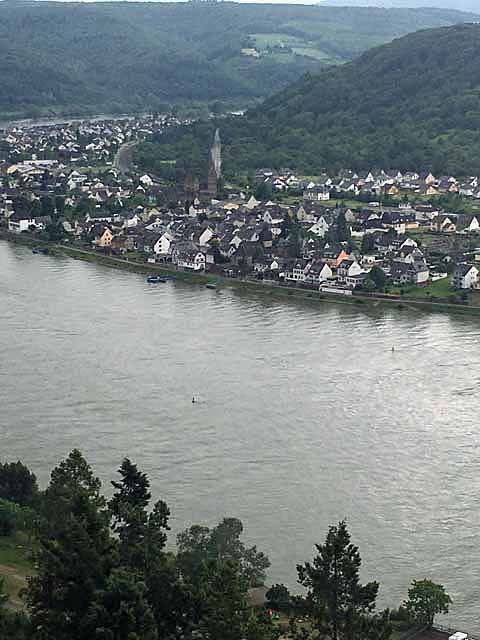 View from the Rhine
Passau was the last German city we visited before sailing to Austria and making day stops at Melk and Krems. Passau is home to St. Stephen's Cathedral, which houses the largest cathedral organ in the world, with 17,974 organ pipes. Free organ concerts are given daily, but tickets are needed to enter. Our tour guide had taken care of that in advance, so after our tour of the city and the cathedral, we picked up our tickets and returned to the cathedral to listen for more than an hour to music played on that beautiful, complex organ.
Melk is home to Melk Abbey, situated on a hilltop overlooking the Danube. It was once a royal palace, given to the Benedictine monks in the eleventh century. Its baroque interior has been described as "jaw-dropping." Over 80,000 medieval manuscripts are in the library. It is still a working monastery, and the school has over 700 students.
Krems is in Austria's Wachau Valley, one of the most scenic regions of the Danube. In addition to being a small university town, it is also known for its vineyards. Vintner Erhard Morwald of the Morwald Winery gave us a tour, explaining how they grow their grapes and make their wine. After touring the cellar, we enjoyed a wine tasting treat. Morwald Winery produces all of the house red and white wines that are served on Viking cruiseline ships.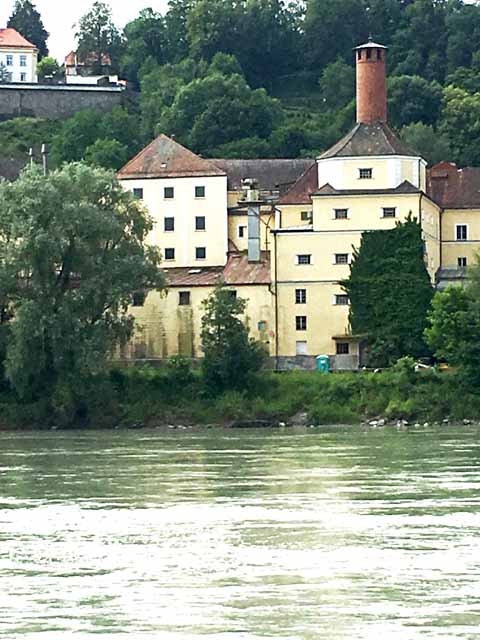 Passau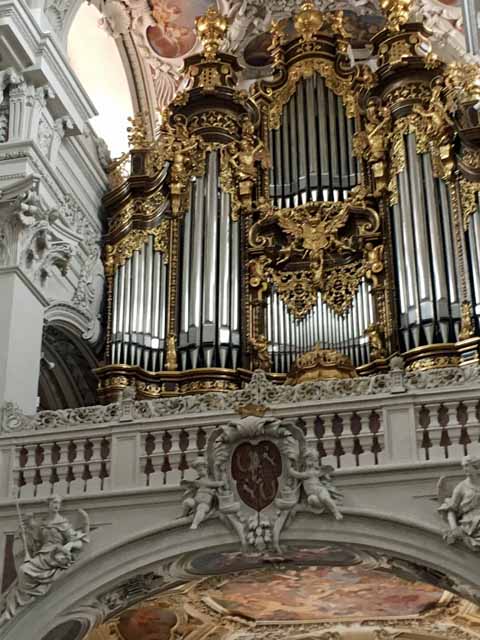 Organ Passau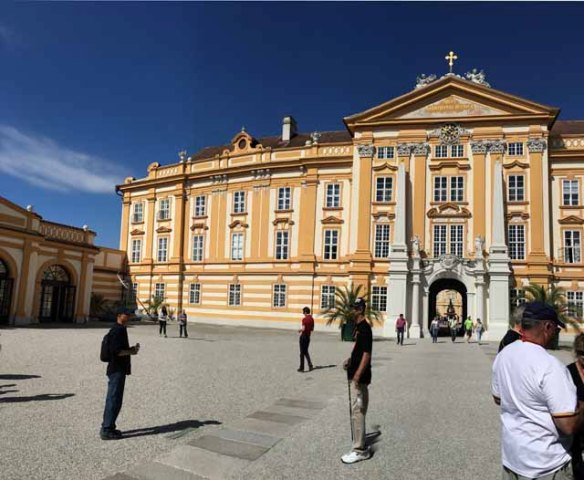 Melk Abbey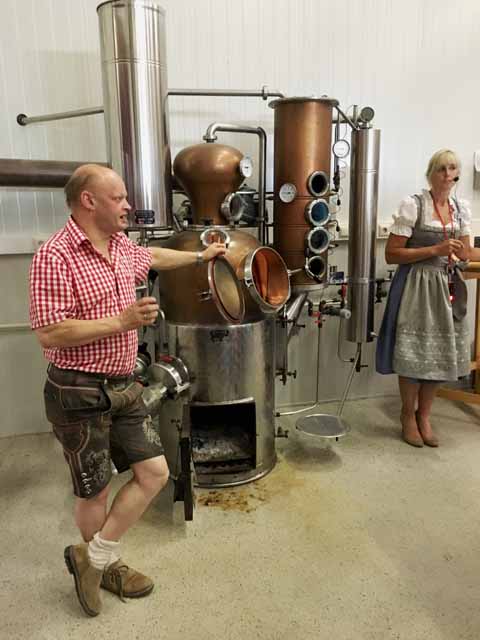 Krems, Austria, Wachau Valley Winery
On the Rhine, Main and Danube rivers are many German towns ending in berg or burg: Wurzburg, Bamberg, Nuremberg and Regensburg. Googling berg and burg, I found that both words are derived from the word bergen which means "to be in a safe place." Generally speaking, berg refers to a mountainous area and burg is an area with a castle.Wurzburg is known for the baroque Residenz Palace, Bamberg for rauchbier or smoked beer. It gets its name because it is made with malted barley dried over an open flame. I didn't try it, but I bet it would have been very tasty with pig knuckle and sauerkraut.
Nuremberg is a city of contrasts, from the Nazi rally grounds at Zepplin Field and the Palace of Justice where the war crimes trials were held, to Old Town, where we did a walking tour and browsed the stalls at Market Square and bought gingerbread.
Regensburg is the oldest city along the Danube and is untouched by World War II bombing. It is the setting for The Beggar King, third volume of The Hangman's Daughter, a series of historical mysteries by Oliver Potzsch, set in seventeenth-century Regensburg.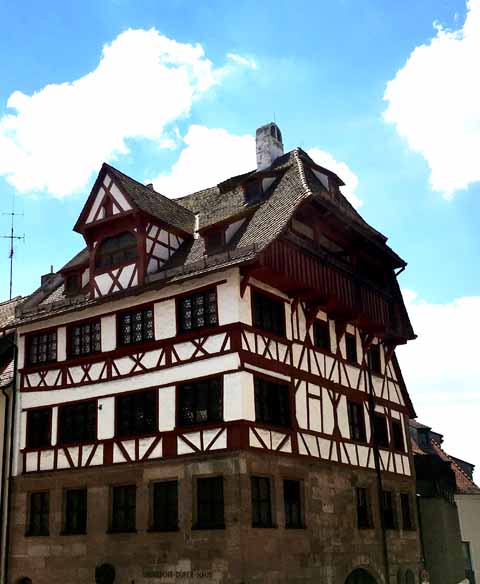 Nuremberg Old Town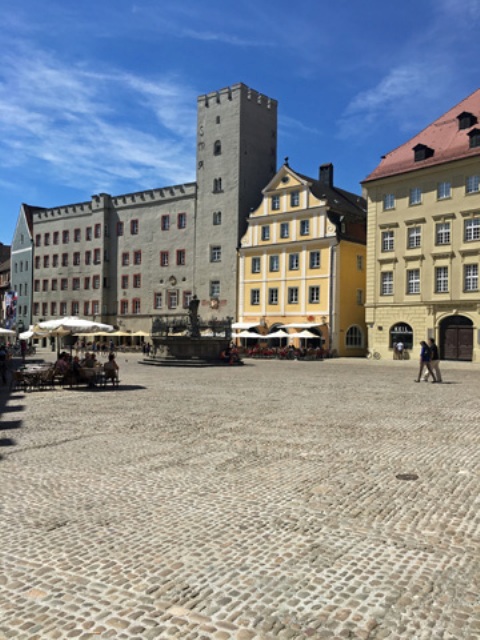 Regensburg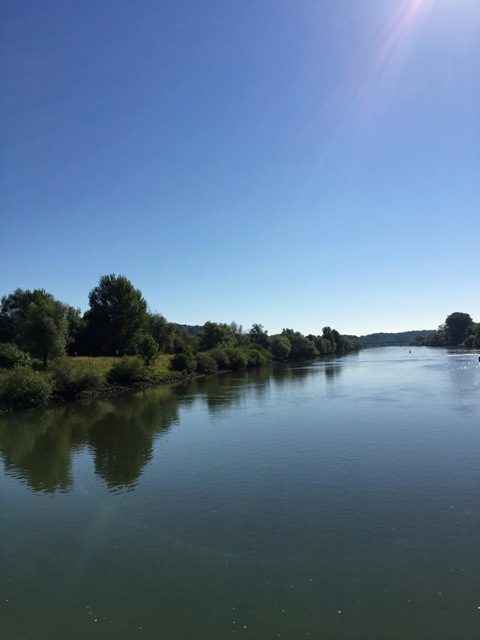 Sailing on the Danube from Nuremberg to Regensburg
Zeppelin Field Where Nazi Rallies Were Held
We said goodbye to Austria by touring Vienna for two days. I saw Hofburg Palace, winter residence of the Hapsburgs and home of the Spanish Riding School where the Lipizzaner horses live; the Schonbrunn Palace and gardens, summer home of the Hapsburgs; St. Stephen's Cathedral, and the Riesenrad, the world's oldest ferris wheel, illuminated beautifully at night. My four favorite things:
1. Dancing the waltz in the "City of Waltzes." For the past three years I have been taking ballroom dance lessons, so when I discovered that one of our optional tours offered a waltz lesson to the music of Strauss at the prestigious Elmayer Dance School, I was ready. It was a royal experience. Thanks to Iphones, I came home with a video of me waltzing in Vienna.
2. Eating lunch at the Hotel Sacher, which is famous for its Sachertorte, a chocolate cake filled with the finest apricot jam and topped with chocolate icing.
3. Attending a Mozart and Strauss concert by the Vienna Residence Orchestra.
4. Touring Vienna at night.
When I returned home, I looked for movies and/or books featuring the cities I had visited. I found a wonderful film noir, The Third Man (book by Graham Greene), set in postwar Vienna in l947. The movie stars Joseph Cotton, Trevor Howard and Orson Wells. The Hotel Sacher and the Ferris wheel were featured. I learned that Greene stayed at the Hotel Sacher while he researched and wrote the book and that Anton Karas wrote and performed the score on a zither, the only musical instrument used.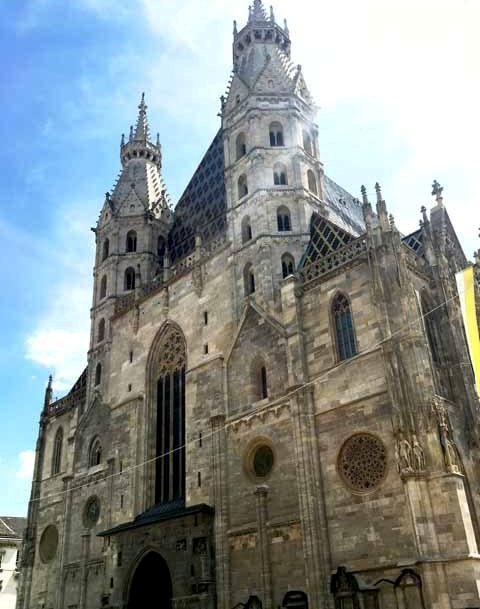 St. Stephen's Cathedral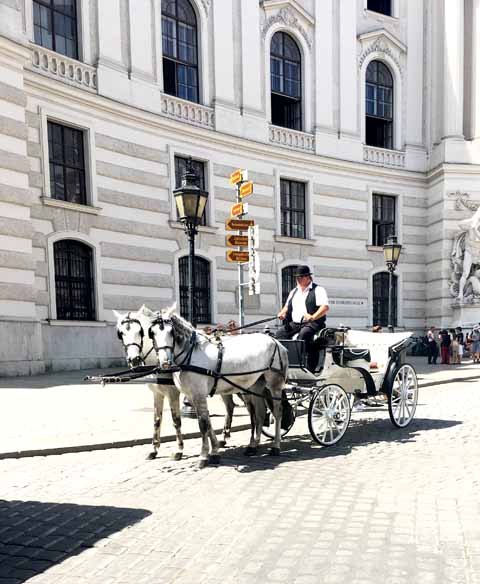 Carriage, Vienna
Dance School, Vienna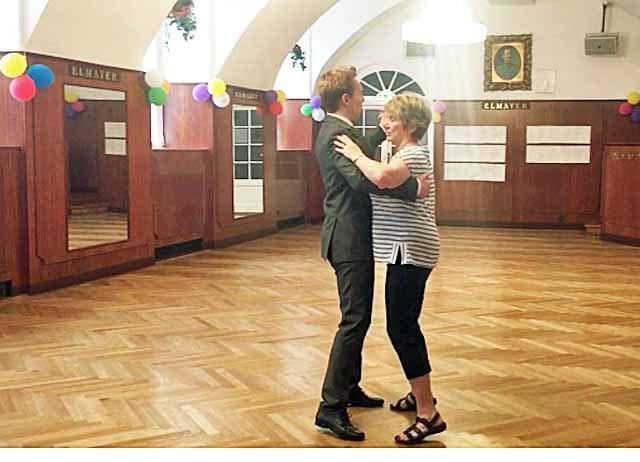 Nancy Dance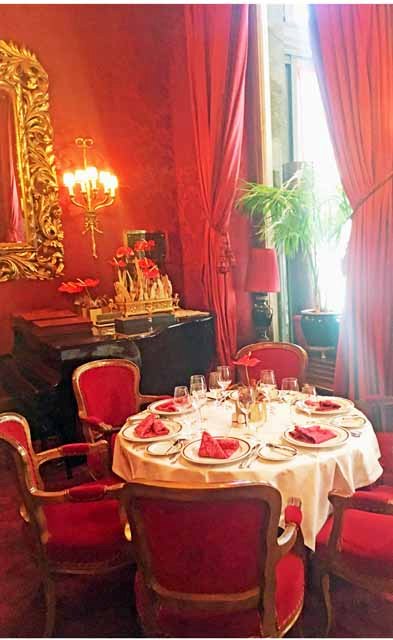 Hotel Sacher Interior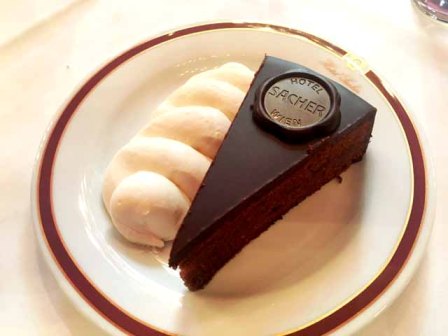 Sacher Torte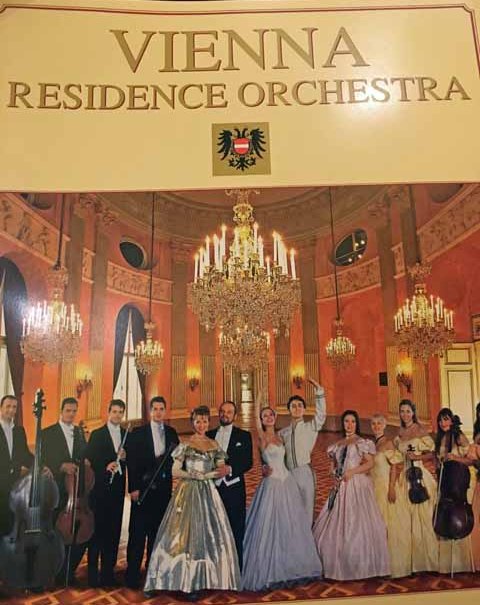 Vienna Residence Orchestra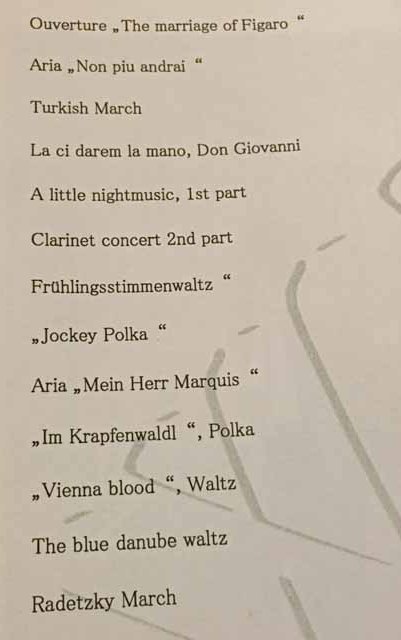 Program, Vienna Orchestra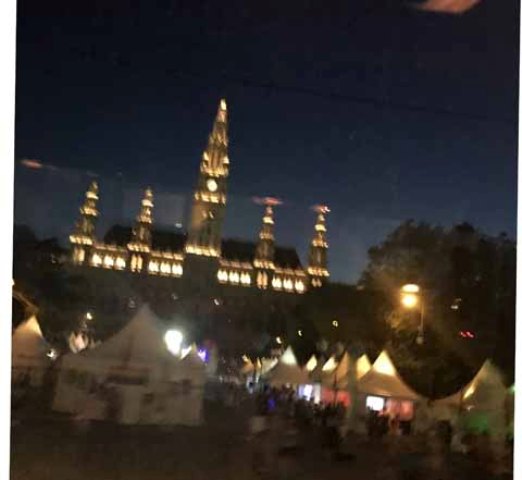 Vienna at Night
Our ship captain sure knew how to make an entrance. Sailing at night into Budapest, the last city on our Danube tour, we were welcomed by the lights of the city and serenaded on deck by Mozart. What an awesome sensory experience.
Budapest is two cities, Buda and Pest, divided by the Danube river but connected by the iconic Chain Bridge. The Castle District is located in Buda—the hilly, more traditional city—while Pest is more modern. In addition to the Chain Bridge, attractions included the Parliament Building, the Hungarian State Opera House, the Grand Market Hall (Budapest's largest and oldest indoor market), Fisherman's Bastion overlooking a bronze statue of St. Stephen, Hungary's first king, St. Stephen's Basilica, and the thermal baths.
I grabbed my towel and bathing suit (yes, these require a bathing suit but some of the spas do not) and headed to the Szechenyi Spa Baths, a Neo-baroque palace especially built to house the baths, and planned to soak for a couple of hours in the public, co-ed thermal pools, rich in "calcium, magnesium, hydro-carbonate, sodium and sulfate" and recommended to help "cure degenerative illnesses of joints, chronic and semi-acute arthritis, and orthopedic and post-injury treatments." It's a huge place, 18 pools, inside and outside, with differing water temperatures, with saunas and massages, and with myriad people soaking. I enjoyed immersing myself in the pools with warm water.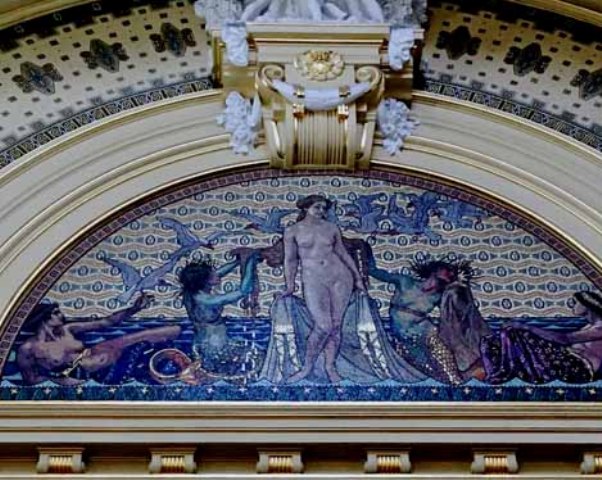 Thermal Baths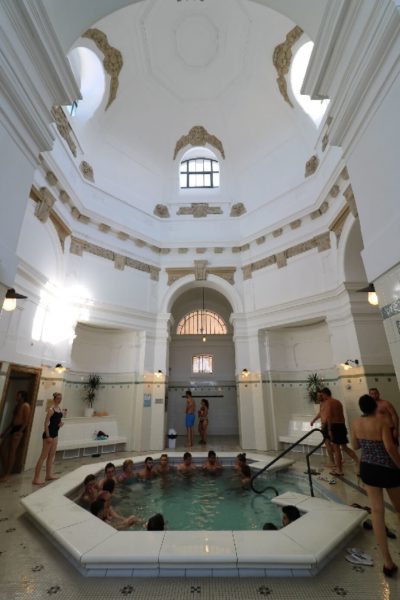 Budapest Szechenyi Bath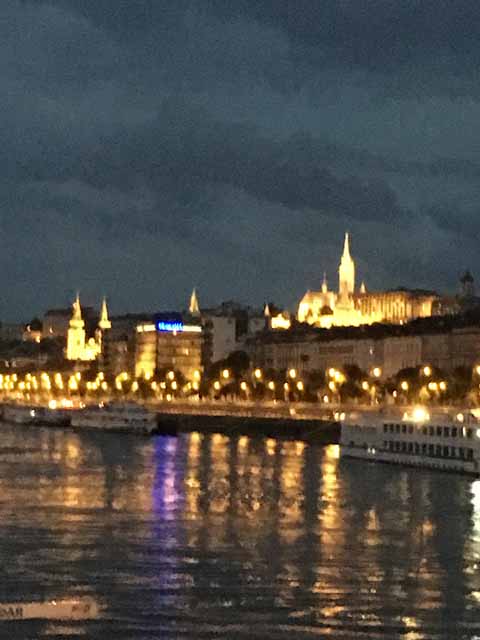 Budapest Parliament Building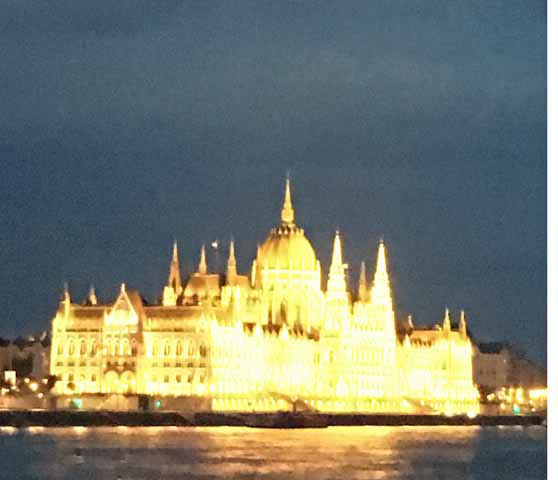 Parliament Building at Night
We said goodbye to Budapest and the Danube and traveled by coach to Prague in the Czech Republic, passing by beautiful green fields of rapeseed used to make canola oil.
In Prague, we checked into our hotel, ate dinner and then did a night tour. The illuminated medieval city looked magical. The next day, we walked from our hotel to Old Town Prague with its beautiful cobblestone walkways and curving streets. Street names are located on signs placed flat against the buildings at the intersections. Once I figured how to locate street names, it was easy to find my way.
The astronomical clock on the Old Town Hall is one of the most visited sights. The literature told us that the clock mechanism itself has three main components: the astronomical dial, representing the position of the sun and moon in the sky and displaying various astronomical details. Then there is "The Walk of the Apostles," a clockwork hourly show of figures of the Apostles and other moving sculptures, including a figure of Death (represented by a skeleton) striking the time. There is also a calendar dial with medallions representing the months.
One of my most memorable experiences was talking to a city guide, a native Czech who was a young girl when the communists invaded in 1968. In the brief time that we talked, she shared just a little of her life under communism. They couldn't check out library books or learn new languages. They could only listen to the communist radio program. They were limited in where they were allowed to go. The government controlled everything. It was emotional for me, standing in Wenceslas Square where the Velvet Revolution began in 1989 when a group of students grew to include more than a half million people demanding democracy, which ended the communist reign. Vaclav Havel was sworn in as president in December 1989. The picture below is of the street where the students marched into Wenceslas Square.
On our last night in Prague we were treated to a traditional Czech dinner and folk music program. Upon arriving at Folklore Garden in the countryside, about an hour outside of Prague, we were welcomed with a glass of Medovina, a sweet wine made from Moravian honey. The four-course dinner was served "family style" with dishes in the center of the table. We started with bread and cheese, then potato soup, a main course of grilled pork, chicken and smoked pork, and ended with apple pie and coffee.
The musical program consisted of dancers in traditional costumes and Czech musicians playing mostly traditional folksongs. The three most important musical instruments in Czech folk music are the violin, bass and dulcimer. The gifted musicians and dancers presented a lively, fun program to an enthusiastic audience. They included a pretty rendition of Elvis' "Love Me Tender."
Finally, we boarded the bus back to our hotel to wait for a 2:00 a.m. wakeup call to get to the airport for our flight to Frankfurt and then to Atlanta. I am happy to say we passed through all of the security checks without any problem. Apparently, my travel companion had taken all of her medicine, for there was no more drama at the airports.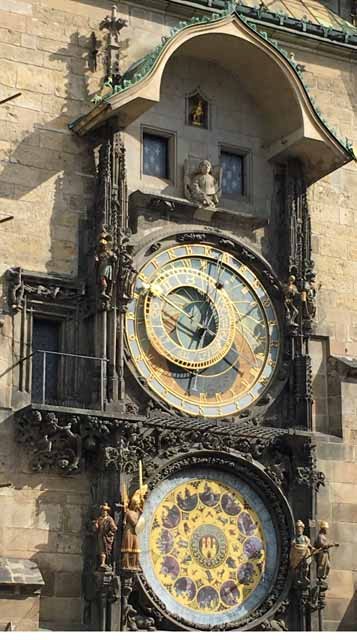 Astronomical Clock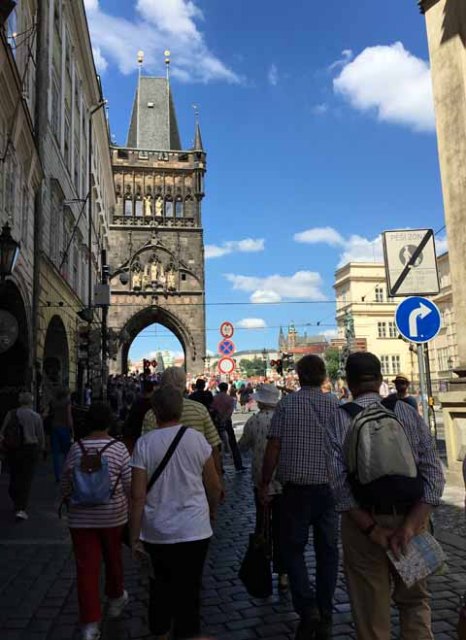 Wenceslas Square, site of the Velvet Revolution 1989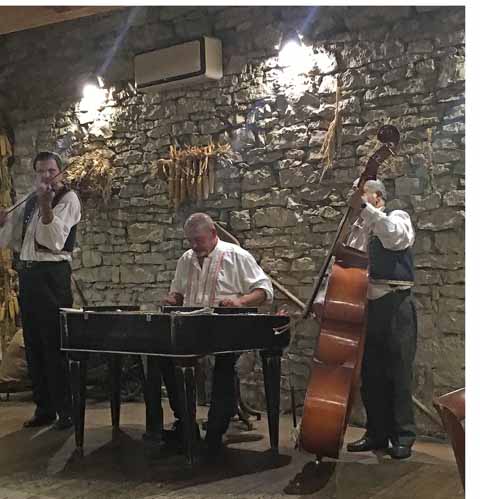 Folk Instruments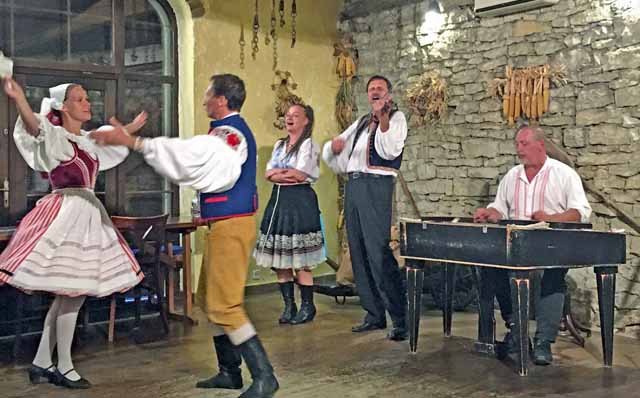 Czech Folk Dancing
Shepherd's Pipe
****************************************************

Copyright 2017, Barbara Knott. All Rights Reserved.