The Grapevine Art & Soul Salon
Musings on Being and Becoming Human
Issue 19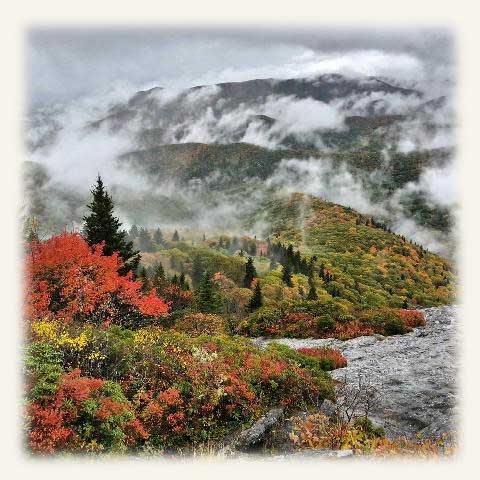 Let The Darkness Be
We salute you at this soul-stirring time of year, a time when we walk and drive through visions of richly colored trees, leaves falling onto ground already carpeted in red and yellow and brown, a time when trees divest themselves of clothing, leaving lovely bare limbs. If art imitates nature, it's also true that nature is artful. On the front lawn of Atlanta's High Museum of Art, a mature ginko tree sheds a round golden skirt, shaping a breathtaking picture for passers-by. In my yard, a ginko sapling flirts more modestly with the promise of future ravishment. Ravishing, indeed, is the view pictured above, captured by Sandy Mason in October 2015, entitled View from Devil's Courthouse, Blue Ridge Parkway.
At the same time, we find ourselves engulfed this season in variations of mayhem and destruction, brought to us over the airwaves, mesmerizing our brains for hours and days on end, ranging from Gatlinburg, Tennessee (known to me as a place for honeymooners) and wildfires, to Aleppo in Syria and systematic destruction of fellow humans, including children, and back to Washington, D. C., where a deeply disturbing breakup and breakdown is taking place with the transition of leadership in our country and the world.
As we approach the winter solstice and the longest night of the year, which of us isn't wondering whether we will survive the mental, emotional, and spiritual darkness that seems to have come upon us as a nation, as a world, and if so, how? What steps can any one of us take to cleanse what needs to be purged and support what needs to be kept and recreate what needs to be made new?
One answer, a growing sign of collective soul-stirring, is to be found at Standing Rock in North Dakota, where the plight of the Dakota Sioux has drawn active empathy from indigenous tribes throughout the Americas and from U.S. veterans in large numbers who came to stand with Native Americans, to protect what is sacred to them: the land of their ancestors and the water supply they (and we all) depend on. We who occupy the country at large seem to have lost our sense of sacredness in land and water and love and leadership. Re-introduction of the value is overdue.
Here and there, we are made aware of strangely uplifting gestures like the one now trending on the Internet: on videotape we witness representatives from the veterans, including Wesley Clark, Jr., on bended knees apologizing to the tribal Americans for the injustices they received at the hands of invaders and then from settlers. An apology that has never been offered by the U. S. government (though it has been by the Australian government to aborigines there) was delivered ceremonially this month by U. S. veterans speaking as "the conscience of the nation." The cry that ended the ceremony was for world peace.
As we arrive at winter solstice, a time of reflection and renewal, the question continues to worry us: what can each of us do, one by one and simultaneously, to shape our future? The dark view of our present may need to be evaluated more holistically, as in these lines from Rilke's poem: Let this darkness be a bell tower/and you the bell. As you ring,/what batters you becomes your strength./Move back and forth into the change.
I believe that right action can be found through education and insight. Readers of comparative religion have a better chance than most to see into situations with multicultural eyes, to find archetypes that help explore the good in the bad, the bad in the good, the black and white intertwining of yin and yang inside a circle of wholeness. Poets and storytellers and visual artists can help us find images to express the full spectrum of our emotions and clarify our thoughts.
Keeping this in mind, I retrieved an article I wrote in 2006 for The Grapevine, reviewing a book just published by Stanton Marlan called The Black Sun: The Alchemy and Art of Darkness. Looking at what I had to say then and what resources I drew from, I was surprised to find how relevant the article is today, how much education of the kind we need can be found in its resources. So I have brought the article forward, updated some of the material, and presented it in our Entertaining Ideas chamber.
I invite you to take this journey with me into exploring anew the concept of darkness for the values it may hold for us now, as we search for guidance through this troubled time.
**********
Issue 19 of The Grapevine offers the following: In Entertaining Ideas you will find my revised article The Art of Darkness and Charles Knott's Finding Voice and Myth Through Performance. Presentations include two soul tapping riffs I wrote on the subject of soul in the workplace entitled Transcendental (about my dentist's office) and Sex and Death and Beetles (about my hair dresser's salon), along with a humorous prose piece by Charles called Abaissement on the Blacktop: A Heroic Memory and a suite of photos by Sandy Mason whose camera lens changes what we may think about looking through a glass darkly. Views and Reviews holds my review of R. Cary Bynum's new book of poems, Night Streetcars, and Charles Knott's Michael Meade Brings Genius to Life in Atlanta.
In Why We Love Atlanta, you can read pieces by Jonathan Knott, Harry Crews Redefines Freedom of Speech in Fiction, and Charles Knott, Launching a Book in a Brew Pub: Shades of Harry Crews. There is also a writeup about Emory University's Irish collection that includes an impressive array of materials related to the work of W. B. Yeats, Seamus Heaney, and Samuel Beckett.
In our chamber called Around Town with Nancy Rose, we share her pleasure at the Joan Baez concert in Atlanta earlier in the year. Jonathan Knott's Tracking History column focuses on a visit to the National Civil War Naval Museum in Columbus, Georgia. Ravi Kumar, in World Voices, reminds us of the Buddhist concept of higher nature in humans with two amusing images. On our Reflections page we pay some attention to Charles Knott's reflections on education as well as to current Breaking News and Mending News. Our Museum eulogizes the life and death of Leonard Cohen, who has surely by now found his way into the Place of Muses where he will go on musing in lyric and sound for time out of mind.
Finally, this issue contains a special feature that we are naming DUBLIN DIARY, where we are collecting all sorts of impressionistic pieces to celebrate the anniversary of the trip Jonathan and I made last December to the Abroad Writers Conference in Dublin. We hope to expand this feature to include pieces from other conference participants and to keep it going over the next several months.
May your reading yield profound personal musings and rich conversations.
**********
NOTES ON NEGOTIATING THE WEBSITE:If you are a new reader of The Grapevine, WELCOME! Please click on our open door below and read introductory material. If you are a returning reader, we welcome you back with great enthusiasm. You may wish to go directly to the buttons on the left and begin exploring pieces assembled for this issue.
Some of the links inside articles will take you into the archives. You will need to return to "Home" at the top of the page to get out of archives and back into Issue 19.
Spreading the Word
Please help us reach potentially interested readers by sending out The Grapevine link to family, friends, colleagues and, where appropriate, to any mailing list accessible to you. Who knows how many conversations we can start? We won't count, but we count on you to spread some words. Thanks!
THE DOOR IS OPEN. Come in....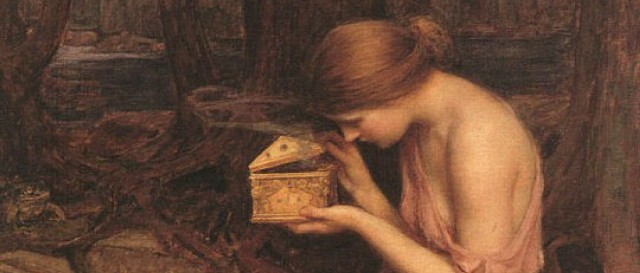 Psyche Opening the Golden Box, by J. W. Waterhouse
The SALON presents a variety of writers and image makers, from promising beginners to seasoned artists. Anyone who wishes to submit a piece for our consideration can send it as a rich text format document (rtf file) through e-mail to editor Jonathan Knott: jknott@grapevineartandsoulsalon.com.
The Grapevine Art & Soul Salon welcomes comments from visitors. General inquiries can be sent to webmaster@grapevineartandsoulsalon.com. All our regular contributing writers can be e-mailed directly (click on Contributing Writers and open specific pages for e-mail addresses).
Editor and Host: Barbara Knott
Associate Editor: Jonathan Knott
Image Design: Bill Kennedy
Regular Contributing Writers: Ravi Kumar, Bill Kennedy, Nancy Law, Charles Knott, Jonathan Knott, and Barbara Knott.
Opinions expressed on this site are the opinions of the authors themselves, not necessarily of The Grapevine Art & Soul Salon. Each page on the website should be read in conjunction with this disclaimer.

Copyright 2016, Barbara Knott. All Rights Reserved.