The Grapevine Art & Soul Salon
Views and Reviews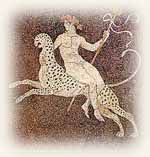 Barbara Knott: Mask Theatre Production of "The Heart of Rumi"
Guests at my retirement party, held at Rumi's Kitchen on Roswell Road in North Fulton County, included Alireza Danaii, a former student, and his wife Elham, as well as Sandra Hughes, artistic director of The Mask Theatre. I had asked Ali to read some poems of Rumi with me, I in English and he in Farsi, the original language of the Persian poet. This was not his first time to do so: he read Rumi with Coleman Barks at the conference on mythology here in Atlanta a couple of years ago. For Ali, the poems are as familiar as household sounds. His father teaches Rumi at Iran's Tehran University. So we read some poems aloud to my guests. Later, I heard Sandra ask Ali to come to the theatre and do something on Rumi with her group. I didn't think much about it until I received a notice that a workshop performance called "The Heart of Rumi" had been scheduled for February 9, 2008, in the evening. I took my sister Nancy Law with me.
It was my first visit to The Mask Theatre, a small space inside the historic renovated school that also houses Horizon Theatre in Atlanta's Little Five Points at the corner of Austin Street and Euclid Avenue. We joined up with Sandra there and took two of the dozen or so seats arranged in a slight curve in front of a curtain some 20 feet distant behind an all black setting except for a central curtain panel that shone like several metals melded into one bronze/copper/gold sheet. To either side of the curtains, mounted on tall black metal openwork panels, were masks created by Michael Hickey who, together with Sandra, runs Gateway Performance Productions and the theater. For this event, they had collaborated with David Hirschorn of the New Acropolis Cultural Association located around the corner at The Academy on Moreland Avenue. It wasn't long before the seats filled, and David Hirschorn gave a brief lecture to set the context. He then took his seat to stage right where he provided versatile musical accompaniment to the players. Michael Hickey handled the evocative lighting.
"The Heart of Rumi" is a masque-like piece in which music and dance are interwoven with words. Alireza Danaie, appropriately dressed in native robe as Rumi, positioned himself slightly to stage left opposite the musician, where he sat amidst the swirling dancers. Hilda Willis and Melanie Anderson made a powerful contrast of opposites: Hilda, dark and dense and deep and soulful; Melanie light and lithe, supple and spirited. Sandra, who directed the piece, also played a flute in addition to dance and spoken word performance. She created a skillful, harmonious flow that was reminiscent of the whirling dervishes seen recently at Atlanta's Rialto Theatre. Rumi is intimately associated with Sufism and the dervishes. It is said that his poetry first came to him while he was meditatively circling a column, holding it by one hand, and words began pouring from his mouth.
I was astonished to see Alireza embody Rumi: he responded to his surroundings by listening, looking, pondering, feeling, and occasionally speaking Rumi's heart and mind, which seemed to be his own. He was doing what really good actors do, and that is to react as well as act, to let emotion show in the face and posture, to become real and really interesting to watch and listen to. As far as I know, he was doing all this naturally and without much experience on the stage. Let us have more of him, I say.
And more of this creative collaboration between Gateway and New Acropolis.
The presence of Michael Hickey's splendid masks served, with Ali's presence onstage, as a constant reminder that we are living in a multicultural world. This evening made me once again glad of it.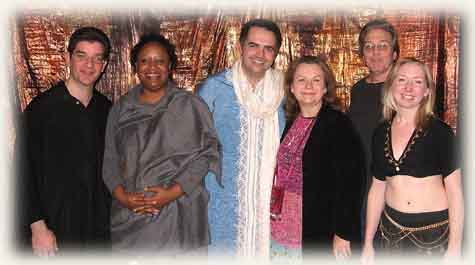 David, Hilda, Ali, Sandra, Michael, Melanie
Photo by Elham Danaie
MASKS BY MICHAEL HICKEY (photos by Nancy Law)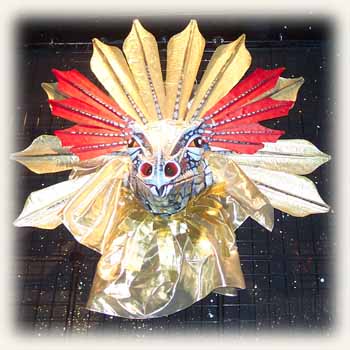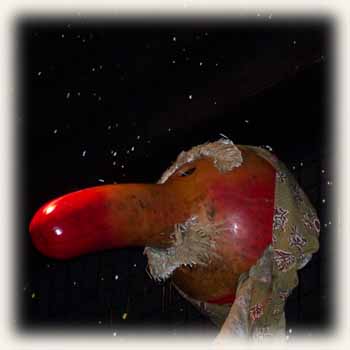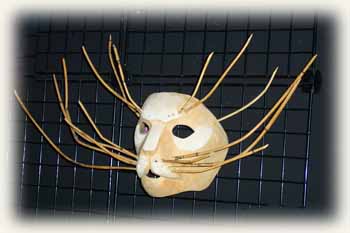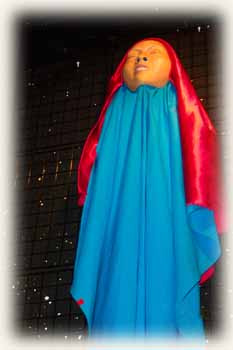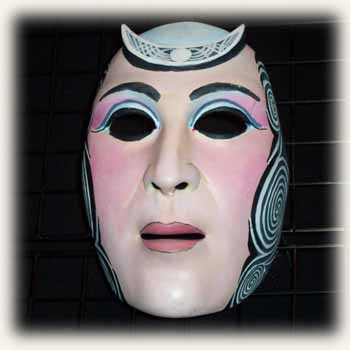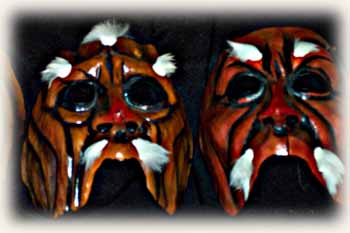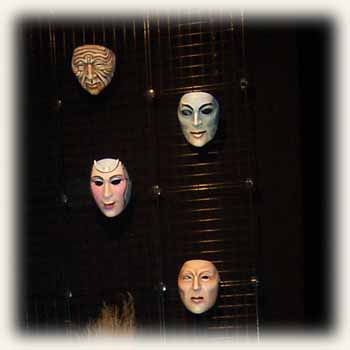 Copyright ?2008 Barbara Knott. All Rights Reserved.
Contact the
Webmaster.