The Grapevine Art & Soul Salon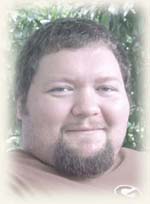 Tracking History: Jonathan Knott, Host
THE UNUSUAL PLEASURES OF OAKLAND CEMETERY
Cemeteries offer more than places to bury the dead. They appeal to me as sites where one can relax quietly while meditating in the presence of death, perhaps the greatest mystery of human thought. Burial places come in many sizes and conditions, but few possess the combination of beauty and historical variety of Oakland Cemetery in Atlanta. Founded as "Atlanta Cemetery" in 1850 on six acres, it's the oldest official cemetery in the city and home to some of its most famous inhabitants. Margaret Mitchell is buried there, as well as former Mayor Maynard Jackson and world renowned amateur golfer Bobby Jones (his grave is recognizable at a distance from the pile of golf balls visitors have left as offerings). Oakland also contains a black section and a Jewish section that reflect the rigid racial and ethnic divisions of the past and unsettle one with thoughts of what William Faulkner said: The past is never dead. It's not even past. I have heard that singer/songwriter Leonard Cohen's grandfather is buried there, but I haven't yet found the evidence to verify that.
Since 1850, Atlanta Cemetery has been expanded to 48 acres and renamed Oakland Cemetery to reflect the number of gorgeous oak trees spread along with magnolias throughout the location. It is a striking place, with an amazing view of the Atlanta skyline. On this visit, I stood where Confederate General John B. Hood, on horseback, watched the Battle of Atlanta unfold a century and a half ago when there were few if any buildings over two stories tall. There is something awe-inspiring about standing where Hood then sat in his saddle as he looked out over the skyline of this city that was precious to him, one he was charged with protecting, and from the same spot sweeping my gaze around and seeing tower after tower disappearing up into the hovering fog, like monuments to those who fell in this battle. I called to mind the stages in between Hood's day and mine, of old hotels and mills and train depots that once were grand but now are decrepit and abandoned and full of ghosts themselves, lost to progress and the ravages of time.
There were only about 22,000 people in Atlanta during the Civil War (and only about 3,000 remaining when Hood was defending it); its strategic importance was that it was the main rail hub of the South and absolutely vital for transporting troops and supplies from one area to another. Its loss would prove a crippling blow to the lingering hope of the South.
For Civil War buffs, there's plenty to take note of at Oakland Cemetery, including memorials for huge numbers of foot soldiers and officers from both sides buried there. A particularly large space is dedicated to Confederate General John B. Gordon, whose family happens to be buried there, too.
The most touching feature to me the "weeping Lion" memorial to the Confederate dead. It's a single granite piece featuring a lion with an anguished look on its face laying its head down on a confederate flag and a stack of broken muskets. The whole sculpture is enclosed by a wrought iron fence and marked on all corners with magnolia trees. Other memorials come from private donations given by chapters of the Sons or Daughters of the Confederacy. Numerous ornate markers were added to the military graves sometimes decades after the original burials.
One doesn't have to be a war history buff to enjoy the cemetery. A feature that sets it apart from most others in Georgia and makes it more like those famous ones in New Orleans is the number of ornate and lavish tombs and mausoleums (types of buildings that may look similar to tombs, but mausoleums are communal where only a drawer within may be purchased, and tombs are specific to one person or family). They're spread widely throughout the cemetery and reflect a wealth of attention and originality in graveyard architecture that is lacking in many modern cemeteries.
The reason for these above-ground structures in New Orleans is utilitarian. Because the city is below sea level, heavy rains and flooding cause traditional coffins to wash loose from the ground and float down the streets, necessitating sturdy, above-ground structures to preserve the integrity of the bodies. Atlanta is 1,000 feet or more above sea level. One can only assume the graves in Oakland were built for style and beauty during a time when thoughtful attention suggested that stone, an image of something everlasting, might bring consolation to mourners.
The difference in aesthetic and feeling response to a cemetery like this and one that has nothing but innumerable identical flat markers topped with plastic flowers is astounding. I love almost any cemetery, from grand ones such as Oakland on down to tiny, unkempt, obscure ones seen along rural roadsides. However, I am dismayed by burial grounds that have only flat, uniform headstones. Uniformity takes away the appeal of carved ivy or drapes or laurel or cherubs on obelisks or headstones and the etched sayings or poems people chose that best summed up the existence of their loved ones. When all markers are small and flat and virtually identical, a cemetery looks more like a random open field than a place of individuality and wonder. The idea that some cemeteries nowadays are flattened that way to make it easier for the groundskeepers to cut the grass is depressing to me. This literal and metaphorical flatness is certainly not the case at Oakland.
Another reason I enjoy cemeteries is that the experience varies with every visit; weather and mood and season, among other factors, make a unique experience each time, and Oakland never disappoints. Whether one visits on a sunny day or, as in my case this time, a foggy, rainy one, Oakland is a wonderful place to wander along the cobblestone paths bordered by sheltering hardwoods.
There is also a visitor center on location, full of interesting books and trinkets, and the staff conducts daily tours. If you show up at an odd time they may, upon request, call someone in to do a tour just for your party. The employees I've met have all been delighted to offer a wealth of historical information, about both the cemetery and Atlanta history in general.
After walking around and working up an appetite, visitors can cross the street to Six Feet Under, an appropriately (if irreverently) named seafood restaurant with excellent fare and a balcony that overlooks the cemetery and city skyline. It's an excellent place where you can gradually work your frame of mind back from the dead to the living.
Oakland is one of several interesting cemeteries in the Atlanta area where one can engage in tracking history: beautiful to wander through, evocative, soulful, worthy of multiple visits. We owe it to the ones buried there and to ourselves to pay attention.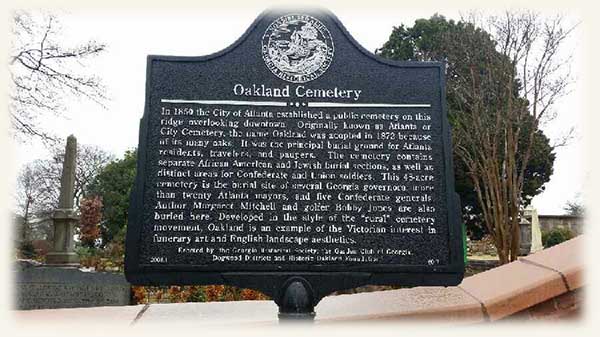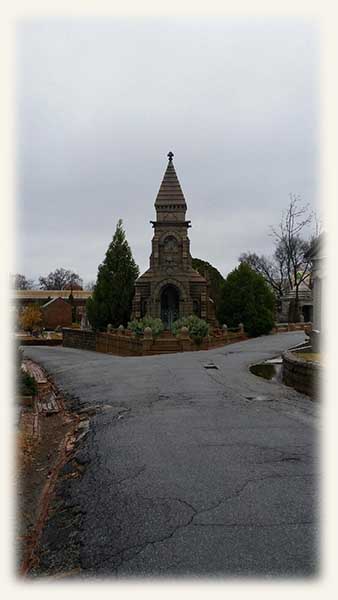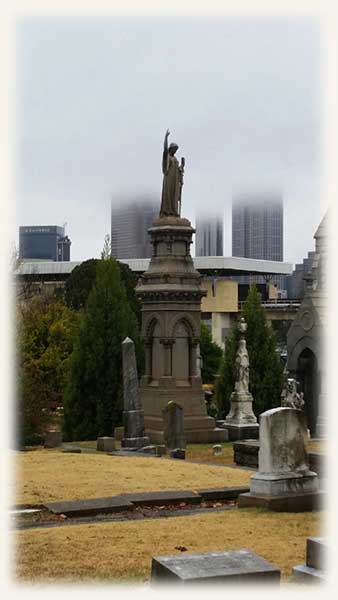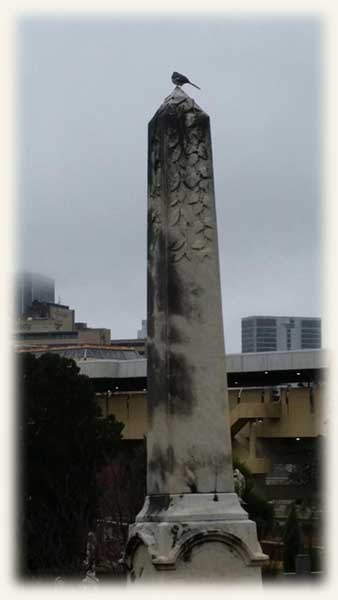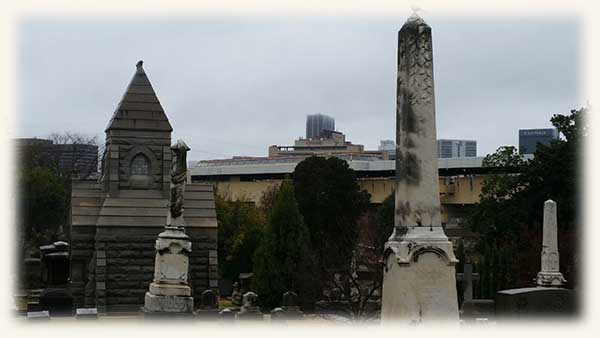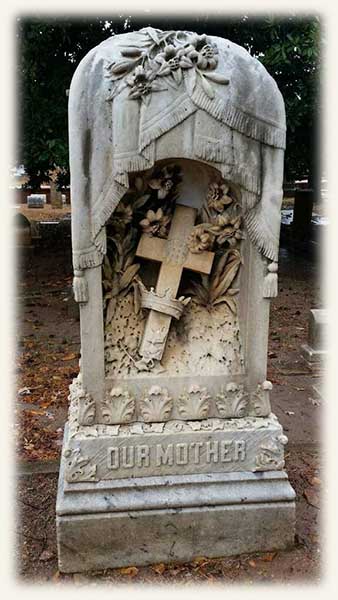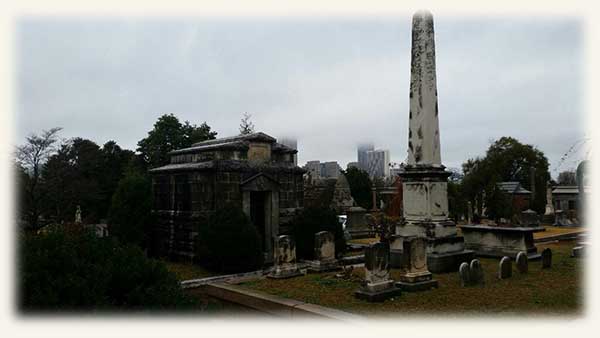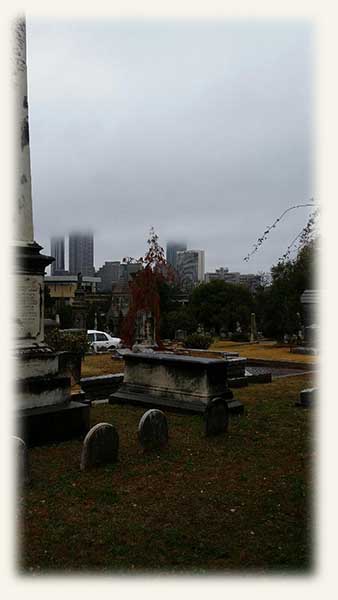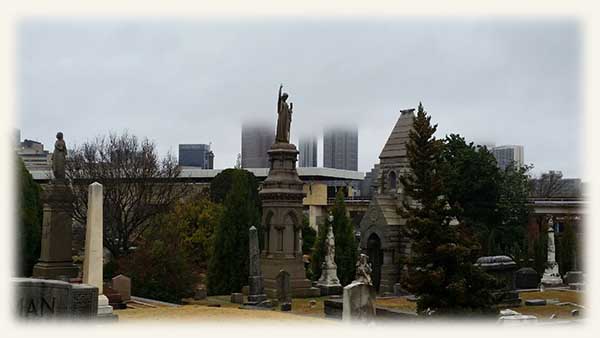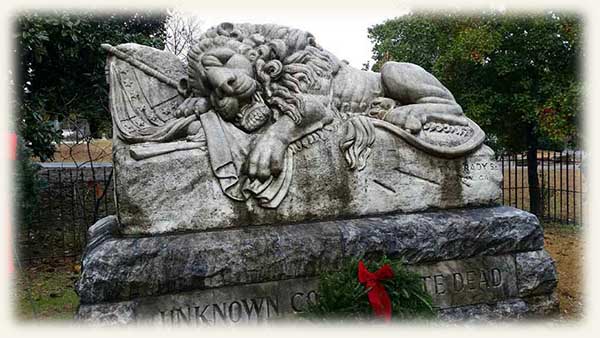 TRACKING HISTORY ARCHIVES