The Grapevine Art & Soul Salon
Nancy Rose Law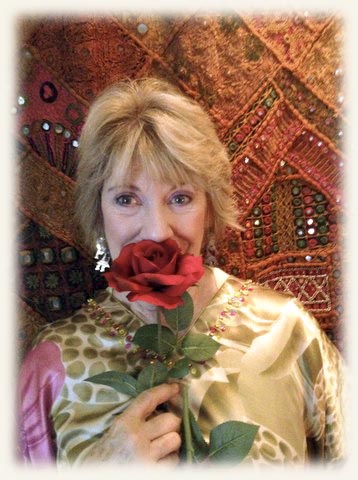 Nancy's two favorite pastimes are ballroom dancing and walking with her Pekingese dog Winston. She insists that she does not dance with Winston. He would need to be taller. But they walk well together.
To expand her exercise repertoire, she wants to go to a Cirque de Soleil camp where she can learn to be a tissu artist who climbs aerial tissu, also known as silk, wraps the fabric around arms and legs and uses it to swing, spin and drop dramatically without the use of a safety net.
When not the center of attention herself, Nancy loves to attend live concerts and be entertained by the likes of Bruce Springsteen, Willie Nelson, Joan Baez, John Prine, Bob Dylan and, most of all, Leonard Cohen at the Fox. She recently made a Cayamo cruise called "A Journey in Song" where well-known and established music artists and songwriters as well as emerging ones performed and mingled with guests. Headliners then and on other cruises have included Buddy Miller, Lyle Lovett, Kris Kristofferson, Shawn Colvin and John Hiatt.
She traveled to Sydney, Australia, for the 2000 Olympics where her favorite event was Track and Field: both men and women participated simultaneously in relays, hurdles, pole vault, discus throw, high jump and shot put.
She has seen the sunflower fields in Tuscany, Monet's water lilies at Musee de l'Orangerie in Paris, and Michelangelo's statue of David in Florence, not to mention the nine-foot John Wayne statue at the Irvine airport in Southern California.
Her love of theater has led her to performances of Les Miserables, Mama Mia and Billy Eliot in London's West End Theater district. In Atlanta, she goes out to see "good plays of any kind," especially those by Shakespeare at the Shakespeare Tavern. Each year she looks forward to seeing Charles Dickens' A Christmas Carol at the Alliance Theatre. She adds, "I will go to see actors Chris Kayser and Brenda Bynum in anything."
Nancy regularly attends Atlanta Opera productions at the Cobb Energy Performing Arts Center. Among her favorites are Madame Butterfly and Aida. She also has taken her granddaughter to see The Golden Ticket, based on the classic children's book Charlie and the Chocolate Factory, and Hansel and Gretel.
Other favorite cultural venues include the Center for Puppetry Arts and the Jimmy Carter Museum and Library where Nancy has done volunteer stints. She enjoys museums of many kinds, including the Carlos Museum at Emory University in Decatur, the Booth Western Art Museum in Cartersville and the High Museum in Atlanta.
She says she wants to do more writing and is working on the difficulty of practice and commitment. To bring herself closer to this goal, she recently attended Cracker Queen Lauretta Hannon's workshop "The Seven Questions That Will Revolutionize Your Writing" at the Marietta History Museum. Cultivating the visual artist in herself, Nancy has taken up photography and is currently learning to use Adobe Photoshop and Elements to edit her photographs and videos.
LINKS to articles by Nancy Law in The Grapevine:
A Closer Look at the Booth Western Art Museum
Booth Western Art Museum Summr Entertainment
Looking at Western Art, with some Delightful Digressions
Curiosity and Flamenco Create a New Wonderland
Birthdays, Tea Parties, and Betsey Johnson Jewelry
Minerva Rising Words, Wine and Art Event
Aragon Mill Village: Fiction and Photos
Alaska: Where Men are Men and Women Win the Iditarod
I Got Stung at the Yellow Jacket
Grandmother, Snuff, and Cemeteries
CONTACT NANCY: nlaw@grapevineartandsoulsalon.com.

Copyright 2017, Barbara Knott. All Rights Reserved.