The Grapevine Art & Soul Salon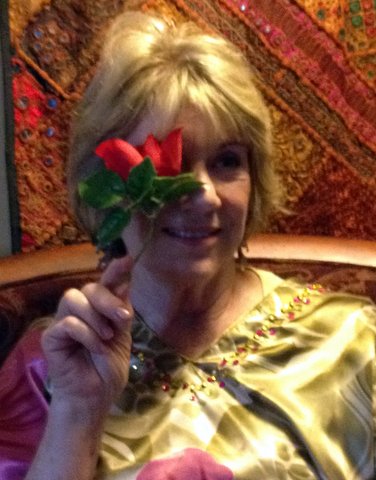 AROUND TOWN WITH NANCY ROSE
Please join me in exploring what the Metro Atlanta area offers in places to go, things to see and hear, touch and taste. These pieces are not meant to be reviews as such, for we don't publish The Grapevine in the timely way it takes to let you know whether in my opinion some event is worth your buying a ticket to it. I am not interested in critical reporting so much as in praising what I find to enjoy about my life in this particular place that surrounds and includes my home, family and community of friends, and in sharing that appreciation with you.
Joan Baez in Atlanta
The Joan Baez concert at Atlanta Symphony Hall lifted my spirits, refreshed my soul and made me believe again in the goodness of human beings. I saw her in concert about twenty-five years ago at a college in Claremont, California, and experienced the same good feelings. I have been a fan since 1962 when, during my lunch hour, I would leave my office at Fidelifax (a detective agency) in the C&S Bank Building, go into a record store on the corner of Broad and Main in downtown Atlanta and listen to the music of Baez and Bob Dylan. I remember that customers were allowed take the records out of the jackets and go into a booth and listen to them.
Even though Baez describes herself as a lifelong pessimist, she continues to do what she has done for over fifty years—protest wars, lead the fight for human rights, and sing.The folk singer celebrated her seventy-fifth birthday on January 27 by performing at the Beacon Theater in New York City. This performance launched a North American tour of eighteen dates that continued through February and March. She performed at Atlanta Symphony Hall on Thursday night, March 17.
I invited my eighteen-year-old granddaughter Kelly to the concert to share the kind of music I loved when I was eighteen. She asked if we would be "on the lawn." Kelly and her friends attend country music concerts at the Lakewood Amphitheater and buy lawn tickets and stand and dance throughout the concert. She suggested we make a sign that said "We love Joan Baez" so we would stand out and maybe the singer would call us up on stage. I told her we would be inside in a very comfortable seat but we could dance if she wanted to. Before the concert, she googled Joan Baez and learned some information about her.
When we arrived at Symphony Hall, we bought a brownie and coffee and "checked in" on our cell phones. Inside the auditorium we took selfies and posted them on Facebook. As people filed in and found their seats, stage hands tuned the guitars, arranged the music stands, and placed bottles of water. In the audience were people of all ages but mainly the same age as Baez, many with their children and grandchildren. One lady who sat next to us had traveled from England to see her.
The concert was scheduled to start at 8:00 p.m., and at 8:05 the lights went out. The singer received a standing ovation before she even reached the stage. It reminded me of the love shown to Leonard Cohen when he performed at the Fox Theater a few years ago.
She performs with a two-member band. Dirk Powell plays fiddle, banjo, mandolin, guitar, accordion and keyboards. According to Baez, "God gave this one an overdose of talent." He proved it by excelling on each of those instruments. The other band member is percussionist Gabriel Harris, son of Joan Baez. His musical passion for the drums began in the 1980s when he became a student of Nigerian drummer Babatunde Olatunji (1927-2003) and traveled to West and South African absorbing traditional rhythms and melodies.
Olatunj is reported to have said that rhythm is the soul of life, because the whole universe revolves around rhythm, and when we get out of rhythm, that's when we get into trouble. Olatunji is considered a pioneer among African musicians who have brought traditional music to the West. His Drums of Passion album of 1959 is believed to have paved the way not only for a host of other releases of African music, but in many ways for the entire category of world music.
Harris' passion for rhythm flourished at the performance we saw. He was spectacular. The backup singer is Grace Stumberg, who has been Ms. Baez's personal assistant since 2011 and backup singer since 2012. Her first tour with the folk singer was in 2012. Joan Baez happily shared the spotlight with these musicians and each had an opportunity individually to dazzle the audience.
Baez began the concert with Freight Train, an American folk song written by Elizabeth Cotton in the early 20th century. It was one of the songs Baez popularized in 1959, at the beginning of her career, while performing at a Cambridge coffee house. She sang four of my favorite Baez songs: Silver Dagger, House of the Rising Sun, Diamonds and Rust, and It's All Over Now Baby Blue, where she insisted that the audience join in on the chorus.
She is a much better artist than to rely only on her past folk successes. In addition to folk songs, she sang spiritual, rock and roll, and pop songs by other artists. Some were serious, such as I Need Another World by Antony and the Johnsons; God is God, written for her by Steve Earle; Jerusalem, Swing Low Sweet Chariot, Hard Times by Stephen Foster. She also sang the whimsical From Galway to Graceland by Richard Thompson. She honored Bob Dylan with Diamonds and Rust and Pete Seeger with Darling Corey. She usually sings a song in Spanish. This night it was Gracias a la Vida (Thanks to Life). I think she chose Richard Thompson's song She Never Could Resist a Winding Road because it is about her own life.
Baez had a pleasant rapport with the audience, acknowledging St. Patrick's Day by recognizing a lady all decked out in green in the first row. After tolerating the camera shots through two or three songs, she scolded the audience and told us to put our cameras away, describing us as "camera happy." She said to sit back and enjoy the show; we wouldn't get good pictures anyway because we were too far back and there were too many lights. We dutifully obeyed, and I don't believe there was another flash until the end of the concert. We were like little children trying very hard to please and impress by being good.
On another occasion, she introduced a song she said she learned in prison. She related a jail experience she had after being arrested for marching and protesting the draft. She made light of it, explaining that her mother and her sister were also arrested and all three were sent to a women's prison, which was really not bad, she said … they had their own vegetable garden.
She described the two types of prisoners—inmates and demonstrators. The inmates could choose a demonstrator to be a "buddy." A woman chose Joan but told her she really hated white people. And Joan said she didn't really blame her but then asked why she chose her. She said Joan wasn't really white (Joan's father is Mexican). She said the inmate sang this song every day all day long: Do Right Woman Do Right Man. Joan's soulful rendition in Symphony Hall would have made that inmate proud.
Joan Baez always brings up politics at her concerts, and in a low-key, subtle way, she did it this evening. She casually mentioned she really liked that "balding, Jewish guy." My granddaughter asked who she was talking about. It took me a second to realize Joan was referring to Bernie Sanders. She asked jokingly (but I think she really meant it) for prayers for the betterment of Trump's soul because "even Trump has one."
After almost two hours of singing and playing, Baez said, "We're winding down. My feet hurt—too many marches." I laughed out loud because my feet hurt too, not from protest marches, just from living. At the end of the set she received an even longer standing ovation and returned to the stage for an encore performance singing Simon and Garfunkel's The Boxer and John Lennon's Imagine. I imagined her going somewhere to soak her feet in a tub of hot water and Epsom salts, maybe with cooling peppermint.
****************************************************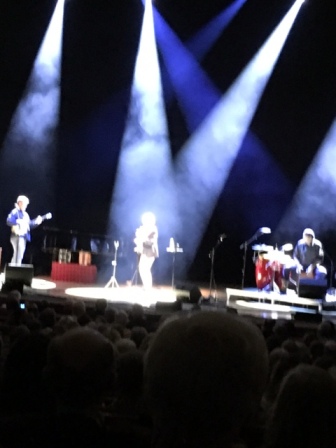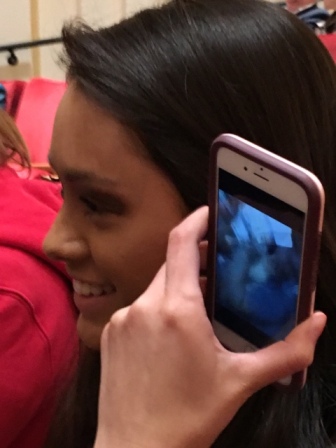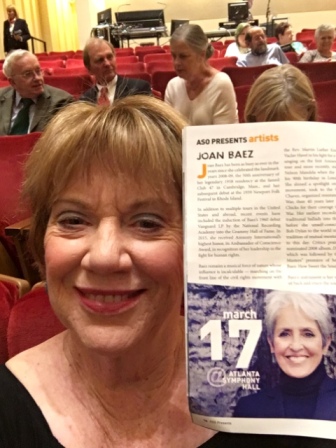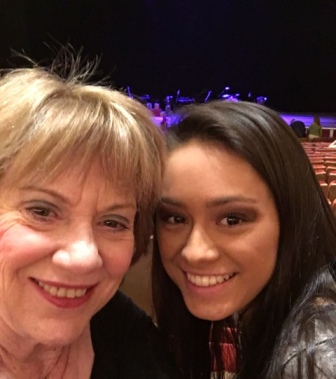 Copyright 2016, Barbara Knott. All Rights Reserved.