The Grapevine Art Salon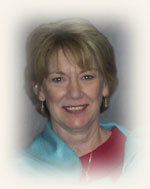 Alaska: Where Men Are Men and Women Win the Iditarod
On a recent cruise to Alaska I was delighted to become acquainted with two winners of the Iditarod Sled Dog Race. I was captivated by their individuality shown mainly in their extraordinary choices and successes. Together, they have inspired the slogan from which I took my title. I was intrigued by the connection between each musher (person who competes in cross-country races with a dog team and sled) and her team of dogs, a bond that begins long before the race. My subsequent research helped me to appreciate that unusually close relationship.
First though, some background. Iditarod is commonly defined as "a distant or far off place." The Alaskan Iditarod race commemorates the 1925 delivery of diphtheria serum to Nome. Through sheer determination and desire to help, twenty valiant men and more than two hundred devoted dogs succeeded in preventing the epidemic. The Iditarod Sled Dog Race, sometimes referred to as "The Last Great Race on Earth," covers the distance from Anchorage to Nome, approximately 1,152 miles across staggeringly beautiful but sometimes vicious Alaska wilds. There are twenty-six checkpoints along the route, three of which are uninhabited except during the race event. Eleven days is the average time it takes for the top twenty teams to finish the race. The record for the shortest time is just under nine days, and for the longest time, thirty-two days.
Each day on board the ship, passengers were entertained by line dancing and/or ballroom dancing, playing bingo, hearing famous storyteller Buckwheat Donohoe recite "The Cremation of Sam McGee" by Robert Service, and touring the two-story kitchen, as well as listening to lectures by park rangers and naturalists. As I walked by the theater one of the few times it rained during the cruise, I noticed a promotional flier advertising Libby Riddles, first woman to win the Iditarod, and showed up for her lecture.
Libby Riddles is a tall, strikingly attractive 44-year-old blond who moved to Alaska from Wisconsin at the age of sixteen. Her love of the wilderness brought her to this challenging northern outpost. A friend talked her into a five-dog sled race, and she won. She then began training and competing in the Iditarod. In 1985, her second Iditarod, she became the first woman to win it. She is now a professional speaker, author of children's books, and owner of Blazing Kennels near Homer, Alaska, where she raises future sled dog champions. From her and from my reading, I learned many things.
In the Iditarod, there are sixteen dogs to a sled. Contrary to popular belief, sled dogs are not genuine Siberian huskies. They are Alaskan huskies: a mixture of hound, shepherd, spaniel, and Siberian husky. They are bred "to pull hard and fun fast." The lead dog is the one that runs out front and keeps the team going in the right direction. The swing dog runs behind the leader, and its job is to "swing the team in the turns or curves." The wheel dog is directly in front of the sled and moves the sled smoothly around corners. All the other dogs are team dogs.
The most important characteristic, especially in the lead dog, is the ability to listen and follow directions. In the race, a musher communicates with her dogs only by voice commands like the following: Gee (command for right turn), Haw (command for left turn), and Whoa (command to stop). These three commands are old mule skinners' terms. In the 1800's mules were valuable animals used for pulling freight and stagecoaches. Readers from farming areas will recognize these as the same commands still used to control a plow mule.
The musher and dogs follow a vigorous training schedule, much as a marathon runner does. They start with two-mile runs and build up to thirty-five or forty miles per day. They log about 1400 miles from September to February. Including the Iditarod and shorter races of 200 to 300 miles, a competitive team could log up to 3200 miles per year.
I had occasion later in the cruise to come close to the other female Iditarod champion. Susan Butcher won her first Iditarod in 1986. Like Libby Riddles, she had moved to Alaska because of her love of dogs and nature and her sense of adventure. Susan and her dogs lived alone in the wilderness, forty miles away from the nearest neighbor, for nine years. She chopped wood for fires and killed animals for food to eat. She was totally dependent on herself and her dogs for survival. Susan describes her relationship to her team as "extremely close." She says the dogs are "my friends, my family, and my workmates."
Fairbanks was our last stop on the cruise. There we boarded the riverboat Discovery and meandered up the Chena River where Susan Butcher and her husband and two daughters now raise their champion dogs at Trailbreaker Kennels.
Susan was warm and friendly as she talked through a radio transmitter to the tourists on board the ship. She described her Iditarod experiences. She told us about the huskies who surrounded her, and one could hear in her voice the love and respect she has for them. She demonstrated the importance of the dogs listening to her by hitching the excited young dog team to a sled and doing a training run. She showed how, by command, they could be made to veer to the right when routinely, they go to the left. With them, she made a huge circle, then came back to the compound and unhitched them. We watched as they made a straight shot for the river to drink and cool off.
Susan was the first person to win three consecutive Iditarod championships, 1986--1988. She had been leading in the 1985 race and probably would have won, had not a sick and dying moose stumbled into her path. Two of her dogs were killed and many of the others were injured. As a result, she was out of the race. Then she got her consecutive wins, lost in l989, and won again in 1990.
Both Libby Riddles and Susan Butcher emphasized that racing is all about taking care of the dogs. Susan explained it this way: "You have to be selfless in your dedication to your dogs. When you come into a checkpoint, although there may be a wood stove to warm your feet by, you stay outside; you take care of your dogs, get them bedded down and fed. It may take three hours. Then you can go and have your fifteen minutes inside before it's time to go and check your dogs, massage them down and get ready to go again." All of this devotion was evident in the lectures, videos and demonstrations given by the champions.
The Iditarod race was held informally for many years but became official in 1973. Records have been kept since that time. The prize money is not much compared to professional football, basketball and golf winnings. The amount of the prize money varies from year to year. In 2005 the winner was awarded approximately $70,000 in cash and a new Dodge pickup valued at over $40,000. The mushers don't do it for money, but for something like "more than common life."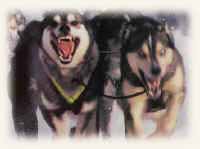 Sled Dogs, Bugs and Dugan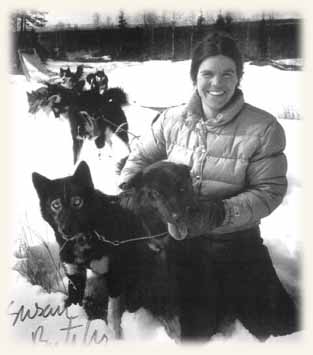 Susan Butcher and her dog team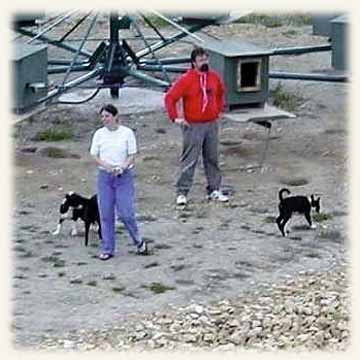 Trailbreaker Kennels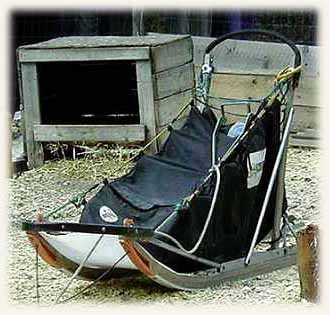 Dog Sled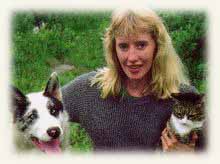 Libby Riddles with Mudshack and Danger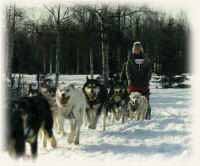 Libby Riddles and her team
Copyright ©2006 Barbara Knott · All Rights Reserved
Contact the
Webmaster