The Grapevine Art & Soul Salon: Around Town with Nancy Rose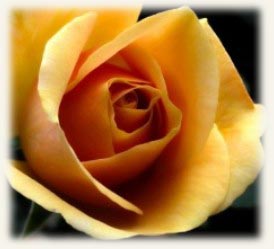 Birthdays, Tea Parties, Betsey Johnson Jewelry
Tea Leaves and Thyme, Woodstock, Georgia
In the song "I Love," Tom T. Hall describes some things he loves:
Little baby ducks, old pickup trucks
Slow-moving' trains and rain
I love little country streams, sleep without dreams
Sunday school in May and hay
And I love you, too.
In August my daughter Laurie, my sister Barbara, granddaughters Jessica, Jennifer, Kelly, and future daughter-in-law Susan joined me to celebrate three things I love: birthday celebrations, tea parties, and Betsey Johnson jewelry. For those of you unfamiliar with Betsey Johnson, let me introduce you. She is a fashion designer who burst on the scene in the sixties. Her jewelry is humorous and makes me laugh when I wear it.
We met at Tea Leaves and Thyme, located in the historical Dawson House built in 1909 in Woodstock, to enjoy what they call a Full Afternoon Tea and celebrate the birthdays of my daughter, one granddaughter and my soon-to-be daughter-in-law. Each person had to wear a piece of her Betsey Johnson jewelry. BJ jewelry is whimsical and fun to wear and always elicits appreciative comments from others. It's one of my favorite gift-giving items.
My sister came to my house to ride with me. I remembered two huge pink boas that we had purchased for another occasion but never used. I asked her if she would like to play crazy aunt to my crazy grandmother. Of course she would! So we wrapped those boas around our necks and with feathers flying, we left for the party.
We arrived early and were graciously welcomed and seated in a room with a table set for seven for our party and two smaller tables set for couples. The rooms are small and tables are close together. Closest to us was a young couple, obviously there for an intimate lunch. That didn't happen. At the second small table sat an older couple. They appeared to be more in the high-toned spirit of tea parties. We could tell that because he chose to wear a hat from the dress-up room.
As we waited for the others to arrive, we ordered tea and an appetizer. Over 70 varieties of loose tea are offered, so it became a monumental task deciding what we wanted. We finally settled on the special of the day, a delicious caramel flavor. Our appetizer was a fancy version of pigs-in-the-blanket. The extra time gave us an opportunity to get ready for posing with our boas to welcome the birthday people, especially the grandchildren. We expected them to come in, look at us, roll their eyes and be a little embarrassed. No! No! No! They came in, looked at us and loved the boas so much they took them from us and wrapped themselves in pink feathers. Then they went into the dress-up room and chose vintage hats and gloves and more jewelry to complete their outfits, after which they spent the entire time taking selfies and sending them to their friends. I know little girls like to play dress-up, but my granddaughters are high school and college students. I have never seen them having so much fun.
Full Afternoon Tea consists of seasonal fresh fruit, freshly baked scones served with lemon curd and amaretto cream, assorted tea sandwiches, including cucumber, and ham with cream cheese, as well as an assortment of miniature tea desserts, all beautifully displayed on a three-tiered tray. And, of course, tea. Each person had her choice of chicken salad on a bed of lettuce or a chicken salad croissant or a sun-dried tomato tartlet. Even our vegetarian Susan was pleased with the choices.
While drinking our tea and waiting for the food, the birthday girls enthusiastically opened their gifts, so generously given, and responded with oohs and aahs and thank-yous. Birthday celebrations are special at the tea room. Individual place cards are on the table, and each birthday guest is served an additional small dessert with a candle. We were laughing, talking at the same time, blowing out candles, singing happy birthday and generally being happily disruptive. I thought the young couple would ask to be moved, but they didn't.
Picture taking continued outside as we were leaving. The girls couldn't get enough pictures with their boas; I finally said they could take them home. It seemed to be the only way I could get them to leave Tea Leaves and Thyme. Besides, how could I possibly take away something that was the source of so much fun?
I love laughter and picture taking
And goodbye hugs and kisses
And promises to meet thereafter…
Shortly after the tea party, Dancing with the Stars on television announced the celebrities who would be appearing on the new season. To my delight, Betsey Johnson was one. When the new show premiered, it was fun watching this 73 year-old petite blond dynamo, with a Raggedy Ann haircut, performing a cha cha with Tony Dovolani, one of the seasoned pros on the show. She had a wardrobe malfunction when the pink boa (of all things) wouldn't release from the rack; however, that didn't curb her enthusiasm as she did a cartwheel with a split across the dance floor, her signature way to end her fashion shows.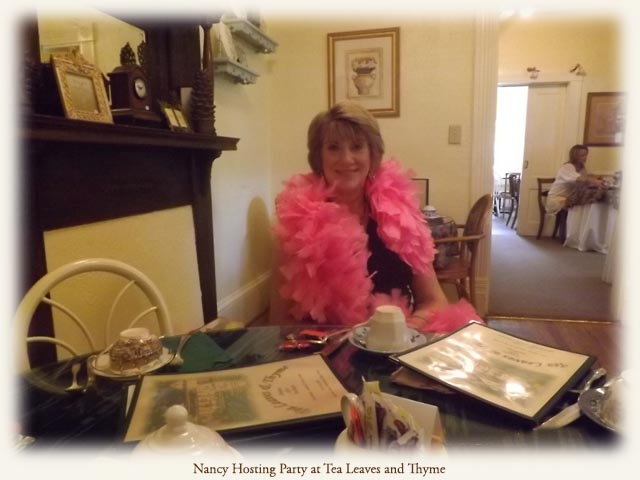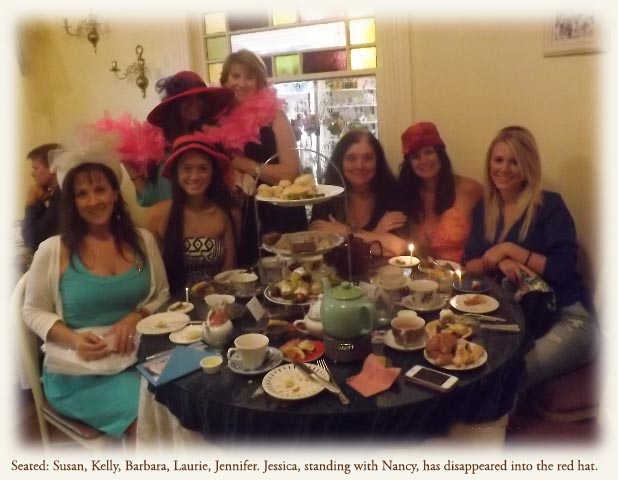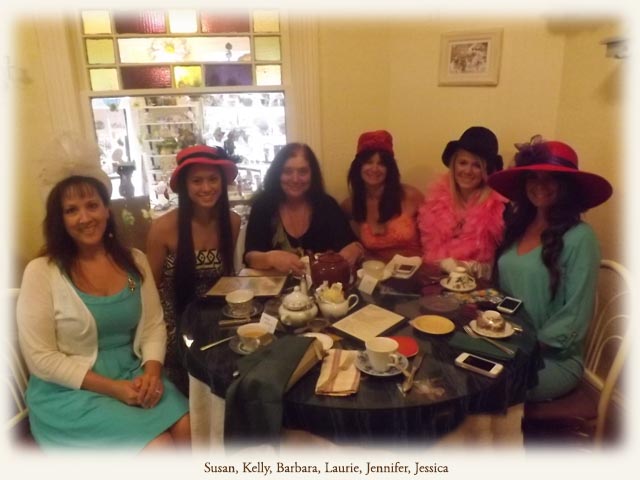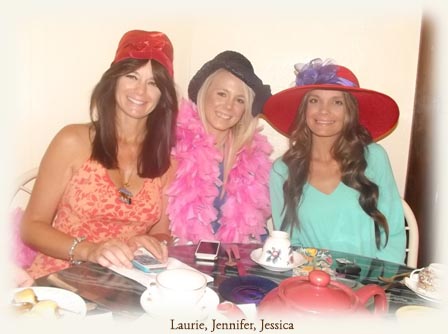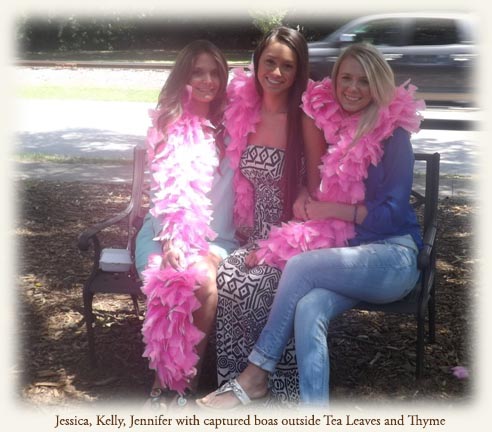 Photos by Nancy Law

Copyright 2014, Barbara Knott. All Rights Reserved.