The Grapevine Art & Soul Salon
Presentations: Barbara Knott
KAYSER UNLIMITED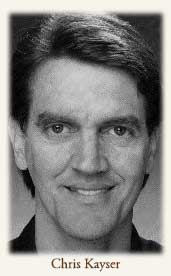 Actor CHRIS KAYSER speaks out on his long career in Atlanta theater; on the upward cultural spiral he has helped to shape in the city; on keeping his faith and the sacredness of work; on his love of family, of dancing and running, of France and the French language; on the challenges and delights of doing Shakespeare; and on his willingness and eagerness to enact all that is possible in human nature.
For nearly three decades Chris Kayser has helped to carve the shape of Atlanta theater. Annually, in Alliance Theatre's presentation of A Christmas Carol, we watch him enact the transformation of Scrooge from a man who is less than fully human to a generous, open embodiment of what it means to be human. Throughout the summer and fall, we see him as a strong and flexible member of Georgia Shakespeare's repertory company, rotating through their five productions in leading roles as diverse as Benedick, Oberon, Petruchio, Richard II, and, most recently, Shylock in The Merchant of Venice. As an ensemble player, his secondary roles, like Claudius, MacDuff, Ariel and Malvolio, are always vividly rendered. Other challenges to his repertorial range--all of them dark and complex characters--include the Marquis de Sade in Quills at Horizon Theatre, Roy Cohn in Angels in America and Thom Pain in Thom Pain (Based on Nothing), both at Alliance Theatre. Add to that his participation in the French-language Theatre du Reve, his work as narrator for symphony and ballet companies, and you have what looks like a thoroughly employed actor. In this case, looks do not deceive. His sustained and highly regarded presence on Atlanta stages and occasionally in films and television, is the result of a carefully crafted career based on a passionate attention to work and an unwillingness to settle for too little in his life.
We at The Grapevine spend a lot of time considering what we will review and whom we will interview, making choices on the basis of our own interest and what we think might appeal to our audience. So I approached this interview with considerable enthusiasm, having followed the career of Chris Kayser through its unfolding over the past twenty-something years in Atlanta theater and film. The result of the three-hour session was a declaration from Chris that he had not talked so much in ten years' time, and for us, a wealth of details about the outer and inner world of a (usually quiet) seasoned and sophisticated, immensely interesting artist.
In his experience, interviewers have asked only a few questions to fill a limited amount of space. This conversation, we agreed, provided room to range around and to acquire some depth. We invite you to take your time with it and to print it out if you dislike screen reading. It can be read in one sitting, like a good short story.
BK: You have become a household name among Atlanta theatergoers, and I wondered how you think about it; how does it feel to be "Atlanta favorite Chris Kayser"?
CK: I think the habit of referring to me that way started at Georgia Shakespeare Festival. This will be my nineteenth year there. That's where the term "festival favorite" came up. Georgia Shakespeare is a resident company, and over the summer, patrons see the actors take on different roles. They get some idea of what kind of an artist each one is and how theater functions. I think that phrase comes from the fact that I've been around so long. Others come and go. And there's something about doing Scrooge in A Christmas Carol--people come back to see the play over and over again. So having me around in a big old high profile job is drilled into Atlanta audiences. Also, marketing people sometimes make up phrases like that, and sometimes they stick.
BK: Those who refer to you as "Atlanta favorite" are thinking about the rest of Atlanta theater as well. You play all the houses. I am constantly surprised to see that you're here and there and elsewhere in addition to your steady employment at the Shakespeare Festival and your regular stint at Christmas doing Scrooge in A Christmas Carol at Alliance Theatre. You really can do so many things, from straightforward drama like Hard Love staged recently at the Jewish Theatre of the South to the masque-like piece Metamorphoses at GSF, to wicked and witty and athletic romps, to highpowered, serious, profound characterizations like Roy Cohn in Angels in America, produced a few years ago at Alliance, not to mention all the Shakespearean roles. It's not usual to see that kind of range. But let's look back to the budding stage of your career. Tell us about how you got started.
CK: That goes way back. I was a tennis pro at the Atlanta Athletic Club. I had worked several jobs around town: Bitsy Grant, Ansley Golf Club ... fancy places. I dreamed of an artistic life, but I had no idea what that would be. I thought of playing guitar and singing at Steak and Ale's. Then I met a girl at one of the tennis courts, and she had just graduated from the University of Georgia with a theater degree. She was auditioning, trying to start a career. So I drove her around because it was interesting to me, and she said after awhile, "You know, you should audition." And I said, "That's crazy, I don't know anything about it, it's ridiculous to even think about it."
There were a couple of open auditions where I saw what went on. She had a job with the Barn Dinner Theater in Marietta, and there was a wonderful guy there named Mel Glass. He's dead now. If there was ever a "theater impresario from central casting," it was him. A great big round guy with glasses, Jewish, smoking cigars. He was fantastic. She had a role, the ingenue, in this little chestnut playing there, and the male ingenue playing opposite her had dropped out. I was sitting in the office with her and Mel Glass, and he was calling people because rehearsals would start in a week, and he couldn't find anybody. He's calling and he's mad and he can't get anybody and finally he looks up at me and says, "What about you?" And he throws the script across the table. So I didn't know anything about it, but I could read, so I just read, did whatever I thought, and he said, "Well, you're boyfriend and girlfriend, and there will be some chemistry there. It's not a very big role, I'll show you what to do, and I'll give you $50 a week."
I was completely thrilled. Here I was, a professional actor, and I was profoundly bit, as they say. I loved everything about it, so after that I wanted to do it again. My girlfriend helped me. We learned a couple of monologues. And I decided that auditioning and monologues would be my theater, that they were little plays I was going to go around and do, and that if I ever got a job, well, that would be gravy. Then, when I did get a couple of jobs, I was the best student ever. I was paying attention all the time, particularly with the directors and with any actor I thought was good and experienced. I was really watching them, seeing how they worked, what they thought, how they did in rehearsal, what they did on opening night, what they did for the course of the run. After I'd done a couple of things, I decided I wanted to devote myself to it.
I still had twenty hours left on my degree in French from Georgia State. So I said, that's perfect. I'll quit my tennis job, move downtown, finish my degree and maybe have a chance to do a little college theater to get my feet wet, get a little experience, which is what happened. I had been an athlete all my life, and when I started taking theater seriously, I needed some exercise, so I looked in the paper and saw these dance studios. I saw tap dancing classes and thought that would be good for acting. I didn't know anything, but I said tapdancing--that sounds good. So I was learning tap and that's a lot of fun, and then I was hanging around the dance studio and looking in a door at jazz classes. I went up to the director of the dance studio--Bobby Archer was his name--City Center Dance Theater--it's all gone now. He's dead. I said, "I really want to take class, but I don't have any money." He said, "If you'll come and empty the trash and mop the floor every morning, you can take class."
Then I was gone. I was taking twelve classes a week. I married one of those dancers ... I am still married to her. So dance really was a wonderful addendum to my interest in the theater. I tell young people now that I use dance in every role I play, whether I'm dancing or not. Dance has everything to do with control and carriage and with the general expressiveness of your body. I loved it and still love it, and I relish those roles that are physical and give me any chance to use my dance training.
BK: You mentioned that when you first started, you were offered $50 a week, and I can remember when that was the going rate for employed Atlanta actors. What was it that made you stay long enough to entrench yourself and to make a decent income?
CK: My daughter Noelle started doing A Christmas Carol with me when she was eight years old. She's seventeen now, and when she did A Christmas Carol with me at age eight, she made more money than I did as an adult in the mainstage company of the Academy Theatre. I think she made $235 a week at age eight, and when I was first a mainstage company member, I made $180.
BK: But you stayed here in Atlanta.
CK: I stayed. I loved it. I absolutely loved it. The Academy Theater had a resident company. You were hired in for 38-42 weeks, and suddenly you really were a fulltime artist. You didn't have to have another job.
BK: Do you credit Frank Wittow with doing that for Atlanta theater? For making theater employment respectable?
CK: Absolutely. A couple of years ago, I think there were five theaters in Atlanta that were run by Frank Wittow proteges: Kenny Leon at the Alliance, Mira Hirsch at Jewish Theatre of the South, John Stephens at Theatre Gael, Lisa Adler at Horizon and Philip DePoy at Theatrical Outfit.
BK: And Eddie Lee's back in town. And Brenda Bynum has been back for years.
CK: Yes. All those came through the Academy. That was where I formed my attitude toward work. Frank had been an army psychologist, so he was interested in psychology, and he was interested in us. What kind of people we were had everything to do with what kind of artists we were. And he said that there was a trap in the theater that was very hard not to fall into. It happens to everybody sooner or later, when you have a success and it really is a success. It's the marriage of the role and your experience level and your maturity and things just happen right and you hear that applause and everybody is coming up to you afterwards and saying, Oh, Barbara you were wonderful.
BK: There's nothing like it.
CK: Oh, Barbara, you are so talented. My God, I love what .... And something about that is going down into your spinal fluid. You're listening to that, and you want that to happen again. And then what happens is that you try to recreate the little thing you did in the success, and it starts showing itself in inappropriate ways in later work. The "business" is not helping you; the business is hurting you. Then, Remember how good you were in that, Barbara? Well, we've got another role like that. And they're hedging their bets because they know you can do that, and they want you to do it again. And then you're one level worse. And these things tend to ossify into patterns that become more and more difficult to break.
So we would try to reinvent ourselves vocally, physically, in breathing patterns. And if you didn't do that, Frank had a way of seeing it. He would call it "reaching into your bag of tricks," trying to recycle what you'd done before. And he would say, "You got nothing else? You got nothing new? Can't think of anything else to do? All you can do now is repeat the past?"
BK: That scrutiny would cause you to reinvent yourself.
CK: It would drive you insane. You had to want it, to believe in it, or you would just go crazy. You would run from Frank Wittow and the theater because he had a way of reaching in there and finding those difficult spots and just pushing. What you had to believe is that he was interested in making you a better artist. He wasn't cruel, but he was unyielding. No bullshit at all. He would tell you plainly what he thought. He had high standards.
BK: He was the first person I became aware of who challenged Atlanta theater-goers to become discerning. When I was at Georgia State in the early sixties, I can remember friends saying, "Atlanta audiences will applaud anything." And I think that was the general idea among artists in the city at that time. They went along with the easy applause because that's what they had. But apparently Frank stepped in and said, "No, that's not what art is," and did something about it.
CK: The pandering--yes.
BK: And the fact that he influenced so many of you who then went on to shape Atlanta theater really made a difference.
CK: Huge difference. I can remember--my first year there, I got my first bad review--bigtime bad review. It was the last play of the season, and I had recently met with success. I had gotten hired right into the mainstage company, bypassed the training companies, and I had had a great year, and so I didn't see it coming. We were doing The Glass Menagerie, and I was playing Tom. Margaret Ferguson was directing. The rehearsal went great. It wasn't like we were fighting or she was unhappy. She seemed to be happy with what I was doing. I was happy with what I was doing. Anyway, then the review comes out and it says--I can still remember it to this day--it says, "Chris Kayser reduces the central character of Tom to a non-person, a bore to be endured." Now that's in the Atlanta Journal/Constitution. My mother and everybody's reading it. I am devastated. It is the first time I've ever taken a really hard hit.
So the next day I go to the theater and everybody's working and I walk in and they all get busy. No one knows what to say to me, they can't look at me, and this is just killing me. I am even more devastated. So I look toward the back of the long shotgun office, and there's Frank back there, and he's kind of smirking, and I'm all hangdog, and I walk back there beaten, and he says, "Yeah, I read it. It's about time that happened to you. You've been everybody's darling for so long, and if you believe all that good stuff they've said about you, you have to believe this, too." And he said, "You've got a show tonight. Are you gonna quit?" I said, "No, I'm not gonna quit." He said, "All right. Get out of here." And that was it. So I said to myself, Okay, all right. I guess I'm not dead. I guess the sun's gonna come up tomorrow. He didn't cut me any slack whatsoever. He just said in so many words, "You're an artist. To be an artist is to be vulnerable. Buck up."
BK: And what he acknowledged was that you had the character to do that.
CK: Right--or he wanted to see if I had the character. There is the character element in there. And that has to with his not treating you just as an artist but as a person, too. I get the same feeling from Richard Garner at Georgia Shakespeare Festival. They really care about you as people as well as artists, and that inspires my loyalty completely. I would go to the mat for those people. That's part of the reason I've stayed so long at Georgia Shakespeare.
BK: Let's go back to something you said earlier about when you took that first role, first stepped up on the stage, and you realized how much you loved it. I was interested that you didn't mention stagefright at all. Was that never a part of your experience? Or was acting such a rush that you didn't care about the stagefright?
CK: I told you I was a tennis player before, and there have been occasions in playing tennis tournaments where I choked, which means I would be nervous to the point where my body couldn't function. My arms would be stiff, and I would be mad, and I lost to players who couldn't play tennis as well as I could. In the theater, everybody gets nervous around openings and that kind of thing, but for me the nerves were never debilitating--just the opposite: I would get pumped up. They never kept me from remembering. I never got so scared I couldn't function. No, it was just exciting. That's one of the things that made me think, maybe this is for me.
I've been the kind of person--I never had a five-year plan. I wasn't good at planning. I was ruled by passions. I loved sports, the immediacy of them and that you had to use both your head and your body in sports. So theater is not that far off. It had dancing, too. It was just better. There were women around, and there was literature around, and there was music. What's better than that?
BK: Yes. Did you know those things about yourself--that you loved music and dance and literature (not to mention women)--before you went into the theater?
CK: Yes, but I was so unpractical about it. Again, the "no five-year plan." I was just wandering. If I was excited, passionate about something, I knew I could be good, and I could be inventive. At the same time, when I wasn't inspired, I could be really bad, dull, stupid. I wasn't smart about--still am not smart about-- marketing myself. That's why I fell in so well with Frank Wittow. He hated the business end of theater. I don't hate it; I just tolerate it.
There was a time when I was busy at Academy Theatre, and I got started at Georgia Shakespeare before the Academy went under. Those seasons overlapped on both ends. That was great. That meant I never stopped working. It had a little price tag to it, though. I did wear out my voice. I got the famous "nodes" and had to have an operation. I had to stop for a couple of months and go down to the welfare office. I take better care of my voice now. Except for that brief time, I have never stopped. Thank God. There's always been work. In the last fifteen-twenty years, I have built my career around Georgia Shakespeare in the summer and having A Christmas Carol in the winter. You only need three more plays to have your entire year booked solid. You need a play in the fall, in the winter, in the spring. I've been lucky.
BK: You're constantly performing and memorizing and rehearsing another performance.
CK: Yes. I've often thought of acting as being like driving one of those old land cruiser gas-guzzling Cadillacs: you go in and fill up with gas, and when you leave the gas station, the first thing you have to do is start looking for another gas station because you know you're going to run out soon. So you've got this job and you're safe for about two months, and in two months you're out of work. That complete lack of security can drive people nuts and away from theater. That's why I am so thankful and proud that I've been able to keep going.
BK: I can see the analogy clearly. It's remarkable to be able to do that, and it must have something to do with your particular way of being in the world. You obviously were open and looking and receptive and attracting what you needed at the time you needed it.
CK: I don't know if that speaks to the "drama school or no drama school" question. I've never been to drama school, never been in an acting class, but I did have a lot of life experience before I started in theater. After grade school I joined a monastery. My high school years I spent in the Benedictine Monastery in Arkansas.
BK: Wait a minute. A lot of people would say that doesn't sound like a way to get life experience, so tell me more about that. It's obviously an unusual experience.
CK: [Laughing] Yes. I grew up Catholic. My Irish Catholic grandmother and my mother are very devout. We all went to Catholic schools. Maybe even back then I had the actor's imagination. I really wanted to get to heaven. I took to heart those stories about heaven and hell, and also the idea of eternity. That weighed on my mind. The story they used to tell in grade school was that a sparrow would land on Stone Mountain on New Year's Day every year--just land and leave, and that when Stone Mountain was worn to nothing [by the repeated sparrow landings], then eternity would just be beginning.
BK: Whoa! What an image.
CK: I know. And so then I started thinking that life is really just a test: pass the test and go to heaven for eternity; fail the test and go to hell for eternity. So I wanted to hedge the bet. I wanted to get to heaven. Part of my thing is to go all the way. I thought the best thing to do was to join a monastery and devote my life to it. I wasn't unhappy there. It was great. There were many things fabulous about it. But eventually I also saw how immature I was. I was trying to get around life and into heaven. Those men had a real positive commitment to a monastic life, a life of work and prayer. And life comes to visit you there in the monastery. You can get in trouble there. Finally, I thought, I'd better get out and see--I can always come back--but I'm really trying to cheat, so I'd better try to see if I can live a good life. So I left.
And then I started out at St. Louis University. And I had a whole French period. I went to France and stayed a year the first time and a summer another time. I really fell in love with France and the French people and the language. Learning the language the first year I was there was the most thrilling learning experience of my life: what happened to my mind. You're learning like a child learns. Stuff is going in that you don't even know about, and finally one day, something went into my ear without translating. It was just language. I didn't hear it, then make it English to understand it. Bang! It went right in. And then, about a month later, something jumped out of my mouth that was just language, and then my mind swung open--that's all I can say. From that day I was on fire. I could understand what they were saying. It was thrilling. I couldn't wait to read everything I saw. And people talking--nobody could be boring. The time I went back, the bloom was a little off the rose. I mean, boring people were boring even if they were speaking French. Still, it was great, and I never got over that. I am still doing French theater, I have a French channel on my television, I'm reading a book in French right now. I never got over it. As I told you before, I want to go all the way.
BK: One of the things I'm seeing as you shape images of yourself is what an absorbent mind you have. That was present back when you were going with your girlfriend to auditions, and once you got started, you said it felt like your mind opened up in the way you just described it opening up to French. My guess is, that's been happening to you all your life with new places, new adventures, and of course, that's fruitful for work in the theater.
CK: Yes. And I did travel a lot. My brother and I took an epic voyage around America. We took ten months: drove up the East coast and into Canada, across the top, down the middle through Colorado, out to California, down to Mexico. Kerouac kind of stuff, fantastic experience. The interesting thing now is that since the children came along, I haven't had a vacation in about fifteen years because I've been working all the time. My children have been in school, and my wife Terri teaches in the school system, so they're all aligned to school vacation time, and then Georgia Shakespeare takes up my whole summer starting in May. And school keeps starting earlier and earlier, so they would be back to school before I was finished--but that's okay.
BK: You may not need a vacation from a rich life.
CK: Right. My wife and family have been great. And there is just the endlessly fascinating armchair travel nature of theater. It's similar to books except that you get to get up on your feet and swordfight.
BK: Tell us something about your discovery of Shakespearean theater. What was your first role? How did it feel to "speak the speech trippingly on the tongue"?
CK: I was lucky to get started with Shakespeare. As I told you before, I don't have any training. I got my first job with Georgia Shakespeare, the role of Feste in Twelfth Night, because I could sing. There are lots of songs in Shakespeare. That really helped me early on, because they needed singers and there were not many actors around who could sing. Again, that's me and my on-the-job training. I can clearly remember my first day of rehearsal. We did two plays that year, Twelfth Night and Comedy of Errors. We went into rehearsal for Comedy of Errors. Do you know John Ammerman? He doesn't perform much anymore. He teaches at Emory. I went to rehearsal and listened to him, and I thought, Uh Oh. That guy is great. I could see, I've got to get like that guy or he's just going to blow me off the stage. Because I really didn't know anything about it. So, as I always did, I "went to school" on him and tried to learn how he did it, and it's very much "trippingly on the tongue." When he was talking, it sounded like natural speech. It didn't sound classical. It sounded like a person who had a reason to be talking and speaking his mind. And I thought, Okay, that's how you do it. That's how far down in there you've got to get. You've got to have that technique with iambic pentameter, but it's got to be like you don't know it. It's got to be like, this is how I talk. These ideas are so big, these ideas are so beautiful, and these are the only words that can express them. Bumping up against that and bumping up against those fantastic plays makes you better. You can't help but get better.
And you get a lot of help there at Georgia Shakespeare. We have good directors. We often have a dramaturg and a voice coach. Those are the answer people, the smart people. Even among people who do Shakespeare all the time, some of the language is still hard to figure out. Sometimes it kills me: students in high school studying Shakespeare. It's not meant to be lying there on the page. And it's daunting to read it. I can't always read it. I have to keep looking at the notes, even when I've done the play, particularly if it's not a role I've done. But by the time you are performing it, you have to understand it so well that the audience is carried along even in the parts that are hard for them to hear and get. If you are acting the role and understanding the role, they are carried along on the wave. It is always a fantastic challenge.
Everybody knows those plays, you know? How many times have you been to Romeo and Juliet? Or Twelfth Night? I've done Twelfth Night four times, MacBeth twice, Much Ado over and over again. People already know what the story is. So what does that mean? That means, how alive is it? How fresh is it? And that's the challenge. Otherwise, we'd just be passing out the book or giving out the Kenneth Branagh tape.
BK: I think Georgia Shakespeare has a particular talent for doing that, and I suppose certain actors more than others. You also are able to reach an audience of students who don't know the plays and to do what you were describing at the beginning, to have so incorporated the character and the language that it flows and the body flows with it in some way that students can look at the play and understand what they're hearing. I;ve had that experience many times with students from my humanities classes. We've gone every summer and fall for ten years to a Georgia Shakespeare Festival performance and to the Shakespeare Tavern throughout the year, and the students always come away delighted with the experience. That has everything to do with your ability--the ensemble's ability--to carry them along with understanding.
CK: Yeah. Yeah. That's a pretty great feeling. When the kids get excited about it. That's building audience, that's contributing to the culture, that's honoring the past. It's all good.
BK: Let's turn to your role in Quills as the Marquis de Sade. I want to mention for readers that you did this whole play without any clothes on. It must have been one of your strangest on-stage experiences.
CK: It was very strange. I had done nudity one time before. It was the second play that Seven Stages ever did. We were all trying to be avant garde at the time. The play had nudity in it, but all I did was that I changed my clothes on stage. I took off my street clothes and put on a wolf costume, so I was naked briefly. We all had to be naked sooner or later, so Del Hamilton had what he called "nudity day." We all went down to Seven Stages on Saturday, and we spent the entire day naked. It was really great. Del was very smart, how he worked us into it. We didn't just meet and take our clothes off. We had theater games that more and more involved nudity.
One of the games was like musical chairs [gets up and begins to illustrate movement] where we all took off our clothes, every stitch, and put them in a little pile right there, and then someone would put on the music and we'd walk around in a circle and then the music would stop, and if I stopped in front of your clothes, I would put on your clothes and I would do my best Barbara Knott. I would--as best I could, I would imitate you. So that was all compelling. A, it was compelling doing it; B, it was compelling seeing other people's take on you. Invariably, everybody that did me, by the way, had their script--I'm a terrible pacer--I've got a lot of energy--so they [shows walking and running fingers through hair]--everybody did that. And you forget about it. Oh, yeah, meanwhile we've been naked a bunch. By the end of the day, we did these long improvs naked and so okay--seen it and we just got used to each other.
One of the times I was in France down on one of those beaches where the women routinely don't wear the tops of their bathing suits--when I first saw that, I was like 20 years old--you know, you'd just died and gone to heaven first off, then after a couple of days, you'd be looking at the exact same women as if they had on one-piece bathing suits--the exact same women--you just got used to it.
So my point is, I knew how long I was going to have to be naked in Quills. I had to tell myself that really, really now there's nothing wrong with nakedness, we're all naked under our clothes, and wearing clothes is all cultural. And it scared me, but okay this is the job this time, so just suck it up. I worked into that, too. I finally got used to it. It was a shock when the people started showing up--you know, a bunch of strangers. This was the Horizon Theater. It's all small and really close. There was one point [gets up and moves]: there's the edge of the stage with people sitting there--there's a bench right here--and I had to walk downstage of that bench and I was naked and you could see the people [illustrates] drawing up. So I just had to get over myself. I had to make myself get going. You have to decide, is this play worth doing? What's the point of the nudity?
We got killed in the review. Dan Hulbert reviewed that one, and he hated it. Something about it really offended him. He actually rejected the whole thing out of hand and said that nobody should see this play. He said that nudity never works in the theater--and so that's it, you're dead. And he also said the play is about censorship: You're going to do that play in America, where people are free to say whatever they want? There's nothing good about that play. So that was it, we were just dead in the water.
BK: The issue of censorship seems very much alive to me.
CK: Right. I'll tell you one story about that play. There was a woman there--you have to see backstage at Horizon Theatre. It looks nice in front of the stage. In the back, it's junked up. They don't have any space, so old props and costumes are piled up back there. There's just a little bitty bit of room to walk, two little dressing rooms, and then it goes back farther, a little alley to a bathroom--a bad bathroom, it's like a slop sink for washing out paint brushes. It has a toilet, but there's nothing else. There's a point in the play where I have to go back there: I am naked and my lips are supposed to be sewn shut. I am covered with blood, and I have to wash off some of the blood. Occasionally, one of the actresses would be in there.
So this woman comes to see the play .... I'll tell you how we found out about this later. She is so freaked out by the play that she has to run out of the theater. But she is not from Atlanta and she does not know how to run out of this theater. You have to go across the stage to get out. There's only one exit. She stumbles backstage, and it looks like hell back there. It's dark and there's stuff hanging. She stumbles down that little alley and she goes into that slop sink bathroom and she is flipping out because she has locked herself in there, and here I come. First I yank on the door, and I am making this noise with my lips sewn shut. At first I think it's one of the actresses, and I am saying, "Come on! You know I have to get in there. Come out of there. [He shows how it sounds with his lips "sewn" shut]. Come on right now. Come out of there. I've got to come in. Right now. Come out." Finally, the door opens slowly and I am standing there naked, covered with blood, muttering with my lips sewn shut. And the woman says (in a small voice), "Could you help me get out of here?" Now I know it's best not even to talk to the woman, so I just back up and point the way, and there are some other people farther down. She busts out the back of the theater to the parking lot.
She wrote to us later. That's how we found out. She was so embarrassed. She said, "It wasn't that I hated the play. Theater is so real to me. It's more real than books or movies. I just got scared--got thrown off." She was visiting, in town for a convention or something. She just happened to come. "I didn't know anybody and I freaked out." She apologized.
BK: Imagine having that as your only experience with Atlanta theater.
CK: Oh, boy.
BK: You made a film called The Bitter Berry about Georgia poet Byron Herbert Reece. At one point in the film he's talking about critics referring to the fact that he always stayed close to home, and he says, "I am not intellectually naive. Books account for that." I know you've been tied into the community here by continuous work, and I wonder if books had a lot to do with your familiarity with the diversity of human nature. I am thinking again of the range of roles you've played. Scrooge would be one pole. I think the Marquis de Sade is a good stretch from any of the other roles, and Roy Cohn in Angels in America might be a third major variation. Then there are all the Shakespearean ones, from Malvolio to Benedick--many roles. How do you find ways to enter complex characters and embody them, and I mean with mind as well as body? And a similar question: when you have a simpler role, how do you take it on and how do you use your intelligence in a way that fits the character? I am thinking of Bill Hickey, who was a wonderful teacher at the Herbert Berghov Studio in New York. He used to say, "You can never play a character less intelligent than you are." He meant that you can't play the character less intelligently. You have to place your intelligence somewhere in that character. So I want to get you to talk about the roles you play and what resources you draw on.
CK: I am an inveterate reader. I am a little bit of an anomaly among actors because I am not a movie buff. All actors are movie buffs, but I am not. I am a big reader. I love books. And they have that armchair travel aspect: we learn about cultures' ways of thinking and relating to other people. But as for variety and my attacking that, I really do believe that anything humanly possible is possible to me. I am talking about brilliance, genius, sainthood--rape, murder, insanity, child abuse. All are possible to me, and kind of not that far away.
And sometimes when I hear from another actor, "Oh, the character would never do that," I say, "Watch out, now," because you never know what people are going to do--what they are capable of. So the Marquis de Sade, Roy Cohn: as despicable as some of the things that Roy Cohn did are, I could do that. Sure, I could do that. He was a little like St. Paul in the Bible. Paul persecuted the Christians before becoming one. Roy Cohn, a homosexual, was persecuting homosexuals. And that is so understandable to me in this sense: there's something about yourself that you just can't stand--it's much easier to hate it out there than to hate it in here. I think that's fairly common and very human and very understandable. You know, the Marquis de Sade on one level is an artist like I'm an artist, a writer like you're a writer. So the Marquis is obsessed with sex--well, who isn't?
BK: Right. It's we who deny it.
CK: Yes. People don't want to admit that. God put that there so we would go forth and multiply [he says this to a jazzy rhythm]: Its in every mayfly and every lion ... so it's kind of silly not to do it. The Marquis is the kind of guy who goes all the way.
BK: Like you. That's a connection.
CK: Uh huh, maybe so. He just will not be denied. I have an addictive personality. And that means to me if a little is good, then more is better. So people who are addictive like myself really have to be careful about managing--seems like I am always managing addictions--and one good way to manage them is to get addicted to good things: get addicted to your wife, to exercise, to literature, where you've got something, instead of walking around in your house. Then you will go crazy. Then you will start finding something. Sometimes I think all that "just say no" business .... You never hear people say, "Oh, yes, I tried marijuana and it was horrible. It made me cough." No, people do drugs because they are fun, really fun, really exciting; it's really good. It's the apple in the garden of Eden. That's why they do it. And they do it again because it was good the first time. But boy, you gotta have some sense.
BK: What you're creating is a picture of big, broad life participation within a religious faith. You haven't mentioned that, but I think it's unusual that you have been able to keep your faith while allowing your own personality to embrace these things, as the apple you referred to. It seems as if you, the devout, religious person, feel that the apple was necessary and not only necessary but fun. And then I suppose the concomitant idea would be that you deal as best you can with whatever comes of biting the apple.
CK: I have a little cachet in my family. Mother had two brothers. One of her brothers had eleven children, the other had five, and my mother had three, and I'm the only Catholic left. Every one of those children and their children have left the Catholic church. My own son has kind of given up, too. They went to Catholic grade school, Catholic high school. There's something about me: I won't give up, I love it. I'm not out to make everybody in the world a Catholic, but it's my faith, the one I grew up with. Every Sunday when I go, or when I go during the week, I look around, and these are my people. And it's great that you get to meet that range of people: old people and people with children younger than your children. There is the feeling that if you didn't have the church, you just wouldn't meet them. And there's a theater element about that, too: people gathering to watch a spectacle, and the guy's up there, and he's dressed up and he's talking. What does that remind you of? I just love being a part of that.
And I do feel--I wish and pray that there was a spiritual revolution. I don't think any system of government is ever going to fix us. If somehow there was a spiritual revolution, it would. I also think that if that spiritual revolution were to ever happen, that church as we know it would disappear and that we wouldn't have to go to church, that the way we treat each other would be church, the way we work on our houses would be church, the way we take care of our bodies would be church. I do think there is a God and that what we do, good or bad, matters. And I just try to honor that in among the believers.
BK: Do you think a spiritual revolution would have something to do with recovering a sense of the sacred, wherever it is?
CK: Oh, gosh, yes
BK: I get the feeling that for you, your work is sacred.
CK: Yes, it is. It is vitally important to me that theater is profoundly worthwhile, that at its basic nature, it is good and therefore worthy of doing and worthy of doing well. It's literature. It's the story of our lives. It's a way to examine behavior in a safe environment. People can get killed, and you know they are going to get up. All those dead people in Hamlet are going to get up and die again. You can see what leads to murder and suicide. That's part of the great elemental nature of Shakespeare, too. He goes after the Big Theme and knows how to do it and how to do it beautifully. It's sort of an endless pool to swim around in. I really love it.
I do believe in the sacred. I want getting at it to be a part of my life. Otherwise, it's just all ego, and ego gets everybody into trouble. Ego separates us. Ego makes us climb on top of each other and behave in all sorts of selfish and venal ways. It's odd to be worried about that in the theater, too. There's so much about it--you have to be careful. You know, high school teachers have to put up with teenagers' crap every day. I've got teenagers at home and I know something about it. But what if it was 3:05 in the classroom and everyone applauded [illustrates] and said, "You were so wonderful! The way you taught political science was fabulous." No, teachers don't get that.
BK: So that's what you've got to be careful of on stage because you do get it.
CK: You've got to be careful. Of course, you also have to put up with people saying, "You really stunk up the joint." You have to have a little bit of a salesman's mentality. They know they're going to have good periods and bad periods, so they just try to keep going. That's what I try to do. If my age and experience are going to count for anything, I have to keep going, and that means to remain physically and mentally expressive. Because theater requires stamina. It really, really does. Nobody cares what kind of mood you're in when you get to the theater. Those people have paid their money. If you got a little cold, don't feel like coming, nobody cares. You have to do it from beginning to end, in the same room, with a bunch of strangers, like it's the first time you ever did it. I take that seriously. They're paying their money. They worked. They're laying their money down for it. I honor that. Those people deserve the best I can give them.
BK: Now tell me about one of the bonbon roles for you, which I believe is Benedick in Much Ado about Nothing.
CK: Yes. Well, what's great about Benedick is that he is such a guy. He's real mouthy, and he's covering up a big heart, too. His "one of the buddies, one of the guys" thing is camouflaging a really sensitive person, a person capable of great love and romance. He doesn't want to be thought of that way, and he has resisted. He has a worthy adversary in Beatrice, who is absolutely his equal in every sense, and there is much similarity between them. You can imagine them as brother and sister, too. They have a tempestuous relationship. Right in the beginning, there's history there. They've come close before. It's so delightful to the audience to see them finally, finally break through. There's a lot of great plot stuff there. It takes the help of their friends. They all see it. They all see what they should be doing. And they have to trick them into doing it and sure enough, they finally do.
BK: And the words ....
CK: Oh, yeah. The words ....
BK: The banquet of words ....
CK: The banquet of words. You know, there's nothing like it, to get on top of that Shakespearean language. It's like--you know, you can drive a Honda Civic and the car goes fine. Or you can drive a Lamborghini. When you are on top of Shakespeare, you're driving a Lamborghini. His language does more than ordinary language does. And it's thrilling. It's great.
My dream role--this is typical of me because it was not a hit. It's something that nobody wants to do really: Richard II. I kept doing monologues from Richard II for [director] Richard Garner. I was trying to bore him, trying to drive him crazy. I said, "I'm going to keep doing this until you let me do that role." He finally got sick of me and did Richard II. That's a play that has no clowns, no songs. You hear about battles, but they don't happen on stage. And it has no terrible villain either. So there's nothing crowd-pleasing in that play, but it has the most gorgeous, gorgeous language.
I just so wanted to do it, and I finally did get my chance. It was wonderful, but it wasn't a hit. It did all right, but it's not a crowd-pleaser. I remember two reviews at the time. One of them said, "This play doesn't have any clowns or songs or battles. Why do this play?" And then the other review said, "This play doesn't have any clowns or songs or battles and therefore you have to look deeper to discover its delights." My response was, Thank you, thank you, now we can talk. Say whatever you want to say. But that's the vulnerability of artists. People can and will dismiss you out of hand.
BK: Critics are sometimes useful ....
CK: They are, they are--you can hear one person talking anyway.
BK: So often the view of the critic seems subjective and seems to have little to do with what you are putting into the play. But I think Wittow was right that you need to be able to take the sour with the sweet.
CK: Yes. He said that you can learn from critics. He read them. I read them. A lot of actors don't. I think any artist needs to cultivate a thick skin, to take the hit and go on. To decide whether you were really unprepared to do your job, lacked inspiration. Maybe you did miss. It's possible.
BK: I bet you don't get many bad reviews anymore, do you?
CK: [Pause]Not really bad ones, maybe. Certainly they're not all glowing.
BK: Tell me about Thom Paine, the one-man play you did with Alliance Theatre's Susan Booth. I didn't see it. Theater critic Louis Mayeaux for the AJC said of it, "Booth and Kayser, two representatives of the highest-ranking Atlanta theater companies, achieve a collaboration of finely calibrated intelligence."
CK: Do something that scares you? That scared me. To do a one-man play at all is scary. I had done one other one-man play, Will Rogers USA. You're playing Will Rogers and that's normal in the sense that you're funny and charming and engaging the audience: Aren't we all having a good time? Yes we are! and you're laughing. But Thom Paine? Uh uh. Very quirky, difficult relationship with himself and the audience. He's asking them unanswerable questions. They're even insulting. Early on, there's the plant--we planted a person in the audience--and about one-sixth into the play, that person [here he hits the table with his fist, stands up, and strides away] storms out of the theater, and then I follow that person and I say, "Au Revoir, Cunt," and I turn back to the audience and say, "Excuse my French." And then I just kind of go on and say, "Anybody else?" And some people took me up on it. There's more. I establish a relationship with a woman in the audience. I go up in the audience and I'm all over the place.
BK: Is this a plant as well?
CK: No. The person had to be in a certain section. We didn't know who it would be. We had a light. The person would bang! be picked up by a spotlight and I'd be talking to her.
BK: It must have been frightening for her.
CK: Yes. I had an older woman one time, and she wasn't having the play at all. This was at Actor's Express and there are only about ten people in the audience. She's over there by herself and that spotlight hit her and she just went [splays fingers from both hands across face, head lowered] like this, like a turtle into its shell, until I stopped talking to her, and then she came out. [Illustrates how he would come back to her two more times]. And other people did leave. I had six or seven people walk out. The play was done so that there was maximum pressure on me, in the sense that it wasn't actor on stage and audience out there. Actor's Express is a small theater where risers go up, but all over the stage were little cafe tables. I had a little space in the middle, but people were up on stage with me. They're right next to me--very difficult. And also in that play, there is a minute's pause--like I'm talking, talking, talking [he pauses for a few seconds to illustrate the break to silence] for a minute. Now, as you know, a minute in the theater is an eternity. The people are just like has he gone up? What in the hell is this? And everybody's really uncomfortable. Or they're getting mad, or they're worried for me. It was incredible! The play also had great language. It was the only time I've worked with Susan Booth, and she's fabulous. And we just had to screw up our courage. It was a polarizing thing. Some people loved it, and other people ....
BK: What did you find in the character that made it work for you, given that it was polarizing?
CK: Well, he was a needy character. He was dying to connect with people, but he was so prickly, one of those people who keeps shooting himself in the foot. He's dying to do it and part of him can't do it. I could work with his loneliness, his desire to connect, but his mind and his mouth are just going, and he frankly doesn't have control over it all.
BK: Where did you put your intelligence in that case to make it work?
CK: He was a very intelligent character. His intelligence didn't always serve him well, but he was certainly intelligent, very intelligent. You could tell from his speech. He had had some bad things happen to him when he was a child, and that made it tough for him.
BK: Would you do it again?
CK: Would I do it again? I guess I'd do it again. It was on a bill of two one-acts. One was I Am My Own Wife. It's about a German guy--a transvestite--and he manages to survive the Russians and the STASI. So it's his story there. Wendell Brock, critic Wendell Brock, was just crazy for that play. Wendell said, "This is THE essential theater ticket," and I just said, "I am dead, dead in the water." But fortunately, Wendell did have the good sense--he liked that play so much that he didn't even want to review mine. So he sent someone else [mimes wiping sweat from forehead across brow and flinging it off fingers], and that guy got it. And so I was sort of saved. The other guy's play was a big hit and mine was not a hit. He won the Suzi for the best actor. And there I was again: it was an intense, amazing experience, and it was not a hit. Some people hated it. One lady jumped up and walked out right in front of me, and she said, "It's not you; it's the playwright!" And all her people trooped out with her, and I had to deal with it. I can't pretend that anything that goes on in that room is not happening, so I had to say, "Anybody else?"
One of the things I love is the variety of it all. You get to do Thom Pain and you get to play Scrooge in A Christmas Carol, for gosh sakes. That's a pretty great life.
BK: Those were some of the quirkier things you've done. On the other hand, You've done a number of father/daughter pieces, most recently in Euridice and in Metamorphoses, and I know you've done Degas' Little Dancer with your own daughter Noelle, and before that Annie and A Christmas Carol with her.
CK: I would like to talk about my daughter a little bit. Degas was our sixth play together. I never had many scenes with her before, but even at eight years old, she was one of those kids who did well. Partially, it's her not being afraid, and it's also being able to get out there and enter into the world of the play and not be looking at the audience or getting nervous or picky or anything like that. And she was very good. It's very important in A Christmas Carol that she was good offstage, not complaining, able to stay on task, friendly with the other children, not causing problems: the opposite of causing problems, she was fun. She also had a sense of the job, as in okay, it's time to go on. She wasn't missing entrances or anything like that.
I wanted her to do it once. I thought, It's something we will always remember. But they loved her so much. She did so well that she stayed. And then I did Annie twice at the Fox, playing Rooster, and she came and sang and did well. And finally the Degas thing came along. It as so good because the play was about our relationship, and they hired a fantastic choreographer from the Atlanta Ballet where Noelle dances, somebody that Noelle already admired, Lauri Stallings, so that was a natural. And our director Rosemary Newcott had the artistic generosity to let that woman get in there and choreograph even the naturalistic scenes where any one of us would look and say, well, there's no dance there. And there was dance everywhere.
BK: Yes, I liked that about it very much.
CK: So it was a huge job for Noelle, not only to play that part, memorize those lines, but the amount of choreography was immense. That hour, or hour plus, put a lot of pressure on her. I was very proud of her, about how she did. Will she make a career in the theater? Who knows? She obviously can do it, and it might be something she does later, but right now her passion lies with dance.
BK: The only mainly-dance role I've ever seen you do was in Beowulf, that project you and others brought from the theater to Piedmont Park a few years ago.
CK: Right. That was a very exciting thing. Speaking of daunting, when you think Beowulf in the theater. But we had a fantastic team: Rochelle Barker in set design, Philip DePoy in music, Nicole Liveratos as choreographer. This was a little like Degas' Little Dancer in that they let the choreographer get in there in such a way that the whole thing was told through movement, even in those places where you might not think of it being dance, but it had a vocabulary to it, and it was bounded only by our own personal stamina and talent. Nicole was right there creating it with us.
BK: Tell us about the concept.
CK: Theatrical Outfit at that time was in the old Kresge building at Peachtree and Tenth. They made the whole theater into a mead hall where people of that time would gather and tell stories and make plans and drink mead, which is something like fermented honey. The space was smallish and was draped in curtains over the audience and so the audience and the stage were all one thing. Coming down the risers where the audience sat was a stream. They had built this pond with a waterfall that came down right in the middle of the audience. Then we had these big, long tables, some for the audience and some in the middle for us.
I'll never forget opening night. One thing we did during the play when were excited was to pound on the table like this [illustrates]. To make it as physical as possible, we would pound on things. Now, we were not ready for success. We thought we would come out, do a curtain call, and say thank you very much, and that would be it. But on opening night of this play, we walked off and went back to our dressing rooms, and then we heard this incredible noise. We said, "God! What is that?" We kind of leaned back out, and the people were banging chairs and pounding on tables: "Oh my god, that's them." So we came back out. The audience went crazy. They loved it. We weren't ready even for a second curtain call. But to hear that. It was spontaneous, and it had everything to do with the way we did the play, so I will never forget it.
We tried again the very next year. We reassembled that team to do The Scarlet Letter. It turned out to be a disaster. I directed the play. Nicole Liveratos, the choreographer, we needed her so badly. She got pregnant and then got sick, and so she was in bed for months and out of the picture. And the guy who was supposed to play the lead, he got another job at the Alliance Theatre that paid more. He thought he could do both. It was a children's play. He was doing the children's play in the morning and coming to rehearse with us in the afternoon. We were real physical. He realized after a week that he couldn't do it, but we were now a week into rehearsals, so I had to take his place in the role of Dimmesdale. I had to direct it and be in it at the same time. It was devilishly difficult. The play just didn't have the same impact.
BK: What is it about Scrooge that makes you want to do it year after year? I want to see it year after year, so I can understand if from that point of view.
CK: People ask me that. It's the twenty-second year--is that right? Yeah. Twenty-second year this year. People ask me every year, how do you keep going? Well, part of the answer has to do with something we've already discussed: it's my job. I don't have to be crazy in love with it all the time, but I have to do it as well as I can. And there's a lot to love. You can't complain about the writing--Dickens is one of the great writers in our language. And all actors want to play a part with an arc that is affected by the events of the play, and this is like the best example ever of that. It's psychologically rich, even though it's fantasy. It's plain to me why he is who he is: it has everything to do with the difficulties of his early life and with the women or lack of women in his life. You don't hear about his mother, but he has a domineering, tough father, the guy who leaves him at school during the Christmas holidays. He's the only kid there, and the father says, "Christmas is foolish" and "Why waste money on that?" So he has two choices: he accepts his father as correct or--the other choice is untenable: my father doesn't love me. I only have one parent, and that one doesn't want me around. He can't think that. He's got to ascribe to his father's beliefs. His mother has abandoned him. She has probably died, but anyway, she's not there. And then he's got his young love, Belle. He meets Marley and goes to work for Marley and then Belle says, "You're changing, and I don't like the way you're changing," and he says, "No, I'm not changing. I love you, and everything's going to be fine." Then Belle leaves him, so there's another abandonment by a woman.
BK: That's one of the saddest moments in the play, to see him causing that.
CK: Yep, right. Then there's his sister and the lack of money. You see what that does to people, and they're so vulnerable, and it's all around in society. He loves his sister, and I can imagine him saying to her, "You've got a friend in me, so you can come and stay with me." And I can imagine that they could just stay that way forever. The sister will cook and clean, and he'll take care of her until they both die. So what happens to the sister? She falls in love with somebody and abandons Scrooge, too. He doesn't like the guy, the guy's not rich enough for her, not good enough. So anyway, there he is, abandoned by women all his life as well as by his father. There's no outlet fo--he's never practiced kindness. He sees kindness as vulnerability. All that is ossifying into a pattern, and it's getting worse and worse and worse. It takes something miraculous to change it. It's a great story. That's why people come year after year.
I don't have constantly to try something new because "otherwise I won't be interested." I hope I am a year's better actor each time. And there are some cast changes, and everybody brings something new and personal to the roles. But my only job is to bring that piece of literature to life, that's all. That doesn't mean changing it to keep me interested. You're going at the truth and the truth is sacred. Just leave it at that.
BK: That's a wonderful way to put it.
CK: I am not forgetting that job business. That's why I have a house. That's why I can have children and cars and insurance and pork chops. That play has been good to me. I'd better be thanking God I've got that play.
BK: That's the work ethic angle. Do you have more to say about Scrooge?
CK: [Pause] Yeah. This is another theater angle, related to how I manage. I am getting older, and it's a brutal schedule. It's a two-hour play and we do it eight, nine, ten--this year we finished eleven shows. The union won't allow the theater to do more than eight without paying you. People come, so they pay us extra, but it's brutal. And there are children in the cast and people do get sick and people get bored and so now, when I do that play, I am so in survival mode. I start in survival mode. I don't even pretend anymore about the kind of camaraderie you create in other plays.
It's kind of pathetic, but I build what I call my "possum nest." In the halls of the Alliance Theatre they have nice beds, real beds with mattresses and pillows and everything for people to rest. That's not even good enough. I build a little bed in the bottom of my costume rack in my dressing room. On two-show days I always bring my dinner so I don't have to leave the theater, and as soon as the first show's done, I eat my dinner, I go to bed. I go in there, lock the door, turn my light out, and it is dark and quiet, and I can rest. People are always saying, "Come on, Chris, we're going to do this and that, come have dinner with us," or they are wanting to go out after a show, get some drinks, and I just want to make it to the end of the show. But you never forget oh yeah, there are all those curtain calls. The stress is just part of it, and people are being very nice to me.
BK: And it's only a few performances.
CK: It's not like being in a hit on Broadway, playing the role for two years, eight times a week. I don't know what that would be like. A Christmas Carol just comes up once a year. We rehearse for two weeks, then do it for a month and it's over. It's the best paycheck of the year for me. I'm not about to complain.
BK: Once when I spoke to you briefly at a reception about your experience in making The Bitter Berry, an award-winning film about Georgia poet Byron Herbert Reece, you commented rather casually that the role was a piece of cake for you. You said all you had to do were things like "climb into a truck and drive as directed." A beautiful old truck, you emphasized. Gary Moss, the director, was a guest at a salon on Reece at my house back in the early 90s. I got interested in the film and wound up showing it quarterly to my humanities classes for over five years. The film wears well, and so does your performance as Reece.
CK: Gary Moss calls it a poetry video--like a music video--which is true. I had very little actorish dialogue. Most of it was voiceover. There was a scene giving a speech to students, but that was an extract from his writing.
BK: For those readers who don't know it, Reece spent most of his short life in the hills of North Georgia, writing from the landscape around Young Harris where he taught English. You look a lot like he looked in that photograph of him leaning against a hand plow.
CK: Yeah. Tall, skinny, bony, angular ....
BK: So that gave you a certain advantage.
CK: Yeah. There was a woman up there, Betty Sellers, a Byron Herbert Reece expert, and she was on the film with us. She was there every day. She was a great resource for what his voice sounded like, how thick his accent would be. And of course, we're both Georgia boys, so I had that going as well. But because of the voiceovers, the actual direction was something like "get in the car and drive over the hill." I had not done much film, so it was wild and fun to be outside. You're working, acting, but you're outside? How strange is that?
BK: Lying in a graveyard looking at ants....
CK: Lying in a graveyard looking at ants. That's right, and we went from one gorgeous spot to another. Up in old barns. And I actually got to plow a field behind a mule. It was awesome. And I love his poetry. He was a person who had been kissed by God. That is a torturous experience for some artists, where the experience just has to get out. He was a lonely man, very much alone.
BK: I remember a line from one of his letters: "I have known a great many people I could have loved, if I'd had more time and more freedom from my own ego."
CK: Yes.
BK: There was a lot of closeup work in the direction. Maybe there would be a voiceover, but the camera would be on your face, so you did a lot of facial expression as well as driving a truck.
CK: Gary Moss and his film partner at the time, George deGolian, were a great help. You get to do film over and over again. Finally, it ends up being one thing. But there was a lot of coaching going on there. It was a small film, and we could take our time.
BK: Were you pleased with the end product?
CK: I was--I was.
BK: Did you mother like it?
CK: My mother liked it! She sure did. You know, you can't have ego about your looks in the theater. I mean, your hair--they tell you to cut it, you got to cut it. My mother always wants me to look good, like all mothers, of course. That's why she doesn't like all the Christmas Carol pictures: "You just look old. That's not good." There was one time when I was playing Andrew Aguecheek in Twelfth Night and I had this crazy look [makes face], and I also had a unibrow, and the picture was on a poster, a banner, and the banners went along Peachtree Street, from Oglethorpe University all the way down to the Alliance Theatre, advertising Georgia Shakespeare Festival. So it is fall and I'm playing Cassius in Julius Caesar, and I'm driving my mother up Peachtree, taking her to see the play. There's my face, coming at us all the way. Without thinking, I said, "Mother, look. That's me on the poster going all the way down Peachtree Street." She said, "I don't like that picture. I don't consider that's you."
BK [after laughing]:That could be a comment on role-playing altogether, couldn't it?
CK: Talk about cut me off at the knees. That's a mother.
BK: Sounds like a little play there.
CK: Right. That'll keep your ego from getting out of hand.
BK: My son Jonathan, who is my partner in The Grapevine, gave me a couple of questions for you: Given that you spend so much time performing and rehearsing roles for the next project while you're performing, when do you have time to be yourself?
CK: Right. Well, I have a family and that's who I am: the guy that cooks and cleans and takes care of the yard. Just the normal stuff, chasing after the teenagers. Of course, I like all sports. I'm a bit of a sports nut. I still play tennis, although I haven't played very much lately. I like to go fishing. I love nature, love being outside. I don't have too much time to do it, unfortunately, but I just don't worry about it. I try to remember to be thankful, and anytime I do get a chance to be outside, I cherish that.
BK: There must be some way, too, in which all those roles are Chris Kayser. Over a period of time, don't you absorb them so that they become a part of who Chris Kayser is? I expect you can't always separate them out completely.
CK: Oh, yeah, right. I spend so much time doing it. I haven't taken a break in something like fifteen years. It's not that I don't ever have breaks. But they come at times when I don't want them. Everybody else is in school. Terri and Noelle are in school. I have to go right down to the unemployment office. If I don't, it represents a hole in my budget. So I'm on a lifelong austerity program. That's how we make it. We have a little house, and we don't want for much, really. We're just careful with money and are happy with what we have. We were lucky to buy this house in Decatur before Decatur was Decatur. We got that house paid off, and now there's McMansions everywhere. There's eight or nine of them on my street. We were just lucky.
But for going somewhere? I've been able to send my children around. That's a little bit like the armchair travel I've done in theater and books. I'd like to go to France, but now I bring France to me. Both children did exchange programs. We had a French teenager come to stay with us for three weeks, and the next summer they went to France. On August 15, I'll have two more French teenagers in my house for a week. This is a group that comes through every year. It comes through my church, and I have a couple of those kids. They only stay for a week, but it's fun to have them.
BK: So you have athletics, you have the church, you have primarily your family and by extension, the things they get involved in like the cultural exchange program. My sister Nancy said she read that you run the Peachtree Road race.
CK: Uh huh. This will be my thirtieth year to run the road race. That is my secret desire: someday I want to have more Peachtree road races than anyone else.
BK: That's wonderful.
CK: It's going to be my claim to fame. There are other people--I've been in thirty and there have been been thirty-four, I think, and some people have done them all, but those guys are gonna die. They're older than me, and I stay in shape, and I'm good for another fifteen years. I've run a couple of marathons. I go to the gym every day. I take these fitness classes. I go from eight to nine o'clock six days a week. They have trainers who take up to six people, and man, you work hard.
BK: That's what you've done all your life--to work yourself.
CK: That speaks directly to variety in the theater, too.
BK: Jonathan also wanted to know whether you ever find yourself offstage and thinking in the mode of one of the roles you've played--like jogging down Peachtree as Roy Cohn.
CK: Roy Cohn is not a guy you want to take home. Actually, I used to do that a lot more.
BK: That's what he wondered, if age, maturity, make a difference.
CK: It does make a difference. I'm better about leaving it at the office now. But it can be a difficulty. Some of those method guys--the best example right now is Daniel Day Lewis--in character all the time. I don't want to do that. I don't think that's good.
Part of the fun of the theater--I mean, there's a disciplined aspect to it: you have to stay healthy, you have to do your homework, you have to show up on time, you have to try hard all the time. But then the part that appeals to me is that there is a wildness element, too. If you practice the discipline and you get there feeling good, you can be wild and crazy. They want you to be crazy, you know, not just to think in the same way everybody else does, but to think in brand new ways and surprise audiences so that they say, "I loved that!"
But at the same time, when I am in my regular life, I don't even want to tell people I'm an actor. I never say it unless somebody asks me, partially because it's embarrassing. People get too interested: Oh, you're an actor! Then they want to know all about it. I do want to hang on to that business about it being my job just like what they do is their job, and my job isn't inherently more valuable or interesting than theirs. It's just so out of their experience. You know, show biz. So I just refer to it as going to work; I don't say, "I have to go to the theater" or "I have a show."
BK: I'm sure that helps you keep your sanity. I can feel that it's healthy to do that.
CK: Yes. You know, back in the day, broadcast media had to provide what they called PSA, public service announcements: they gave every nonprofit theater airtime on public television to do an advertisement for their shows. You had like a minute. Everybody did this. Back at the old Academy Theatre I used to park my car near a bunch of old storefronts. You had to go past them to get to the Academy Theatre, and there was a little mom and pop grocery store there, and I used to go in there and get an orange juice or honeybun and go on to the theater. And I got to know those people, the man and his wife. And they knew what I did, that I worked at the theater. And then I did one of those PSAs for The Glass Menagerie. It was just me in the spotlight. And they saw me on television. And I came in the next day, and they leapt out of their chairs, and he said, "Honey, go get him his honeybun, and he likes a carton of milk with that, too," and he said, "Your money doesn't spend in here." And I said, "What? What happened?" And he said, 'We saw you on TV." That was like a miracle to them, a miracle that somebody they knew was on television. And it was so not miraculous, but it was to them. It was just me in the play. They wouldn't in a million years have come down the block to see me in that play. They couldn't care less. But they were electrified that they had seen me on TV.
BK: You need to write your own series of scenes like this. I would like to ask you now what you think is the present state of Atlanta theater.
CK: You know, back in the old days when I was starting out, Atlanta was absolutely considered a minor league town. It really was a minor league town.
BK: I remember that.
CK: And it was minor league for theater, too. There was a whole mindset in the city, of being second tier. We had minor league sports here and for theater the idea was.... Well, there was only one equity theater and that was the Alliance, and they routinely went to New York to get actors. It's somewhat better now, but back then they routinely went to New York. Equity actors used to change their names. I'll never forget that. That's a soul-killing exercise: you couldn't perform under your own name. You had to attribute your work to some fictitious person. The prevailing idea was to get good and get out. You got a few chops here and then you went to someplace else: New York, Minneapolis, Seattle. I always saw that as a downward cultural spiral for Atlanta. I didn't think that would ever change until some good people stayed, until people who were good enough to go someplace else decided not to go. I hoped to be good enough to take part in that trend, that somebody would stick and we would sort of grow around that.
Fortunately, I've been able to grow up with the theater scene in Atlanta. It's great now. There are so many opportunities for equity actors and non-equity ones. I stay in Atlanta because I want to be a part of the cultural life of the city, to be a part of an upward cultural spiral here. If I thought we were only doing bad theater or that you could only do good theater someplace else, I would have to leave. I would have to leave. But I don't believe that. I believe there is good, serious theater going on right here with good and serious people. And that makes it worth staying.
Theater fights an uphill battle against the media. I think theater is foolish when it tries to be the movies, to outdo the movies. It is doomed to failure when it becomes spectacle, when it becomes kitchen-sink reality or tries to do fantasy better than the movies. We'll never be able to do that. It has to be true to its mission of something live happening in a room between the artist and the audience. That has to be at its core, and that has nothing to do with the spectacle that movies can provide. Hopefully, theater will continue to grow an audience for that.
BK: Say more about what theater does by comparison to the movies. What does theater offer the city?
CK: I think in variety alone, it has such wider scope than the movies. Theater is far richer intellectually, emotionally, politically. It's a richer field.
BK: What about the art form itself? You've spoken of the text--the drama--and now I'm referring to what you said earlier about the excitement of actor and audience being together. What does that means to you?
CK: Well, it means everything to me. I find it so exciting that here, 30 years after I started, I'm looking forward to going to work tonight. That is so exciting. It is proof that "live" theater is real, proof that it exists. I can still feel it, and I talk to people afterwards who feel it, too, and are moved in some way by a live theater experience.
BK: It feels like a real community experience in a way that movies never can be, I think, because the artist and the people in the community come together in that way.
CK: Yes.
BK: Returning to the subject of the sacred that we were talking about a while ago, I am guessing that for you, as for me, each art seeks the sacred, and I know that your religious faith is important to you. It interests me that you've chosen an art form that's been singled out in the past for exclusion from the church, presumably for arousing unwelcome ... because uncontrollable? thoughts, feelings and actions. I believe that actors were once not allowed to be buried in holy ground. Moliere comes to mind.
CK: Right.
BK: Here's a quotation I'd like you comment on if you will. This is from a book called How to Read a Poem by Edward Hirsch. He's talking about poetry: "The spiritual life wants articulation. It wants embodiment in language. The physical life wants the spirit." Do you agree with that? And do you have more to say about how these two forces come together in theater, as a place where actors, artists can embody the spiritual and give it expression. Yeats said about one of his poems, "I made it out of a mouthful of air." I think too that actors make things by bringing words off a page into the body and by transforming words through the body and language in much the same way, so that a mouthful of air becomes Benedick.
CK: Right! That's some great stuff there. I've known several people like myself who were former seminarians. There is some connection there that I've already touched on a little bit: gathering to hear something and be moved by it. There's ceremony, and there's focus and concentration going on, on both sides. In the past I think people have been afraid of theater and its power to excite. There have been riots and all kinds of stuff like that. I think people want to be moved. That's why they come. They want desperately to feel something, and if they don't feel something, I think that represents a failure of some kind. And you're in public, too, you're with other people and that's community, that's us and the world, and that's sacred to me. I think old Mr. Yeats was right, too, that it's creating something out of nothing. You just start the story, and the active participation of the audience .... That's their contribution in terms of imagination, filling in the details, the willful suspension of disbelief, the willingness to go along with where the story takes you and be moved by that. I think that's a great thing. I'm glad to be a part of it.
BK: One of the things you've said that most impresses me is that anything humanly possible is possible to you. The Roman comic dramatist Terence said, "I am a man; I hold that nothing human is alien to me." I think it is so truly remarkable to feel that way and to be able to play that. You can play so much more of life when you can embrace even its shadowy elements.
CK: One fear for actors.... You know, everyone wants to be like my mother wants me to be. Everyone wants to be handsome, debonair, charming. She wants me to be David Niven all the time.
BK: And certainly not use profane language.
CK: Right.
BK: Or go naked on stage.
CK: Yes. I didn't invite her to that play where I said, "Au Revoir, Cunt." Mom stayed home that night. There's a danger for actors. If you do something really well, the better you do it, the more people are going to think, Woh ho! That's just like him. In the worst way, that leads to a little wink in your performance. But if I believe that everything human is possible to me, then given another set of circumstances, I might be capable of behaving like Roy Cohn did. Oh yeah.
BK: But to recognize that is psychologically mature. Most people will not say that. Do you agree?
CK: Yeah. I think so. I have felt with my own beloved children--who hasn't? If you have a child, I'm sure you've felt...when they're five or six or seven--young--the parent is exhausted from taking care of them and it's the next day and they're fighting you every inch of the way: "I don't want my shoes on" and you're trying to tie their shoes, and it's Okay, I've got to take a little walk here. So somebody who doesn't have his feet on the ground or has drug and alcohol problems or stepchildren he never wanted--could child abuse happen? Absolutely. I can understand it and not look down and say, "Only a devil would do that." No, that's not true.
BK: That's having in yourself a generous view of human nature and its capacity for embracing all of life, and it may be that such a view is essential to your art. That may be what makes a great artist.
CK: I hope that's what makes it honest and real. I think that theater takes the actor into places that are not particularly pleasant to be. Often! The very nature of dramatic literature is conflict. Heartbreaking and difficult stuff happens all the time. Either you're playing at it or you're doing it--going there. Any thoughts about the glorious life in the theater--there's the other, too.
BK: I think this has been delightful.
CK: Yes, it has been interesting. Thank you for talking to me. I haven't talked this much in...maybe ever. As I was telling you, I don't go on about it.
BK: I can believe that.
CK: One time I was with my brother. We were down in my back yard. I think we had smoked some marijuana, so I was a little high, and I was talking, and afterwards I could have just shot myself. I said, What a bunch of actor bullshit that was. I was talking about myself and my roles, and I should have said, just shut up. I was so embarrassed after that.
My brother is wonderful. He listened to me. And I guess if it's your brother, it doesn't matter, he's interested. He's a clinical psychologist, and he doesn't talk about his work. His work is amazing to me. He doesn't talk about interesting or fascinating cases or how I did this and that. And I've said to him, "How on earth do you sit there everyday and listen to what is by nature a parade of woes, of things that are going wrong, this problem and that problem?" and he says, "I know. I'm helping these people." That's him and his gift. He has more charisma than I'll ever have in my life. Back before we were both married and were trying to figure out what to do, we'd be with other guys and somebody would say, "What do you want to do?" And somebody else, "I don't know, what do you want to do?" And so on, until it got around to him, and he would say, "Okay here's what we're going to do. We're going to get in the car and get a sixpack and drive around 285." And we'd go, "Yeah! Let's do that." He'd have an idea, and I would just follow along. We had a difficult time in our early life because I dogged his tracks all the time. He's three years older than me. I adored him, and he couldn't get rid of me. That was before we were teenagers. Now we get along great.
BK: Does he come to see your plays?
CK: He lives in Charlottesville, Virginia. He comes down twice a year, once at Christmas, and then in the summer. He and I run the Peachtree Road race every year, so he gets to see at least one play, usually two, at Georgia Shakespeare. He would see everything if he had the chance.
And I have a sister here, too. I haven't always been close to her, but I am close to her now. She comes to a lot of stuff. So I'm very happy with that.
BK: You have been absent from A Christmas Carol once or twice, haven't you?
CK: Not the play, but from the role of Scrooge, yes. I played Bob Cratchitt a couple of times, played Ghost of the Future, played Marley. Just a couple of years ago Kenny Leon played Scrooge, and I played Marley. It's a different experience when you're not Scrooge, though. He goes through some terrible stuff. Imagine somebody coming along who can show you every stupid, embarrassing, hateful unkind thing you ever did in your life--You know, like, Barbara, watch this!
BK: That's scary.
CK: Boy, you screwed that up, didn't you, Barbara?
BK: I'm scared right now.
CK: You were so mean to that person! And you go, Oh God! Yeah. But that's what happens to Scrooge on and on and on.
BK: That's probably what makes the spine tingle when people are watching that play: the suspension of disbelief that it could happen to them. It can happen, and for those moments you know it.
CK: Somebody who remembers you when--that's part of the family dynamic.
BK: Yes. Now about your curtain call. Not everybody keeps on giving to the audience as you do. Most people on stage seem to think the gift is over with when the play is done. You can feel that they are receiving the applause of the audience. But you come out and with your curtain call you give them something more, the radiance of your smile. It's like an embrace of the audience. What I'm seeing in the smile is your acknowledgement that for what happened in the theater that night to happen required that the audience come and meet you there and be truly present and responsive and that they have done so. I wonder how it feels to you to do that.
CK: It feels good. There's no denying that curtain call feels good, but I see what you mean. Well, theater happens and it's live and in a room with the people there. It just wouldn't happen otherwise. And I do think about them buying their tickets and choosing to come to see this play. So the nature of theater for us, too, is having them in the room and palpably feeling their energy, in serious plays as well as comedies. It's more obvious in comedies, but you can feel it too in dramas. You get something from them. When everybody's going and you depend on everybody else and you've really got something live and exciting--that's why we're doing it.
BK: What have you got coming up?
CK: In January-February I'll be at Actor's Express doing a play for Freddie Ashley over there called Mauritius that's recently been Off Broadway where F. Murray Abraham played the role I'm going to play. He's a bad guy, a gangster guy: a very unusual role for me, a scary, powerful, crime guy.
BK: Any redeeming qualities?
CK: Ummmmmm.
BK: Not really?
CK: No. Oddly enough, it has to do with stamp collecting only peripherally. Somebody inherits these two stamps, and they are fabulously valuable. Therefore, the underworld gets involved because it's money. I represent the stakes of the play because people could get killed, hurt.
BK: There's something endlessly fascinating to the public about that kind of story, something totally exciting about crime, as we can see in the success of TV shows like The Sopranos.
CK: Not playing by the rules--making your own rules.
BK: That's what it is!
CK: Yes, and then there's the survival of the fittest thing that you see in nature.
BK: I'm glad you said those two things. I've never been able to say what is appealing about it, what causes people to watch The Sopranos for hours and hours year after year.
CK: I swore off gangster movies. I got finally so sick of the violence. And the violence gets worse and worse. It's clear that they're having to outdo the last gangster movie. I don't want to see anymore. It's so sickening.
BK: I don't suppose you saw the film version of Cormac McCarthy's No Country for Old Men.
CK: I actually did see that.
BK: That's not a gangster movie in the sense we've been talking about, but it is really violent.
CK: I've read The Road and All the Pretty Horses. Some of his Western stuff is pretty shocking. It's down and dirty. It's a real elemental setting rather than the streets of New York. But there's no arguing with his writing.
BK: I feel that way, too. He's one of the few writers that will cause me to keep a notebook beside me because I know I am going to find words and phrases that I want to bring back to mind or open up in some way. I don't do that with other writers--maybe Shakespeare--but he has a way of using language that really stimulates my interest.
CK: Right. So have you read anything good lately?
BK: By him?
CK: By anybody.
BK: Hmmm. I just read Doris Lessing's Love, Again. You know she won the Nobel Prize for Literature last year. It's a story about a 65-year-old woman, and it's a story about theater. She's one of the producers of a theater, but she also writes scripts and music for it. And after a 20-year hiatus in her love life, she becomes seized by a need to be in love again, and so that need goes out and touches this person and that and then another. Tell me what you're reading.
CK: I've been reading Don Delillo--very worthwhile. I've just read his 9/ll book called The Falling Man and also White Noise. Have you ever read Salmon Rushdie?
BK: Yes, the one book...
CK: Satanic Verses? That's wild writing, too. That's a kind of jazz writing. So Don Delillo--they're not all that similar, but it's the kind of writing where you don't see how the pen could stay in his hand--and Philip Roth. All are people I'm reading.
BK: It's good to talk to you at this stage in your career, when you know your thoughts and you have some stories to tell.
CK: Unlike dance, the theater lets you get old. I love that. I plan on getting old--I mean really old. I'm already old now.
BK: Really old is still off in the future, I think.
CK: You can be seventy and still be in the theater. Why should I stop? Why should I retire? I may work less, but I don't see any reason to retire, as long as I keep staying fit and interested.
BK: Or unless you lose your status as "Atlanta favorite Chris Kayser."
CK: Yeah, right.
BK: Not going to happen. Have you talked enough?
CK: I think I've talked enough. I know I haven't talked this much in ten years. You got me going there.
BK: It was a pleasure. Obviously, we could do this for a very long time. I mean, we have done it for a long time. There are so many things that would be fun to talk about, but I am aware that you have a performance to get to this evening.
CK: It's outside my experience in interviews to have this kind of time and range--usually they want to know something about something and that's it.
BK: What I wanted to know was what you are like. I'm glad we set up the situation so that there was time...
CK: ... to range around.
BK: Any last words?
CK: No.
BK: All right. Good show.
Here is Atlanta favorite Chris Kayser as Mr. Scrooge, with one of his friends from the annual Christmas parade on Peachtree Street in Atlanta: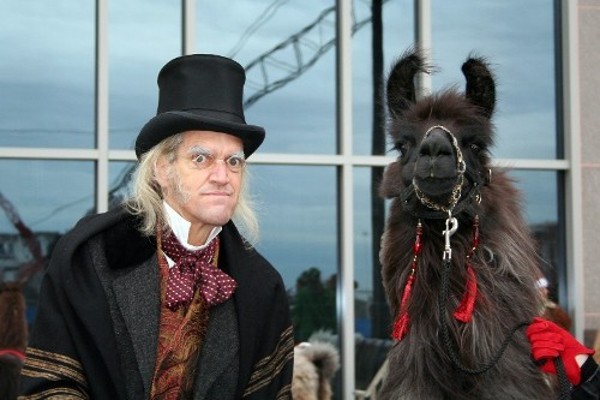 See these links for more on Chris Kayser at The Grapevine.
The Bitter Berry: The Life and Work of Byron Herbert Reece
Copyright, 2017 Barbara Knott. All Rights Reserved.
Contact the
Webmaster