The Grapevine Art & Soul Salon
Presentations: Jenny Bishop Heaton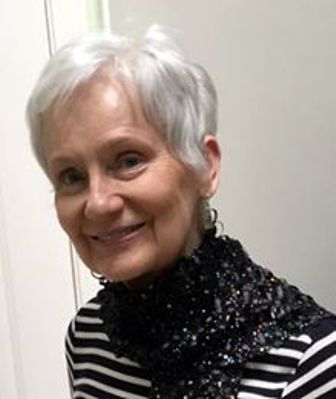 WILDNESS: A FORCE FIELD IN ART
How I love it that my art takes me on exciting adventures, into realms I could not preconceive. Sometimes my writing is like that, too. These discoveries delight me no end. They ARE freedom in a most holy form. (See! The writing is speaking.) When we write, we discover who we are. When I paint, there is a similar discovery, yes: a wild flinging out of creative gestures that need only a little cajoling to satisfy my artist soul.
I remember when an art mentor included my art work (a highly complex drawing) in a magazine article he was writing. He said (of my work and my creative drawing "method") that I was "an unselfconscious drawer." Isn't that wild?
There's a wild woman lurking in my studio. She takes over my brushes, and boldly flings colors, shapes and lines across my canvas. Her method of mark-making excites me. Wild Woman slipped into my toolbox as I left a recent workshop on abstract painting (taught by Leslie Newman of Atlanta, Director of the Art School in Sandy Springs) where I took to heart her guideline, "There are no holds barred!" Now, each day, Wild Woman beats me to my studio and demonstrates the importance of intuitively tapping into my own creative ingredients accumulated through years of art making.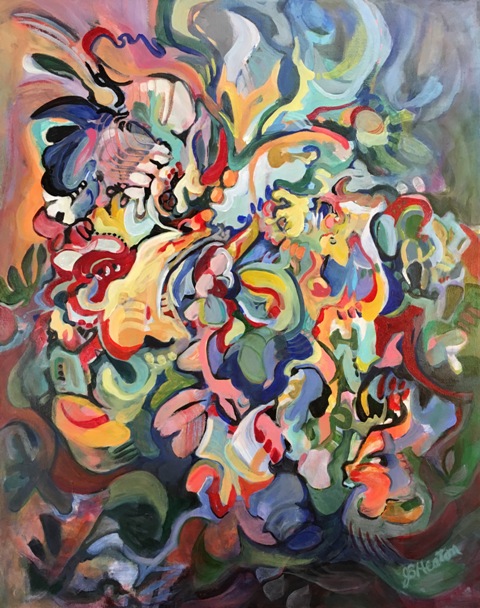 BOUNTY: Acrylic on Canvas, 36 X 24"
Wild Woman's input boosts my confidence in color exploration, obvious here as I use my favored organic lines and shapes.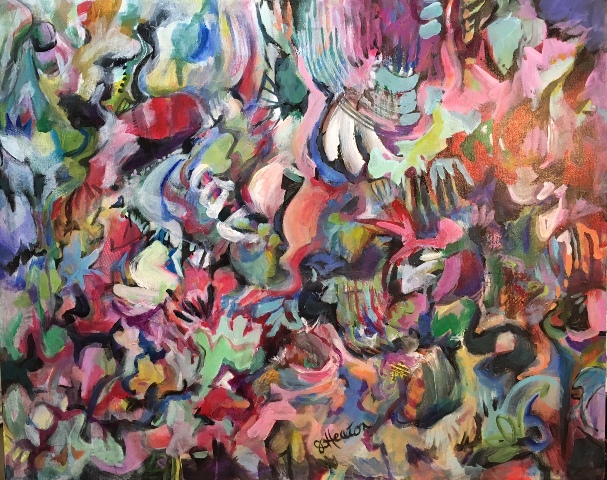 UNDER THE SEA: Acrylic on Canvas, 24 X 30"
I envision the untamed, underwater world, as I consider that the moon forces currents to ebb and flow, pushing and pulling life in the sea.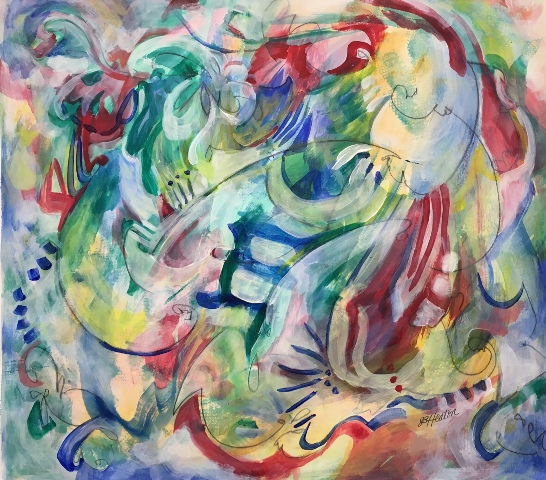 ROLLER COASTER RIDE: Acrylic on Paper, 16 X 17.5"
Uninhibited, I swing graphite lines and bright colors onto paper for a glorious roller coaster adventure.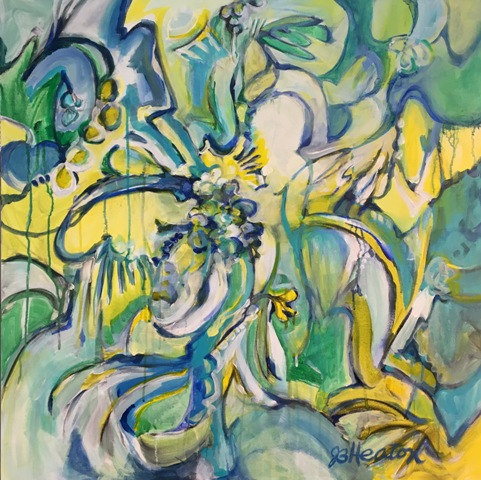 MORNING SUN: Acrylic on Canvas, 30 X 30"
Wild Woman proves to me that using liquid acrylics can easily illuminate canvases, adding vitality and depth to paintings when combined with tubed pigments.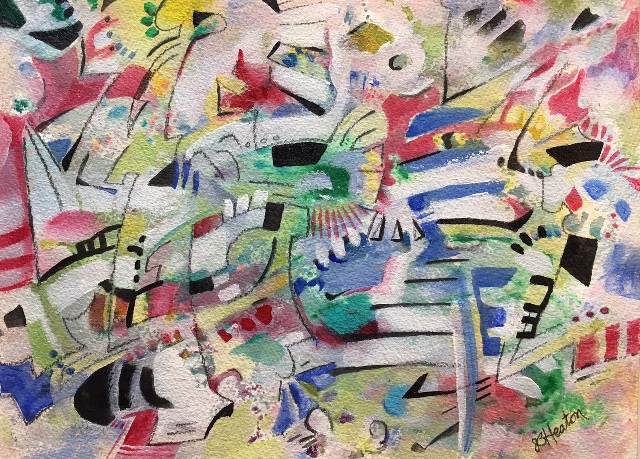 MUSICAL CHAIRS: Acrylic on Paper, 9 X 12"
At the end of a painting session, Wild Woman encourages me to drop watercolor paper onto tiny blobs of paint still on my palette. Delicate dots and rhythms take shape, then ask for and receive staccato-like accompaniment.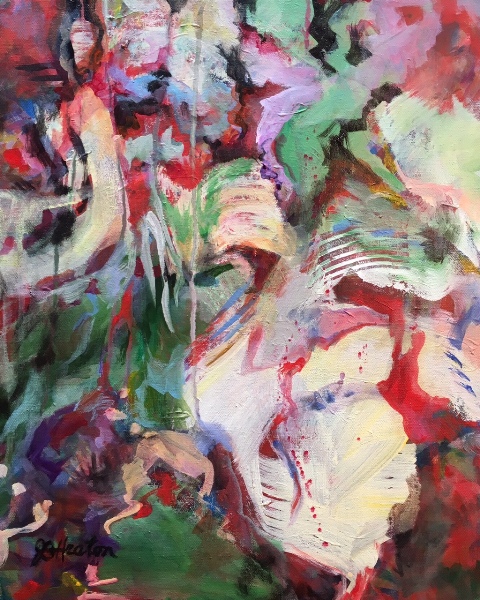 SUNSET GARDEN: Acrylic on Canvas, 20 X 16"
Poet Mary Oliver encourages a primate bent in my creative pursuits when I recall her question: "Tell me, what will you do with your one wild and precious life?" I accept these words as challenge, and immerse myself in this passionate pursuit of creative fulfillment.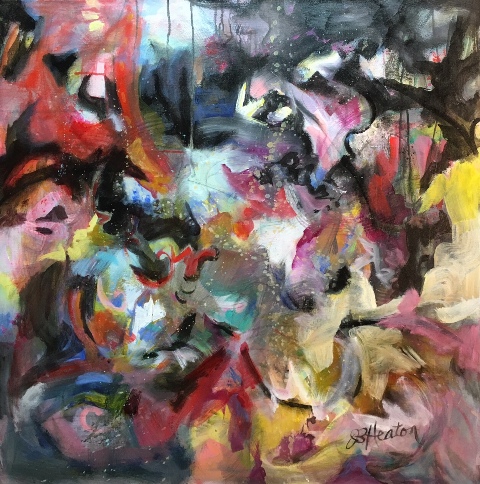 BEFORE DREAMING: Acrylic on Canvas, 36 X 36"
Primitive men and women must have had frightful and wondrous imaginings stimulated by the mysterious dark of night. Caught in the thrill of my own wild imaginings, I unravel mysteries that become my paintings.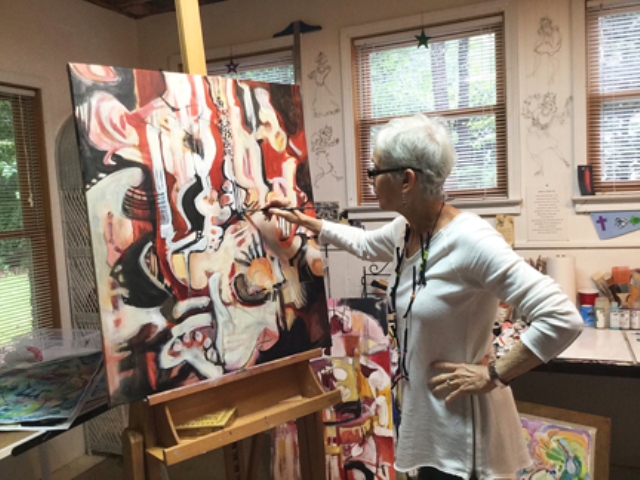 We wanted to show Jenny at work in her studio with more of her art work on display. She assured us that Wild Woman doesn't let her dress up like this for painting. She had stopped for only a moment and couldn't resist reaching out with a brush before leaving to go to the dentist ... and to buy more art materials.

You can learn more about Jenny Heaton and her work at Jenny Bishop Heaton

.


Copyright 2017, Barbara Knott. All Rights Reserved.