The Grapevine Art & Soul Salon: Poetry Reading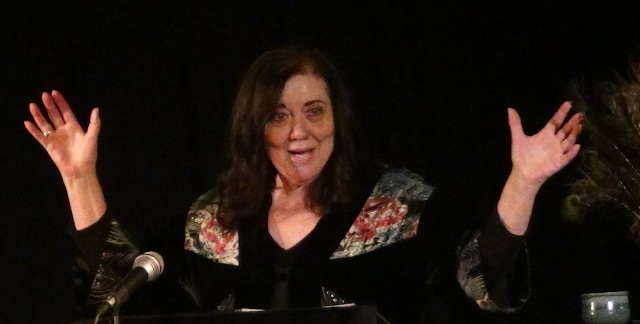 Hear Ye! Hear Ye!
IN EVERY CARNATION: The Body of God
A full-length collection of poems by Barbara Knott is going to be published by Finishing Line Press. We'll keep you posted about dates.
Also, see Barbara's poem featured on FLP's The Paddock Review:
******
Celebrating the Love of Life
Here are some places on the Internet to go to just for the fun of it.
Johnny Mathis, Love is a Many-Splendored Thing
D. H. Lawrence, Women In Love (film), Fig-eating Scene
On Being, Nikki Giovanni on Soul Food, Sex and Space
There are several references to the work of Wendell Berry in this issue. Here are other glimpses:
Wendell Berry in Music Album trailer
The Peace of Wild Things: Wendell Berry, On Being
We've just discovered that a wonderful documentary film on Georgia poet Byron Herbert Reece starring Atlanta actor Chris Kayser is available to be watched in full on YouTube:
Ireland Chooses Seamus Heaney Poem as Its Favorite
400 Times Shakespeare Totally Blew Our Minds
See DUBLIN DIARY for a new poem from the Abroad Writers Conference trip, December 2015.
*******
Barbara has had two chapbooks published by Finishing Line Press: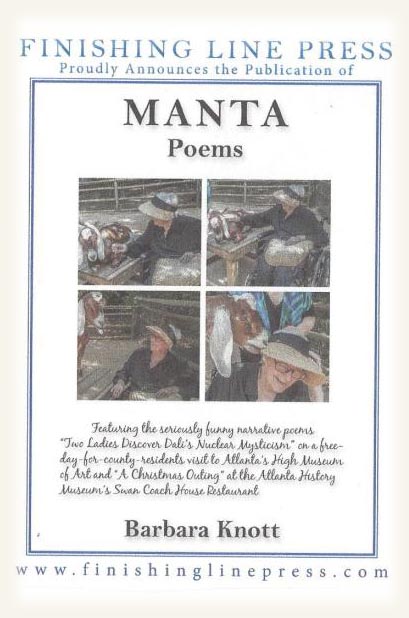 A collection of poems celebrating the liveliness and humor embodied and inspired by MANTA MAE ADAMS LESTER who departed this world on December 13, 2013, at age 96, and who would have turned 100 on September 12, 2017. Happy Birthday, Manta!
Barbara Knott's second collection, MANTA Poems, is an apt and generous demonstration of how it is not necessary to wait, as poets so often do, for dramatic epiphanies to come to them before making poems. In this story -- and it is a story -- Knott gives us perfectly shaped pieces crammed with wit, concrete detail and the deliciousness to be found in the ordinary things of life, which, all coming together, express an elegant and hard-won philosophy. In them, her sensitivity, intelligence and poetic control shine through as she addresses, in a profound and original way, the possibilities of a life lived simply but well. Indeed, this deceptively uncomplicated yet beautiful book will bring pleasure and aha moments to her many readers.
Rosemary Daniell, author of two collections of poetry, A Sexual Tour of the Deep South and Fort Bragg & Other Points South, as well as a chapbook, The Feathered Trees, and six other books.
Barbara Knott's collection pays a wonderful tribute to her friend Manta Lester. "Manta Finds Her Edge" draws the reader into the richness of their friendship while capturing Manta's essence. "Two Ladies Discover Dali's Nuclear Mysticism" is another wonderful poem. I greatly admire Manta for her acute mind at her age and Barbara for teaching me more about Dali. Through the words and images with which Barbara shaped these poems, both Manta's memory and their friendship endure. I even found myself feeling a bit jealous that Manta had not been my friend, too. MANTA Poems is a memorable read.
Anne Webster, author of the poetry collection, A History of Nursing
I love reading Barbara Knott's poetry because it refreshes the soul and challenges the mind like an afternoon spent with a witty and intelligent friend. Each poem left me feeling as if I too had known Manta and that I was better off for the experience.
Kim Brown, Editor in Chief, Minerva Rising Literary Journal. Her work has appeared in the Chicago Tribune, Today's Chicago Woman, The National View Alumni Magazine, Naperville Sun and Pitkin Review.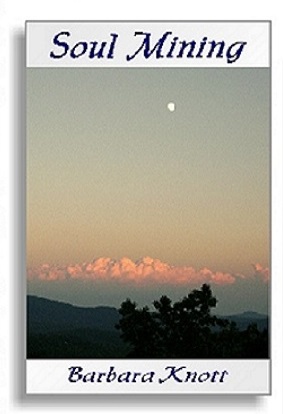 ORDER ONLINE at www.finishinglinepress.com