The Grapevine Art & Soul Salon
Presentations: Barbara Knott
Traveling in the Valley of the Shadow of Depth
A Journal
Journals are usually presented chronologically. Here I will be spiraling to create a mosaic of pieces instead of going in a straight line. A spiraling form of prose feels right for plumbing the depths of anything, from ideas to events, including birth and death, the latter a happening you can hear echoed in the title. I like the transformation from death to depth, for the presence of death, of course, deepens life. Death is surely not the goal of life, though it seems so sometimes in religious teachings. Yet deep in the scriptures of the Judeo-Christian tradition, we find a singular promise in the words of Jesus: I came so that they [the people] might have life and have it more abundantly (John 10:10).
An idea entertained by both D. H. Lawrence and C. G. Jung is that we humans have two main ways of experiencing abundant life. One is in nature, the other in ourselves. Part One begins with the best description I have found of a human at one with nature.
(Note to reader: Lawrence and Jung, both writing in the early 20th century, use the word "man" to refer to humankind. Don't let that anachronism hinder your reading. Anyone who thinks either of them denigrated women should have another cup of coffee and read some more. You don't want to miss the substance.)
Part One, Kinship with All Life
For man, the vast marvel is to be alive. For man, as for flower and beast and bird, the supreme triumph is to be most vividly, most perfectly alive. Whatever the unborn and the dead may know, they cannot know the beauty, the marvel of being alive in the flesh. The dead may look after the afterwards. But the magnificent here and now of life in the flesh is ours, and ours alone, and ours only for a time. We ought to dance with rapture that we should be alive and in the flesh, and part of the living, incarnate cosmos. I am part of the sun as my eye is part of me. That I am part of the earth my feet know perfectly, and my blood is part of the sea. My soul knows that I am part of the human race, my soul is an organic part of the great human soul, as my spirit is part of my nation. In my own very self, I am part of my family. There is nothing of me that is alone and absolute except my mind, and we shall find that the mind has no existence by itself, it is only the glitter of the sun on the surface of the waters.
So that my individualism is really an illusion. I am a part of the great whole, and I can never escape. But I can deny my connections, break them, and become a fragment. Then I am wretched.
What we want is to destroy our false, inorganic connections, especially those related to money, and re-establish the living organic connections, with the cosmos, the sun and earth, with mankind and nation and family. Start with the sun, and the rest will slowly, slowly happen.
D. H. Lawrence, Apocalypse. New York: Penguin Books, 1995 (199-200).
Lawrence's powerful celebration of life is in his last book, written during the winter of 1939-1930, near the end of his slow dying of tuberculosis. He died on March 2, 1930. The book was published in 1931.
In my experience, no one ever wrote more richly about what it means to be fully alive than Lawrence. Part One of my narrative will wind its way to Taos, New Mexico, and the D. H. Lawrence ranch, there to meet the Honorable Dorothy Brett: daughter of Viscount Esher who was presented at court in England with Winston Churchill's children, who against proper etiquette enrolled in Slade Art School and later, in the early 1920s, traveled to Taos with the Lawrences, lived in a cabin close to theirs, typed Lawrence's manuscripts for him, and painted Lawrence and their surroundings, as well as many canvases depicting Pueblo Indian figures and rituals. She it was who gave me the phrase "kinship with all life," taken from a small book by that name. The phrase described what she felt in her bones, what drew her to D. H. Lawrence, and it says as well what this issue of The Grapevine is about.
Nature is most spectacular in landscape. Years ago, in traveling the Blue Ridge range of the Appalachian mountains from Atlanta to New York and back again many times, I noticed how softly rounded rise the knees and breasts, bellies and thighs of mountains along the way, images that let me understand why in earlier times the earth was often seen as feminine, sometimes as a goddess. The bluish color, coming from isoprene released by trees into the atmosphere, spread like a hazy gown over the earth's feminine body. It felt profoundly soothing, like a leisurely massage, to be rolling through this terrain between two intensely busy cities.
Early on during those same years I traveled with Charley (what we used to call my husband, later modified to Charles) for a whole summer around the United States to Mexico, back up through El Paso, Texas, into New Mexico and the Sangre de Christo mountain range, and on to California, Oregon and Washington. Unlike the mounded Blue Ridge, the Western mountains jut and thrust their features far into the sky, so that any human habitation takes place in their shadows, in the depths of the valleys beneath them.
One such early settlement is just outside Taos, New Mexico, where the multi-storied adobe housing has been occupied for over a thousand years, making it the longest continuously inhabited place in the United States. It is a UNESCO World Heritage site and a national historic landmark. The Taos Pueblo, at an elevation of 7,098 feet, is built on a plateau near the deep gorge where the Rio Grande flows. The place is well watered for agriculture by rivers and streams that descend into the Rio Grande, and abundant with fish and wildlife.
The Taos Pueblo Indians are believed by some researchers to be descendents of the Anasazi who seem to have migrated south from Nevada where they had come north from Mexico around the eighth century A.D. Generally successful in expelling foreign invaders from their territory, in 1906 the Taos tribe reacted to U. S. incorporation of 48,000 acres of land surrounding Blue Lake into the Carson National Forest by engaging in a legal fight for the return of these lands to their reservation—a fight that lasted 65 years until
In 1971 sovereignty over the Blue Lake area was restored to the Pueblo, marking the first time in U.S.-Indian relations that land was returned, rather than financial compensation paid, on the basis of Religious freedom.
(Taos: Encyclopedia of World Cultures, 4 Sep. 2017. www.encyclopedia.com).
In our first visit to Taos, we met one of the Pueblo chiefs who traveled to Washington, D.C., to argue the case. Ochway Biano, also known as Mountain Lake, figures as well into C. G. Jung's visit to Taos that I will describe later as I discuss the overlap in Lawrence and Jung's meeting of minds in ways that give meaning to my title: they each went deeper into the depths than most people have ventured, and Taos is one place where that happened.
Nearby the Pueblo, the town of Taos was shaped gradually as a colony for artists and intellectuals, mainly by Mabel Dodge Luhan in the early 20th century. A talented woman of vast resources, she went there, fell in love with the place, married (for her third time) one of the Pueblo Indians, Tony Luhan, and sent a clarion call out into the world for artists to join her there.
She worked particularly hard to persuade D. H. Lawrence to come to Taos, for she saw him as "the one" to render the place and people into writing that would last forever. Her call found him and his wife Frieda embarked on travels that would take them around the world. Lawrence was already thinking of forming a utopian colony of his own, to be called Rananim, his name for a community of kindred creative spirits that he wanted to cultivate as equals, attuned to nature and at peace with themselves.
Lawrence had talked to several people, including Katherine Mansfield and John Middleton Murray about his idea for Rananim. He took the name from a Hebrew hymn that begins with the word Ranani that translates as "rejoice," and perhaps Rananim refers to "those who rejoice." Dorothy Brett, a friend of Murray and Mansfield, became enamored with Lawrence and his idea. She was ultimately the only one who actually went with him and Frieda to the American Southwest in response to Mabel Dodge Luhan's call.
The Lawrences agreed to live in Taos for a time when Mabel presented them a ranch, for which they gifted her with the original manuscript of Sons and Lovers. Brett, as she was called by those who knew her, moved into a small cabin beside the one occupied by the Lawrences.
To say that Lawrence was impressed by the landscape is to call for his words.
But the moment I saw the brilliant, proud morning shine high up over the desert … something stood still in my soul, and I started to attend … a new part of the soul woke up suddenly, and the old world gave way to a new.
("New Mexico" in Phoenix. New York: The Viking Press, 1968, 141-50.)
Here he knew himself to be truly in the valley of the shadow of depth, both externally and within, as his perceptions traveled from the wondrous landscape into his wondering soul. He also thought he could see something of his vision of Rananim in the rituals, chants, music, dances, and symbols of the Taos Indians.
There they stayed off and on for over three years, and there we found Dorothy Brett forty years later in our summer sojourn around North America. I'll return to Brett and Rananim, but first:
My interest in D. H. Lawrence had been aroused by a course in Modern British Literature at Georgia State University (then a college). The instructor of that course, Dr. Ted Spivey, introduced me to Lawrence and both Charles and me to C. G. Jung. They would become major influences in our lives: something in each of us went out to meet something in each of them and established lifelong relationships. That is how influence of the best kind works, I think, as a matter of choice. The soul seeks its own company for the journey through life.
Something in me had resonated with Charles in such a way that we became lifelong companions, and in turn we found resonance with Lawrence and Jung. For me it was mainly Lawrence and for Charles mainly Jung. Both of them were attracted to Taos. Both journeyed there at different times. Both wrote about their experiences.
Forward to 1972, after I had written my Master's thesis for East Carolina University on D. H. Lawrence's concept of quickness and Charles had concentrated privately on Jungian studies even while getting his Master's in English from ECU where he wrote his thesis on Oscar Wilde. That year we made another trip, this time to Lugano in Switzerland, where we attended a summer-long seminar on Jung and Herman Hesse. For much of that summer we were in a literal and psychological valley of the shadow of depth.
The summer was rich in study and conversation and travel (more of that in another segment). What I want to mention here is this: on the faculty for the seminar called Castalia, after another utopia, this one imagined by Hermann Hesse, were two people, Jean Houston and David Miller, so gifted with words that they created a cosmos of talk right there in the Swiss sunlight at the American school where we were housed in Vezia and where they engaged in a mesmerizing verbal game of microcosmic ping pong.
During one of Houston's lectures, I felt chills moving along my spine as I realized she was talking as if one could find God through the senses, an idea that had never reached consciousness in me or, as far as I know, in the network of churches that "teach" religion the world over. In the three monotheistic major religions of the world, God is depicted as a figure in human form but untouchable, a father-god, up and far away from the earth, nature, and the fleshly body. About that view of God we heard John say, Love not the world, neither the things that are in the world. If any man love the world, the love of the Father is not in him. (I John 2:15) And there were no marriages in Heaven. Sex was somehow a necessity, but nothing to be enjoyed for its own sake. Everybody knew that.
I had been reading Lawrence with great interest for a few years by this time. What had made Lawrence resonate so powerfully in me was a mutual love of the sensuous and sensuality, of the body, earth, and nature, and toward them all a feeling of reverence. I will be forever grateful to Jean Houston also for helping me cross that chasm in my mind between spirit and earth on the bridge of soul, which encompasses both. Her teaching would stimulate me to continue my reading of Lawrence with even more interest.
There is a delightful small book called The Body of God composed of a sequence of poems by D. H. Lawrence, selected and arranged by Michael Adam, with woodcuts by Barbara Whitehead. In David Miller's book Three Faces of God: Traces of the Trinity in Literature and Life (157), he says, Ideas, like relationships, often need body. From time to time they need coagulation, some face that we can face. And this is what the Trinity offers .... This from an essay called "The Body of God," another motif I will be discussing throughout the journal writing.
While going to NYU to do our doctoral work in drama therapy and to connect with the New York Jung Institute, Charles and I attended some of David Miller's lectures and read his books. Later, when we had returned to Atlanta to practice drama therapy, we served for a time in the Atlanta Jung Society as president and program coordinator and invited David to Atlanta to give a lecture. Five of the pieces linked under my name in the Contributing Writers chamber of The Grapevine have to do with David Miller. You can get acquainted with him and his work by following those links to articles and interviews. My thanks to him for the ingenious phrasing that led me to my title for this journaling: in the valley of the shadow of depth.
Let this coincidence of titles return us to Taos. After Lawrence died in Europe in 1930, Dorothy Brett returned to Taos to live out her life there, first at the ranch and later near town, in quarters adjacent to the Manchester Art Gallery where I met her and started a correspondence that would last through another meeting four years later and on to her death a few years after that.
Now that we are back in Taos, where both Lawrence and Jung plumbed depths, I will pause to get this issue of The Grapevine out to readers and will resume writing and posting between this issue and the next, focusing first on an account of Jung's visit and on the area of overlap between two great men of the twentieth century who seem to have avoided reading each other's work. Later, there will be more on Dorothy Brett and my correspondence with her.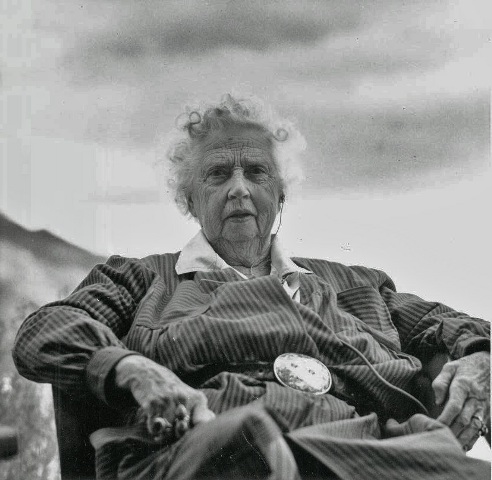 Dorothy Brett, late 1960s in Taos, N. M., photo by Stuart Klipper
***************
Here are a couple of links to interesting pieces related to Lawrence and Taos.
Georgia O'Keeffe The Lawrence Tree
D. H. Lawrence's New Mexico: The Ghosts that Grip the Soul of Bohemian Taos
Recently I found an internet reference to a film D. H. Lawrence in Taos that started me thinking about the two trips we made to Taos. I discovered that the film, made in 1968-9, was available through Villon Films in Canada and contacted filmmaker Peter Davis to check costs (modest) and to order a copy of the documentary and additional footage of his interview with Dorothy Brett. My last discovery and purchase from Peter Davis was a facsimile copy of Lawrence's original handwritten copy of Sons and Lovers showing his revisions as he made them. He also furnished me the photo of Brett as she looked at the time of our visit.
For anyone with an interest in such things, Peter's contact information is
Peter DavisVillon Films, 4040 Ontario St.VANCOUVER, BCV5V 3G5Canada
www.villonfilms.ca. (peter@villonfilms.com)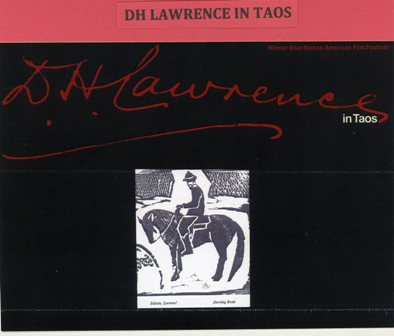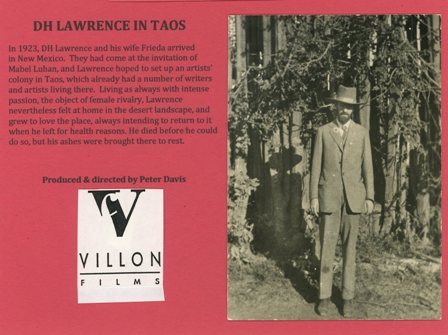 Copyright 2017, Barbara Knott. All Rights Reserved.