The Grapevine Art & Soul Salon
Presentations: Barbara Knott
Sex and Death and Beetles
Curbside, near the hair salon
I find a beetle
two inches long and another wide,
legs in the air and rigid.
I know in a moment it is dead
and soon find out how light it is to hold
how compelling in color:
a glossy tan runs along the back of its head
and large folded wings, covered with random
black spots like a rich, enameled pin
dropped by someone in a hurry.
The discovery thrills me.
I take the beetle inside where Lauren
at the desk squeals and backs against the wall.
She is not ready to hear that this thing
I have in my hand is harmless to humans
or that it is dead. In her mind it might
at any moment creep. Oh, God!
Deena, not so fearful, still
performs a jittery dance
on her way to see what I have
while Lauren asks, "What is it?"
in a high voice from the corner, and I say,
"I think it's a rhinocerous beetle."
More attracted than repelled, Lauren slides
like a limbo dancer under an invisible bar of fear
back to the computer, chanting
"I'm going to look it up! I'm looking it up!"
and finds it is what I think and more: it has some
kin named Hercules that grows five inches long.
Deena's mother Mary phones
from the shampoo bowl in the back room
to ask the cause of the commotion.
I say I want to take the beetle home
and give it a royal tomb befitting its ancient
lineage in Egypt. Deena brings me a ziplock bag.
We are settling down
when she, a strand of my hair in her hand,
starts to tell me about dating a Cuban once
and interrupts herself to ask
"Have you ever had a Cuban boyfriend?"
which, to her surprise, I have: eighteen, newly
met at college, Raul invited me home to
an apartment in Atlanta full of uncles and cousins
planning their return to Cuba where they would
join Castro's revolutionary army.
They were too busy in fantasies of war to notice
ardent hands maneuvering along the sofa's back.
To Deena I simply say "Yes!"
only briefly stopping her excited tale about
a Cuban "stallion." Soon we are laughing
at what I heard from another friend who went to Cuba
and slept with her motel bedroom window open
where a man leaned in during the night
and said, "I want to sex you!"
What do beetles have to do with sex?
I started by bringing up the beauty of the dead
beetle, so like a costly ornament made to adorn
a woman's breast, secure her allure. But a live
beetle is set for sex of its own kind: the small
creature with uniquely patterned wings sups on
nectar and fruit and clears the feeding ground to mate.
Two horns, one from the thorax and one from the head,
meet to make a prodigious weapon with which he
throws a competing male off a tree limb and goes
along to climb and sex the female, sometimes, we read,
taking up to an hour to do it. Imagine that!
Also, in the article I am reading, the rhinocerous
beetle is identified as the strongest animal on earth,
meaning it can carry 850 times its own weight.
Think of an elephant carrying that many elephants
on its back or a person lifting 180,000 pounds
(the same weight as six full double-decker buses,
the article says). We can see that strength being tested
on the Internet: a video clip of a rhino beetle outfitted
with a leaden backpack walking on a tiny treadmill.
I swear it's true! Some scientists figured out that when
the beetle is burrowed with his mate, it would take l,141
other beetles to pull him out of her love tunnel.
Science doesn't teach us much about passion
but the subject interests me, in insects and
otherwise, and so I learn by reading until
the hands-on experience comes again when, toward
evening, I climb my back steps in the falling dark
and see on the porch a shadowy form—no two,
conjoined—a pair of beetles so still I think they
are dead until I touch one and hear a hissing squeak
of protest (they have another half hour to go,
I guess) and move through the door
thinking the world is marvelous, and I can't wait
to tell Deena and Mary and Lauren.
I ask once more, why does a dead beetle engender
in the hair salon such earthy conversation, and in my
mind such pondering on the ways of the world?
My own answer is this: the beautiful and strong
among us, however small, remind us that we are alive
and that in death, lacking an exoskeleton like that of the
beetle now in the ornate box beneath my table lamp,
we humans leave behind at best some trace of character
we have fashioned from passionate living and loving,
sometimes with mirthful moments, attached to which
we hope
are hints of grace and at least a trace of elegance.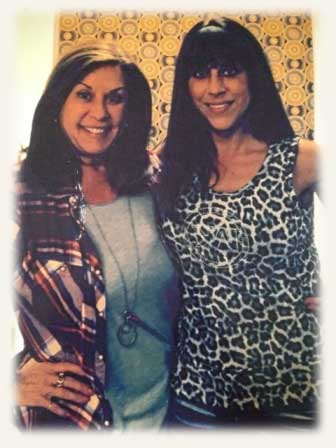 Mary DiProva and Deena Wesley at MD's Hair Salon on Barrett Parkway in Kennesaw, Georgia

Copyright 2016, Barbara Knott. All Rights Reserved.