The Grapevine Art & Soul Salon
Dublin Diary: Barbara Knott
Alive, Alive, Oh!
These words have made ghostly music in my mind
ever since I returned from "Dublin's fair city where
the girls are so pretty," and where Molly Malone appears
first as a fishmonger, later to be known, affectionately
no doubt, as the "tart with a cart"
who wheeled her wheelbarrow through streets
broad and narrow, crying "Cockles and mussels!
alive, alive, oh!" The tart part derives from a 20th century legend
about a historical Molly Malone said to have died
on 13 June 1699. The legend whispers that she sold more than
cockles and mussels. In 1988, the Millennium Commission
declared 13 June Molly Malone Day in Dublin.
Precise historical details tend to disappear when imagination
takes charge of a story on its way to myth or legend. What we know
from our taxi driver is this: Her statue was unveiled in 1988
in Grafton Street, the figure formed by someone whose vision (or cockles)
became so stirred that he shaped breasts lusciously spilling
from her frock in such a way that after she was relocated in 1914
to Suffolk Street, an increase in foot traffic generated so much
handsy reaching for the bronze girl's bosom that her patina lost its shine.
He regaled us with Molly's story from the front seat while
Jonathan and I looked out our backseat windows at the sprawling city
where she hawked her wares, fish by day, and some say, her own
fleshy parts by night. It was not hard to imagine her ghost still singing there.
Whether she was prostitute or one of the few chaste street
hawkers, as others say, it is clear that Molly Malone lived in her body,
an art too often absent nowadays among human beings.
Hence my title. Molly, on the surface singing about live shellfish,
pulls us into the depths of what it means to be alive as she was alive
like a flame or a soaring bird or a kiss. The song tells us she died of a fever
at a young age, a trace of tragedy to sweeten our thoughts and make
more radiant her outburst Alive, Alive, Oh! wherein she creates
in the song and in our hearts a poetic cry that might have wrung
from Goethe these lines in "Blessed Longing":
I wish to praise what is fully alive
What longs to flame toward death.
In a city so shaped by religion, one wonders
About this seductive street hawker who wins a new appreciation
of hands-on aesthetic experience. The longer we stay in Ireland
the more we understand that the Irish never did let go of their sense
of fully embodied life, even as they learned to point their steeples
heavenward toward the deity St. Patrick brought to them.
In contrast to the negativity that has been for so long a part
of Christian teachings about world, body, and sex
one second-century theologian, Irenaeus, discovered by Irish
poet/priest John O'Donohue who embraces the wild divinity
of God and creation, declared long ago
The glory of God is the human person fully alive.
Jesus spoke of coming that we might have more abundant life.
Can it be that the Holy Ghost embraces cockles and mussels and Molly Malone?
**************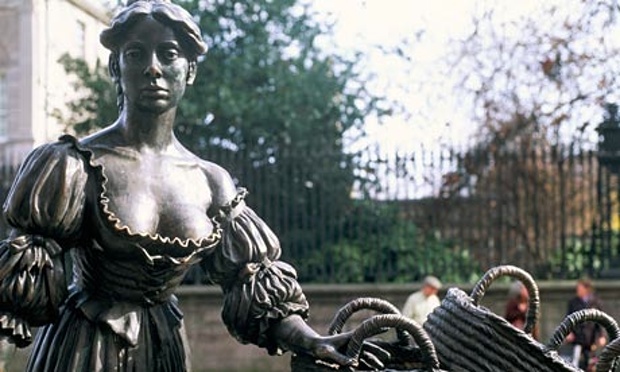 Molly Malone statue, photo by Bruno Barbier, Robert Harding
*The quotation from Goethe is translated by John O'Donohue and is cited in Anam Cara, page 21.
**The quotation from Irenaeus can be found in Anam Cara, page 124.
O'Donohue, John. Anam Cara. New York: Harper Perennial, 2004.

Copyright 2016, Barbara Knott. All Rights Reserved.