The Grapevine Art & Soul Salon
Musings on Being and Becoming Human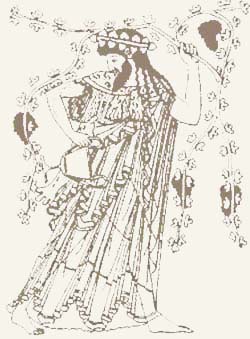 Issue 11
Nothing Human is Alien to Me
Our fall issue is not focused on a single theme, though the individual contributions tend to reflect each other, as is always the case when "musing on being and becoming human." In our interview with actor Chris Kayser, he muses at length about a theme that might have been taken from the Roman dramatist Terence during the 2nd century BCE: "I am a man. Nothing human is alien to me." If we open that up to include all of our various genders and ages, it covers our contributions for this issue.
In the Presentations chamber of our salon, you will find the Kayser interview, Anne Lovett's piece about life surprises that were anticipated in home movies of her childhood, Charles Knott's meditation on his experience of falling into the doldrums and finding the energy to move, and Kelly Law's fairy tale look at artist Frida Kahlo. Moving to Views and Reviews, you can read Jonathan Knott's essay on the 1971 film McCabe and Mrs. Miller. In his Tracking History column, Jonathan hangs a poem on his family tree. The Museum chamber contains the gnostic poem Thunder, Perfect Mind and commentary on it. In the World Voices column there are links to a selection of articles in November news reports that are disturbing and amusing. And in Reflections you will see what we found to augment the pieces written for The Grapevine.
To go directly to all the work of a regular contributing writer, click on Presentations and scroll down to that writer's name; below it you will find links to each piece the writer has contributed to The Grapevine.
AT HOME here are writers speaking in a style more conversational than studied for an audience who might be seated on a front porch at night watching fireflies create random small rays to light up the listening, or in the dining room of an ancient inn with lamps and perhaps a hearth fire to kindle community.
It takes only one or two steps of the imagination to move through the dusk to the dining room at the inn or the porch of a house or, by daylight, to a backyard garden for picking grapes and for gossiping, a verbal mode associated with the term grapevine. We say I heard it on the grapevine, referring to rumor, advance news of interest to the community, sometimes scandal, always a dramatic story or piece of a story, circulating, making the rounds, lingering on the surface even when it suggests hidden things.
The SALON presents a variety of storytellers and image makers and thinkers, from promising beginners to seasoned artists of mature and full-bodied talents.
The Grapevine Art & Soul Salon welcomes comments from visitors. Use the Contact button to send e-mails that will be forwarded to appropriate persons. If your computer is not configured for Outlook Express, simply copy and paste the webmaster's address into your e-mail system. All our regular contributing writers can be e-mailed directly (click on Presentations page and scroll down for links and e-mail addresses).
Opinions expressed on this site are the opinions of the authors themselves, not necessarily of The Grapevine Art & Soul Salon. Each page on this website should be read in conjunction with this disclaimer.
Editor: Barbara Knott
Image Design: Bill Kennedy
Contributing Writers: Jonathan Knott, Ravi Kumar, Bill Kennedy, Nancy Law, Anne Lovett, Charles Knott, Anne Webster

Copyright 2009. Barbara Knott. All rights reserved.