The Grapevine Art & Soul Salon
Views and Reviews: Barbara Knott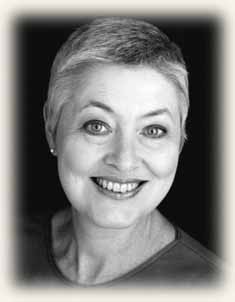 Brenda Bynum Brings Lillian Smith to the Stage June 20, 2013
The Decatur Library Auditorium stage is set with a slender rectangular table angled diagonally, covered with a red and gray plaid scarf, supporting a bouquet of blue hydrangeas and a cup holding writing instruments: spare, carefully chosen emblems of the writer's life, in this case of one who flowered in the middle of the twentieth century in the rocky landscape of Old Screamer Mountain near the town of Clayton in North Georgia, a writer who came to fame for speaking boldly about otherness at a time of deep racial divide and who lived against some of the gender prohibitions that are only now dissolving in our courts.
Situating herself on a chair between table and lectern, Atlanta actor Brenda Bynum embarks on an evening of bringing Lillian Smith to encounter an audience nearly half a century after her death in 1966, an audience that knows well how much has changed since then and one that welcomes a fresh look back at this woman who "never dreamed about writing a book about race relations," but who became a novelist, essayist, activist with no less an ambition than to reconstruct the world.
Anyone who knows Brenda Bynum's work will know that her choices would overwhelm even the most stouthearted artists. Here, she has set for herself another monumental task, this time to stir up a "small renascence" of interest in the work of Lillian Smith whose novel Strange Fruit eventually sold over three million copies in the United States and was translated into fourteen languages. Not at first. It was published in 1944. Its theme was race relations; its plot involved miscegenation. Its publication was smothered in the South. The book was banned briefly in Boston on the basis of obscenity. Then Eleanor Roosevelt gave the book her blessing by preventing the U. S. Post Office's attempt to prohibit shipping the book between states by mail. Eventually the book became a best-seller and launched a career that would be narrow in its output but far-reaching in its impact.
We learn from the New Georgia Encyclopedia online: "In 1949 she unleashed another diatribe against racism in an imaginative autobiography, Killers of the Dream, widely considered to be her best book. In Strange Fruit and subsequent writings, Smith attempted to untangle and expose the web of white racism, gender, class, religion, and myriad traditions she thought had put a straitjacket on what her contemporary and admirer, W. J. Cash, called "the mind of the South." She was the first white southerner of any prominence to denounce not just racism but segregation."
Brenda Bynum's tribute to Lillian Smith is entitled "Jordan Is So Chilly," an allusion to the biblical river Jordan and to a hymn containing the line, "Jordan river is chilly and cold, chills the body but not the soul...." She wrote the piece mainly from unpublished material, most of it available to her at the University of Georgia archive. She says she studied the story of Smith's life, how her mind grew and her heart opened, the way her mind was at the time she lived.
Bynum's way is to work hard developing her character and gradually to let the role subsume her own ego so that, in this case, one hears people speak of her "channeling" Lillian Smith. I am suddenly reminded of seeing her once on stage speaking from a trash can as Nell in Samuel Beckett's End Game. She can reach as low as the trash can and as large as the world, and sometimes she contains each one within the other. Smith, an author not well known outside the South now, but one whose work Bynum wishes to revive and promote, is a substantial role.
In the performance we learn that Lillian Smith was an exceptionally talented musician. Born in Florida, she was the daughter of a minister, and her childhood involved what she called "the strain of living with God on a daily basis." Still, she considered hers a happy childhood in which her father challenged her with, "The future is yours. What are you going to do with it?"
In 1915, when she was l8 years old, her father moved his family to Screamer Mountain in North Georgia where they opened a camp for girls. One interesting piece of the presentation involved Bynum/Smith telling how once her father met up with a group of guards and prisoners exercising near the camp and invited them home to Christmas dinner. She rejected the racial boundaries kept in her family, but surely this radical gesture from her minister father must be one among many instances that sowed the seeds of her larger rebellion against the social strictures of the time.
She went to Piedmont College in Demorest, Georgia, and then, looking for a wider world, to Peabody in Baltimore. She was offered a job to go to China for three years, a trip which she says "started me growing on every level." She declares that her mind and senses came awake in Asia where she found a "dark and intense emotional atmosphere" and also found the love of her life, Paula Snelling, whom she described as "appealing to mind and heart simultaneously."
Smith said that she did not want to come back to Georgia, but she did, and with Paula she ran the girls' camp for nearly 25 years and was, she reports, "acutely miserable, so I began to write." Eventually, she and Paula hosted house parties at the camp where they invited leading women to talk to each other.
I won't try to recount the years of her development as an activist, but Bynum speaks her comment that she often had her life threatened. Her reaction was, "I want it to hurt, to keep the wound open."
When she died in 1966, her funeral was brief, Methodist, with no music and by her instruction: "no tears, just hope." She also wrote her own eulogy:
I hope I have not hurt too many people.
I hope I have lived deeply and well.
I hope I have missed none of my dreams.
I do not fear death.
It is only a new beginning.

According to reports, her life as an artist was the most important feature in Atlanta newspapers the day she died, where she was remembered for speaking and living the "power of the human heart."
In the Prologue and Epilogue for "Jordan is So Chilly," given by John Templeton representing the Lillian E. Smith Center (one of nine sites selected to be on the Southern Literary Trail), we learn that the Center is "a place where artists and scholars can find the solitude in which to develop and pursue their visions."
During the Q & A session after the play, when Ms. Bynum took off the wig she had worn over her short, short hair during the presentation, she confessed her "most heartfelt desire" to create a "little renascence" of Lillian Smith.
And perhaps she will. 2014 is the 70th anniversary of the publication of Strange Fruit. Good year for a renascence.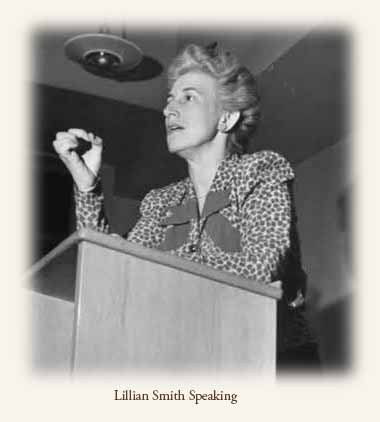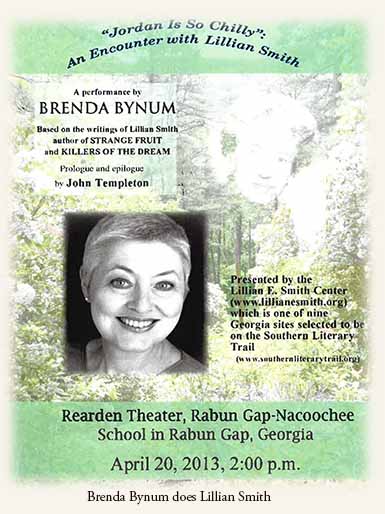 Copyright 2014, Barbara Knott. All Rights Reserved.