The Grapevine Art & Soul Salon
Presentations: Barbara Knott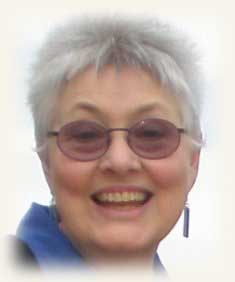 BRENDA BYNUM UNBOUND
Brenda Bynum recently completed the summer 2011 Alliance Theatre production of the Pulitzer Prize-winning Tracy Letts play August: Osage County, leaving audiences with their heads shaking in wonder at her fierce and funny and profane portrayal of an aging woman who dominates her family and lashes out relentlessly with her tongue to tell her version of one truth after another, which may not be what anyone wants to hear, but by god she will say it, tender feelings be damned. It is a supremely skillful performance and a fitting finale to a stage career that may...or may not yet...have reached its pinnacle. One can never tell with Ms. Bynum, who officially retired from professional theater a decade ago but who returned in 2003 to star in Sandra Deer's play The Subject Tonight is Love and again this year to give the performance that has won her a Suzi Bass Award nomination for best actress in a leading role.
Her professional theater work in Atlanta as an actor and director goes back to 1974 and includes over 60 plays at The Alliance Theater, The Academy Theater, Callanwolde Theater, Theater Emory, Imaginary Theater, Seven Stages, Actor's Express, Theatrical Outfit, Theater in the Square, Theater Gael, Southeastern Playwright's Project, PushPush Theater and others. She has also developed or adapted a large number of plays and performance pieces on women's lives, including a collaboration with husband R. Cary Bynum on two oral history projects, Cabbagetown: Three Women and Ponce de Leon, and a project she created called Notional Women, based on the lives of four Southern women and anchored by a dramatic portrait of Frances Freeborn Pauley.
Her work in Emory University's Department of Theater Studies, from which she retired in 2000, gave her an academic setting and resources to pursue her dream of bringing playwright Samuel Beckett's entire dramatic canon to Atlanta in a collaborative project with several theaters. Brenda starred in and/or directed this full cycle and took Enough (one of only two American productions invited) to the International Samuel Beckett Festival at The Hague in 1992. She received Emory University's Heilbrun Distinguished Emeritus Fellowship for 2004-2005.
I confess that I would be even more in awe of her ten-page curriculum vitae if my acquaintance with Brenda Bynum didn't go back to 1962 when she was appearing in Georgia Tech's DramaTech production of Dracula as Mina, the ingenue. A young Atlanta actor named Cary Bynum had temporarily given up his leading man ambitions to take the role of the Keeper of the Man Who Ate Flies in order to be close to Brenda on and off stage. He was about to participate in my wedding party and confessed that he was going to ask the charming and intensely interesting Ms. Brenda Storey to marry him. I reckon it's a good thing that they weren't working on August: Osage County together.
Brenda tells me she will have to wait to find out whether she wins the Suzi award, for she will have gone to bed early on awards evening in order to get to her position at the voting polls by 5:55 a.m. on November 8. She volunteers, she says, because she considers it an immense privilege to be able to vote.
It gives me great pleasure to make room on The Grapevine for an extended interview with this richly talented and accomplished artist and person.
BK: Brenda, you retired from the stage after around four decades of building what may be the best career imaginable, both in the sense that it evoked all of your interests and talents and because you made it work for you. You have had the great good fortune of climbing the ladder of success and finding that it was up against the right wall.
BB: (Laughter) Oh, I like that!
BK: I do, too. Joseph Campbell put it in reverse when he said so many people climb the ladder of success and find it is up against the wrong wall. I am interested in talking to someone who had it right, from the beginning. And I want to know how it feels to have followed what I imagine to have been your deepest instincts and to have used your life in this way.
BB: Well, I feel really lucky because climbing against the right wall was pure luck and instinct, not a plan. I've never had a real plan. I may at times have thought I had a plan, but I didn't. Opportunities would appear in front of me, and I would make a decision to go in this direction or that direction. Most of it has been sheer happenstance. Something would take place. I would get engaged and pursue it for one reason or another. Most of the decisions I've made in regard to my "career" have been very much tied into first of all, working around having children, working at night when Cary was here to look after them and not working in the summer, at least when they were young. And then, when they started going to college, realizing that the only thing I knew how to do to earn money was to do plays. Those were hot and heavy working years, when the kids were going through college, because I pretty much saw what I did as tuition money.
Theater, show business in Atlanta, is not a way to get rich, but it was more fun than some of the other jobs I could have gotten making the same level of income. Then, when I started teaching at Emory...I started teaching there because I was in the theater, and that made a wonderful combination.
BK: Let's talk about that. Besides the acting and directing you've done since 1962, you've served as a teacher of theater skills in two Atlanta settings: the Alliance Theater's Professional Intern program and Emory University's Department of Theater Studies. What were some of the values you found in working academically as well as professionally?
BB: Well, I certainly found that I loved the teaching. It surprised me. I was at Emory for 17 years, believe it or not, and that grew out of the very first play I did there when, at the end of the production, the director of the theater department asked me if I would teach an acting class, and I did, and that segued into the 17-year career, during which the department grew into a big, legitimate Department of Theater Studies. I loved being a part of that growth. I loved teaching. I also loved the opportunity to do things in a combination academic and professional theater setting which you couldn't get away with in the real world.
I got to do an awful lot of Beckett that would not have been possible in the strictly commercial or even non-profit theater. You just can't do too many Beckett plays and expect to keep the doors open. But at Emory, it was a part of educating the students and an opportunity to pursue the entire oeuvre of the singular greatest dramatist of the 20th century. That's priceless to me, absolutely priceless. I was doing Beckett when, if I hadn't been teaching at Emory, I would probably have been doing Neil Simon somewhere else to earn tuition money. So that's just huge. That's really huge.
BK: It was a wonderful advantage. Tell me what it is about Beckett that makes you think and feel that he is the great writer of the 20th century. Many people feel that he is...
BB: And many people don't. But that's a good question, and one that I probably can't answer any more clearly than Beckett was willing to answer questions about his work. To me, his work does what any great art should do. When you see it, when you see something that works, you don't ask questions. You carp and criticize when something doesn't work and you wish it did. This person should have done this, and that person should have done that, and this person was miscast, and so on. When I see a Beckett play well done, I have no questions. I am expanded and profoundly moved. I feel for that time probably like people who take drugs feel when they sniff something, that suddenly I am privy to a vision and a feeling of oneness and understanding. Beckett's work elicits that kind of feeling in the people who do respond to it.
Look at the shape of it, the way language, toward the end of his writing, served just to frame the silences. He was reducing language more and more and more with each successive play...plays grew shorter...reducing it to its bare essence. I think poetry comes closest to that. I've always said I think the worst thing a poet can do is to try to explain his or her point before reading, because if you need to explain it, you should throw it away and write a new poem. If it's reduced to its essence, and if it's good poetry, there's nothing there that can be expanded on or improved on or changed: it is. And for me, that was where he was going, and he achieved that more clearly and successfully than anyone else ever has.
So many of the other great writers of the 20th century like Pinter and Albee pay homage to Beckett. When Albee was here two years ago for the launch of the first Beckett project we did at Emory...I remember his introduction to himself, going around the table, was "My name is Edward Albee. I've written 40 plays, and I could not have written a single one without Beckett." It's as simple as that. Somehow, Beckett opened the door of possibility.
For me, it works. And it worked the first time I read Waiting for Godot in 1960, when I was 20 years old. I immediately knew that was where things were. And I have no intelligent explanation for it. I do know that it matters profoundly to me, and I have to believe that it matters profoundly that his work is done and heard by others.
And to have introduced a generation of students to Beckett's work, to the degree that I was able to do...Beckett, as far as I know, wasn't ever done at Emory before I got there, and I don't think he's been done since I left....
BK (laughing): Maybe you're the only one who can do it.
BB: Well, I'm the only one who believes that it has to be done. I believe that Euripides should be done as well, along with Shakespeare and the others, and the Greeks don't get much better treatment than Beckett does.
I think the good thing about academe is that you have, as we ultimately did, a department full of passionate people, and everybody's passion is different. The good luck of the students is that they are exposed to as wide a range of those passions as possible when they are at that early point in life.
I was lucky that in the middle of Georgia--in Macon, Georgia, in 1960--a brand new young teacher came to Mercer University and had us read Beckett. That was like winning the lottery. It was just that much of an unlikely situation to happen and boom! there the prize was, and it informed my entire life. I think Beckett is life-changing. It was for me. Other people are left completely cold. But that's okay, I understand that.
BK: You were quoted by Howard Pousner of The Atlanta Journal-Constitution, in a Q&A session posted on accessAtlanta 4/27/2011, as saying "Art matters. Theater matters." Would you say more of what you meant by that, as you have already begun to do in your comments about Beckett? Can you talk in a general way about why art matters?
BB: Of course, like anything else, art matters when it is truly connected and is real and true, and it doesn't matter, like a lot of other things don't matter, when it is just part of the day's activities, the social fabric, that sort of thing. Why does it matter? Why does theater matter, in particular? I have to take that back again to the Greeks when those plays by Aeschylus, Sophocles, Euripides mattered. That was where an entire civilization, and all the echelons of that civilization, met to look at their own lives together, to look in the mirror of what life was, and see what happened. For all of us, that's why theater matters, that's why I guess I love Beckett so much and am so impatient with...I don't know, with plays where young people sit around in living rooms and talk about their relationships.
We don't always succeed when we try to make theater right and true, even though I don't know a theater artist who doesn't try to do that. We all fail at that. We all take shortcuts...not meaning to...we all have to do things for different reasons, but what we all want to do is to tell the truth. You know truth if you hear it somehow, and if you're sitting with other people and something happens and you hear something together, suddenly there you are: Yes, that's who we are, that's how we live. And then, of course, on another level, theater shows us, that's what can happen if we do this...the Greek tragedies, the inevitability of the Greek tragedies showed us what consequences are.
And theater recognizes the great human idea that we have choice, that if we're allowed to see the consequences of our actions, we can make different choices. Theater can show us that. You won't listen to your mama when she tells you that, but maybe you watch a play and you can see it. So many of the Greek plays were about, "This is what happens. This is what can happen." So yes, I think it matters, and because it matters, it does matter to do it truthfully and well and right and not just squander it on trivia.
BK: Yes. It's an interesting dilemma of the world we live in. When young people are talking about relationships, at least they're still talking instead of texting.
BB: (Laughing) You know, that's true. I actually think that really good television is coming into its own as a phenomenally important art form. It's going to reach people who've never been to the theater and never will go. And let's face it, this day and time, if you go to the theater, it's pretty much preaching to the choir, because the people who go to live theater are already converted to seeing what it is they buy a ticket to go and see, whether it is a musical or Beckett. When I go to see a Beckett play, or when anyone else I know goes, unless somebody gets kidnapped and taken against their will, they go to see Beckett and they know what to expect, and it's reinforcing...and Beckett is reinforcing to me. I probably need to see more things that are not reinforcing, things that show me something. But I always feel that Beckett shows me something new every time, and I think actually he does because the way he writes, the new is always there, and the depth is always there. I've done one of his plays, Come and Go...I've directed it maybe a dozen times, and I feel I've only scratched the surface of it. And it's a l5-minute play. So I think again, back to the importance of Beckett, his work is so deep that you never find the bottom of it.
BK: That's a wonderful way to put that, and it really is where I was headed with the comment I made about young people sitting and talking about relationships and now texting and doing social networking. I read that in Japan a young man has even set up a wedding with a virtual bride. So it's as if in some ways relationships are getting farther and farther apart. Do you think that theater is important because it leads us into depths that can't be found in these horizontal ways of communicating?
BB: Well, certainly, that would be one aspect of it. And honestly...we talk about the live theater, and if I think about it in purely practical terms, I can't see how it's going to survive, given the climate of the nation right now. We're lucky that any theaters have any money at all to do anything because most people don't think they should. There wouldn't be any government money for theater if a lot of people had their way, and I think those people may well have their way within a short number of years. So, will it survive?
But I am talking about live theater as we know it. And in a way we've painted ourselves into that corner because we've formed unions and we want living wages and we want pensions and insurance, and we want to be regular folks who get wages and benefits from putting on plays. And the economics of the marketplace usually prevails. If you're not giving people what they want, you go out of business. And theater, to work at its best, needs to give people something they haven't even thought of before, much less what they want.
But we also want...like I said, I did a lot of plays to earn tuition money for my kids. So we are the agents of our own doom in a way because economically, there's no way you can sell every ticket to a play and pay all your bills unless the actors are mainly working for free. It doesn't work that way. If you go to see Madonna and pay $200 for your ticket and you're one of l0,000 people, then it starts making economic sense for Madonna, but that's not ever going to happen with a play. So the survivability of the professional theater, as we now know it, is something you have to wonder and worry about.
I do believe in the power of dramatic action for human beings.
BK: Elaborate on that.
BB: Acting out your own stories. I actually believe these things that come up out of rural communities where people tell their stories and make a play out of them...there's something very promising to me about that. I can see theater beginning with a cave man coming back from the hunt and acting out the hunt in front of the fire. And there's the playmaking of children. We know it's organically important to tell and act out stories. If we tell our stories, then acting is a part of that. We know that trait is in our very bones, our DNA as humans.
Whether or not the current legitimate professional theater scene in Western Europe and this country is a form that will last is a big question, I guess. I think it will be finally crowded out by other things, but if alternative ways to express that dramatic impulse stay alive, then that's okay.
I don't want to outlive the printed book...don't want to outlive words on paper, but that has to go away someday. And I may have a Kindle before I die. I don't know. (Laughter) If I can get free Kindle books from the library, I may go over. But I think theater is the same way. We can't allow the human dramatic impulse to be synonymous with current professional legitimate theater because that may go. But to honor that impulse and that need, that has to always remain paramount. That's my feeling about it. So yes, that matters enormously.
And you know, I remember hearing...it's just like the Interregnum in England, when the Commonwealth...when the theater was outlawed, but it thrived underground. During the dark days in Czechoslovakia, theater thrived underground. That impulse is strong, and in most cases where it is made impossible, it begins to thrive on a lower level. And gosh, at least the first five to ten years of my life in the theater, $5 a week was a good salary for doing plays. We did it because we just thought the plays had to be done. And we found a way to support ourselves and still do the play. That impulse will keep theater alive in some form, no matter what.
BK: Yes, I hope so. What do you think are the things that are crowding it out right now? You mentioned the movement from books to electronic devices.
BB: Obviously, the immediate gratification of the Internet and cable television and dvds are part of it. You can get so much right there in front of you. It's just so easy to get. You can be on your sofa under an afghan watching a movie instead of paying a lot to get all dressed up and to park and getting an expensive ticket to see something that may or may not in your mind be worth the price of admission.
I think another thing that has worked against theater--and we have done it to ourselves, speaking as a theater person--is that we have contributed to the sort of prevailing notion that art, for the average person, is something you pay others to do for you, and there's no sense that what they're doing is something that is part of you as well. It's a performance, or an entertainment. The difference between art and entertainment is that in entertainment, you're there, you're watching, it happens, you enjoy it, you go away. Whereas art is like a Vulcan mind-meld. When you experience art--a painting, a poem, music, or Beckett--you come away changed forever because it enters your psyche whether you like it or not. It just happens.
We have contributed the notion of art shifting toward entertainment, not that it's wrong, but that's the deal that is made: I get a ticket, I sit in a seat, you deliver the product. I laugh, I cry, I clap. We're done. We actors, we take home our check. We hope to get another job doing it. The audience goes home. The deal is done. And there's not much of a profound change going on, so I think that that in itself, whether we think we just want entertainment or not, when that's all we get as audience members, I can get that a lot cheaper and easier at home on television.
BK: Plenty of people opt for that.
BB: I do myself. There are films I can't wait to get my hands on and watch with such relish and pleasure. And nowadays there are television programs that are just pushing boundaries....
BK: Tell me what those are. You've mentioned them before.
BB: Well, I would think...Breaking Bad, Mad Men, things like that, which I think are holding amazing mirrors up to society. The Wire....
BK: Describe them a bit.
BB: Brilliantly written, brilliantly acted, excruciating to watch, and difficult because you know this is true, these things that are happening. Something like Breaking Bad which turns you all around, forces you to root for people who do unspeakable things as the "good guy," and you know what you are doing when you do it and you have to examine yourself: why am I rooting for this person who is a murderer in more ways than one, and you're thinking about it. And it's so brilliantly done.
I watched a film the other night called Gods and Men which just blew me away...a French movie, I think, about some monks in Algiers. A film can bring us those stories in such a profound way. This is a true story, an obscure story, that took place in Algiers ten or fifteen years ago. I never would have known it without that movie, and it is just haunting me...the issues that were raised, the choices that were made, the consequences of those choices, and what that means to life. A huge question: what is worth the sacrifice of your own life? What is worth it? What principles? What actions? That's a really big question, a huge question. A lot of people engage in self-sacrifice these days without thinking it through, or based on phony promises about the afterlife. People can be manipulated, but when intelligent, thoughtful people make those choices, and you get a chance to see and hear why, that's profoundly valuable. This probably could have been done in a play, too, but it wasn't. It was a film, and I am very grateful for it.
BK: I remember reading T. S. Eliot's The Cocktail Party, a play in which a woman goes off to Africa and becomes a martyr. As I recall, she gets half buried and eaten by ants. I read that when I was about 20, and it struck terror in my heart. It was something I didn't want to hear and still don't.
BB: It reminds me of a Hollywood movie I saw as a teenager, called The Naked Jungle, where ants devoured an entire jungle and everybody in it, and I still have nightmares about it. That was 60 years ago. It's something about ants, ants out of control.
(Laughter and shuddering)
BK: Let's turn now to the play that you've just recently done, August: Osage County, and what a tremendous choice that was, of a role. What you've been saying reminds me of her. This is a person who does things that I imagine you, in your normal, everyday middle-class world of children and grandchildren, would never think of doing or saying. I wanted to ask you, since you got so far into that role'by choice, as you often do, stretching yourself in so many ways'what was it about the character of Violet Weston that pulled you into her and made you play her with such energy and enthusiasm, given the negatives about her character?
BB: Well, I think it's because the negatives were so strong. It was the range of emotions. I suppose that just on a practical level, I had to imagine that the result of all of the drugs that she took loosened any tethers that were ever on her tongue or her mind or anything else, that there were none of those little things that we all have in our brains telling us, "No, don't go there, don't say this, don't say that."
The central motivating factor for me in that play was that Violet believed absolutely and completely that she was telling the truth, and that it was time the truth be told. Of course, that truth grew out of a lifetime of having been abused, having been maltreated...I'm not going to say mistreated because I don't want to present her as a victim...but maltreated by those she went through life around, in so many ways. She was betrayed...her sister that she saw also as a savior betrayed her...and all of this was coming out because she finally took enough drugs to where there weren't any more of those little guardian angels who told her to keep her mouth shut, if there ever were.
Who has not wanted at some point to say exactly what they feel is true, with no stops? Who has not wished for that? We know better. We just can't speak. And she got to a point where it was not possible not to speak it. What she believed was the truth.
Now, different people's truths are different, and she could be perceived...I think she was perceived as being cruel and vindictive, but I think in her own mind, much of what sounded cruel and vindictive was just clear-eyed observation. There was some malice in there from time to time, yes...I mean deliberate malice, I think, but that came from other people as well. For her, I think it was getting over into "I've got nothing left to lose. I am out here, and I've got nothing left to lose." Maybe we all have some notion in our heads that, if the truth could be told about everything, we might all be saved.
Because for me, there always has to be some possibility of redemption, in any character. If I'm playing Hitler, I've got to believe that I'm right, as Hitler...that everything I'm doing is what should be done. I have to believe that, if I'm playing that character. I can't play Hitler and make sure that the audience knows I don't really approve: I am playing Hitler but I don't really approve. No. If you do that, you're dead in the water.
For me, Violet wanted so desperately to get all the truth out in the open...and maybe salvation was there. And the fierceness of that is what drove her and what made me want to be there. It was the fierceness of it and just the force of it. And she said some really nasty things to people, too. That was also a part of her personality. Truth, and just some ugly stuff like "go fuck a fucking sow;s ass."
BK: That was a wonderful experience for me, of watching a dozen people on stage all letting the language hang out. All the profanity, all the ugly things that were said...filling the air with things the guardian angels wouldn't approve of and in some way, in the process, clearing the air.
BB: I believe this play provided catharsis, and not many modern plays do.
BK: That's a good point, and that may be why the audience was so enthusiastic about it. They could feel cathartic ripples....
BB: And just when you think she's gone as far as she can go, she goes further.
BK: She does.
BB: And I think there's something liberating about not anything being left. I would like to think that at the end of that play, nobody could think of one thing that she hadn't said. No secrets were left, no nothing left over. Nothing. It was all gone.
BK: I can see that as a worthwhile objective for her and a way to understand her. There is something important in fierceness, especially when the lack of fierceness has created so many problems, the "see no evil, speak no evil" kind of silence...fierceness is the only thing in those circumstances that's of value.
BB: And people think most people who behave fiercely are crazy. And they kind of snigger and try not to be in the same room. Fierce people usually are pariahs.
BK: Well, that was built beautifully on stage, that picture, what you just said.
BB: Who could resist it? Another thing is, that play was written for a woman my age, that part, and when is the last time anybody wrote any part for a woman my age? And then to write a part like that!
BK: Yes, that was the reason you took only a year to take it, right?
BB: Well! That long time had much more to do with the rest of my life, not the play. I had some fears about it. Can I run up and down those stairs and still talk? Can I still learn lines? I hadn't memorized lines in eight years. You know, I am 70 years old. I don't know what's happened in there. I haven't tested that. Even more than that...a part of me knew, okay, if you say you're going to do it, you'll do it. A part of me knew I could get there. But another part of me knows as well as anybody how hard it is. I knew it would be two months of my life that would be...not lost, but lost to the life I know...two months where there would not be anything else. And that was true. I didn't know if I was willing to give that up: my grandchildren that I'm lucky enough to get to see and be with, my family, my books, and sitting on the back porch for hours watching hummingbirds. All of that is so exciting to me and means so much to me that I knew it would be a huge disruption in my life, and I had to say, do I really want to go back there? I didn't want to do it unless I knew...because I knew once I made the decision it would be l00%. It's not like I could carp about it or whine about it or go halfway. I couldn't say, I didn't really want to do this so I'm going to phone it in. I'm just going to phone it in. I knew I couldn't do that. It's got to be all the way. And I knew what that meant. So that's why it took me so long. And that was legitimate. I went back and forth and back and forth and back and forth. I would make a decision, and then something would happen and I would say, what was I thinking? Of course, I'm glad that I made that ultimate decision to do it because it was a profoundly good experience for me. And it was every bit as exhausting and isolating from normal life as I thought it would be. It's the first time I've ever done a play when I didn't do anything else. I ate, I slept, and I did the play. That was it.
BK: I saw a matinee performance, and you had an evening performance to do after that, and I could not believe you would be able to do that twice in one day. I remembered what you said a long time ago, that you liked to eat one baked potato before a play.
BB: A simple carbohydrate...I didn't eat Indian food or Mexican food for two months. That's part of it. The time you're not on stage is preparing to be on stage. Strong foods, all kinds of behaviors have to change....
BK: Because you're protecting that position.
BB: Yes. Absolutely. And I am not particularly...I can pretty much eat anything I want to without terrible effects, but I don't want to be thinking about my gut feeling this way or that way when I am needing to do focused on the role.
BK: So proper eating and lots of sleep were important. That was a tremendous expenditure of energy over a couple or three hours. Did you do other things to support your work?
BB: I think people who do exercise will understand this: I was more tired going into the theater than I was when I finished. It was exhausting, but when the 11:00 curtain came, I was wired. I think I could have run five miles. So I gained a certain kind of energy by doing it, even though I think...Yes, it took the energy to go through it, but I had some left over at the end because I had to come up with so much to do the play.
And I'd like to say I consider it a boost for all 70-year-old women. We can do more than we thought we could. We are capable of more than we think we are capable of.
BK: I have often thought that Jane Fonda's career, in film and then in her workout videos, proved what you say for our generation, that she shed a couple of decades from what it used to mean to be 60 or 70.
BB: But when I came home and went to sleep...well, I've always needed a lot of sleep. People who say that old people need less sleep...that does not apply to me. I have no trouble snoozing nine or ten hours straight and love it.
BK: Let's go back and pick up some threads. You mentioned the Sandra Deer play called The Subject Tonight is Love that you came out of retirement eight years ago to do. You and she have been colleagues and collaborators and friends for a long time. Did she write the play about her mother with you in mind to play the part?
BB: I don't know...I think more primary in her mind was to find her mother in that work, to make a true picture of her mother and her relationship to her mother in that story. Because we were close, I was around all the time she was writing it. When she first started on it, she talked to me about wanting to write a play about her mother...she started and stopped. It wasn't something she just sat down and wrote. Over a period of years, the play lived and grew in her while she was actually doing other things. There would be periods of times when we would sit down and talk through some of the things she was thinking about, and she would want what she had written to be read, so we might get together another actor or two and just sit down and read through what she had written. And I would read the mother's part. So it was like that. Whether or not that meant she began to hear me in that part, I don't know. She did write a play once specifically for me, but this one she did not.
I had already been retired from the stage for quite a while when this play was going to be produced at the Alliance and they had already signed a contract to do it and Kenny was going to direct it, and I didn't even consider that I was going to be a part of that until they asked me to do it. I took 24 hours to think about that answer. But we are so close, and I knew her mother, and I had been a part of that, and I knew that if she wanted to trust me to do it that I wanted to honor that trust and do it. So I needed 24 hours to adjust my thinking because I hadn't done a play for awhile. I don't know if subliminally I was in her mind when she was writing, but it was more her trying to tell the truth about her mother.
BK: What about the role of Joe, a male role written for you?
BB: That was Little Joe Monahan that Barbara Lebow wrote years ago for our company, for those of us who were working in the little Callanwolde theater company at that time. The role wasn't written specifically for me. It just turned out that I was the choice to play that part. That was in her tradition at the Academy Theater, of writing plays for the company you're working with.
BK: What was the one Sandra wrote for you?
BB: That was Gal Baby. That was probably 20 years ago. It was about rich people in South Georgia. Gal Baby was a small-town South Georgia socialite. It was all about her shenanigans, and she got to wear all kinds of gorgeous clothes. I went with costume designer Susan Mickey to Neiman Marcus where we got my whole wardrobe. It was a kind of dream come true. I think it was sort of a gift to me from Sandra saying, "OK, you're going to have beautiful clothes." (Laughter)
We actually went down to Thomasville in South Georgia to visit a college friend of mine and do some research and get the feel of a small town. We were having dinner with my friend at her house...we stayed with her...and the phone rang and her young son went to answer it and he came back into the room and said, "Mama, Gal Baby's on the phone." And she said, "Y'all excuse me." And we looked at each other and said, "Gal Baby? What kind of name is that?" It was just one of those old Southern stories. Her daddy had had a bunch of boys and then had a little girl, and he said, "I finally got me a little gal baby." And so this grown woman was always Gal Baby. Being a Southerner, you know how that works. That's the way people get names.
BK: Names like Brother, Cousin Brother...
BB: Yes. That one kind of stuck in Sandra's brain, and so she used that name. It was not about Gal Baby, although Gal Baby herself, along with boo-koos of other people from Thomasville came up to see the play and really enjoyed themselves. That name just kind of stuck, and it was perfect, so that was the play she wrote. So from the beginning, she was going to write a play for me and just cast about for a subject thereafter. We had fun with that. I had told her the story of my dad...one of his favorite sayings which I never forgot was, "If you want it, you need it." Of course, all he ever wanted was a new Craftsman tool set from Sears...that was his idea of living high on the hog. I might say about something I wanted, "I don't know if I need it...." And he would come back with "If you want it, you need it." And he could afford to say that because of having so few wants.
Sandra gave that line to Gal Baby at some point, and to this day, Barbara, people will come up to me that I don't know...in the store or somewhere...and say, "If you want it, you need it."
Of course, Gal Baby was eventually a woman who liberated herself from many of the conventions, or at least had a plan to do so...she was the kind of woman who ended up on her own when she had always been a part of this structure, and a lot of women loved it and identified with it. It was hardly a feminist tract, but many women felt like it was a booster for women's independence. That's why I think it resonated. It was mainly women who would come up to me.
BK: That's a motif that's been present in your life and career more than once. I am thinking now about the group of pieces you did that you called Notional Women. Tell us about that.
BB: Yes. I would say that other than Beckett, my strongest interest has been plays or dramatic pieces based on the lives of real women. Notional Women was originally a piece commissioned by Oxford College. They had some kind of program to bring in somebody every year...sometimes it was a speaker, sometimes it was a performing artist, and they asked me to be that person one year. I suggested that I would like to use that opportunity to put together a piece, because I had been working with Frances Pauley, the remarkable social activist who was based here, and really wanted to do something with her life, and so I used several characters...real people who had been in Cabbagetown and Ponce de Leon, two other plays where I had done real women, and used Frances Pauley as a framework so that I could present short pieces on the lives of four women, and Frances opened it and closed it. They were all women who lived unconventional lives for their time and their place, either out of necessity or choice. The reason I called it Notional Women...that was from my grandmother. I could remember her saying about the woman next door or some other woman, "She's just gone and got real notional." She would certainly have called Violet Weston a notional woman...someone who, instead of behaving like a woman ought to behave, just opened her mouth and said things she probably shouldn't have said in polite company. That's why I called the piece Notional Women.
I developed it and put it together and did it at Oxford, and then after that, maybe for about ten years, I would go and do it as a fundraiser for organizations. If it was an organization that I thought it was a good idea to raise funds for, I would say, "I'll come and do the play. You get the place, you sell tickets, you keep the money." I didn't ask for expenses...I would only ask for expenses if I had to go off someplace and spend the night. Then I'd say, "Get me a place to spend the night." It was a way of donating where they could make more money than I could write a check for. So I did l5 or 20 benefits with the piece over that period of time, and it was a great experience. I have a little rolling suitcase upstairs that has NOTIONAL WOMEN on it, and it's all my stuff. We used one of these chairs and a metal lawn chair and a stool...I mean, Cary and I could carry everything in the van that we needed to do it. It didn't need special lighting. It didn't need a stage. It just needed an open space where people could see it. It was completely low-tech. Therefore, it didn't cost anything to put on. That was my idea: spend as little money as possible and sell as many tickets as you can. We added a component where people, for a fee, say $25, would nominate their own notional women or put a dedication in the program. Then, usually at the beginning, they would read out those names and put a rose in a vase for each one, so there would be a vase full of roses representing notional women known by people in the audience...just different ways of honoring women and making money for whatever the organization might be.
And Frances Pauley...what a woman! A major activist. She opened a bi-racial clinic in Decatur, Georgia, in the twenties. That's just one clue. She was one of the most effective and vocal social activists for human rights in Georgia that we've ever had. She actually grew up in a house in Decatur on the spot where that big First Baptist Church is now on Clairmont. She went to Agnes Scott and wrote plays. She thought she was going to be in the theater, but she married and became a wife and mother, primarily...in her day, you did that and didn't do a career. But she just started doing that. In her later years, she was very much involved in the Open Door community, which is a wonderful place. And they used to have evenings of her telling stories from her experiences, and they gathered some of those stories at one point in a little paper pamphlet-type book. In her later years, she lived here, over on Clifton Road.
BK: Did you know her?
BB: Yes. What happened is, after I read her stories, I thought, you know, I think I could do her. This was after Ponce de Leon and after Cabbagetown and after some others I had done, so I had this experience of taking oral history, of just doing a person, speaking in that person's voice. So I got in touch with Murphy Davis...she and her husband Ed Loring were head of the Open Door...they had put out the book of her stories. When we were talking, and I was telling Murphy what I wanted to do...Frances was then living at Wesley Woods. She was in her 90s I think. So Murphy said, "Let me talk to her and then I'll take you over to meet her. She's gotten kind of notional." That's what I'd figured. So Murphy introduced me to her and we talked and she gave her blessing to the project. So then I developed an opening sequence and a closing sequence. What it opened and closed with, ultimately...and this is my favorite part...is that we put on Tai Chi music, with her doing Tai Chi. It ended up that we had the same Tai Chi teacher, Dr.Tsu over at Emory. He taught Tai Chi to the old people at Wesley Woods. Frances said, "I think it's very good for old people because you know, we don't have much that we have to think about and anything that helps you think helps keep you alive because you know if you don't use it, you lose it." So she was doing Tai Chi and that Asian music was playing in the background.
And she told stories about civil rights and her expressions and then, in her last speech...if you want to ask if there was one line you've ever said in your life that was guaranteed to get a laugh, her last little paragraph was it, if I can remember: So now I live here at Wesley Woods, with a lot of other old people, or inmates, as I like to call them. I was talking to one of them just the other day, and he said, Frances, you know I am so...I used to worry and worry about my children all the time, but I am so happy now to know that they are both safe in nursing homes. And then she'd say, I guess God's not gonna let me die anytime soon, so I reckon I will finally have time to learn to love my enemies.
She came to see it. I did it at Agnes Scott to benefit something...in that theater at Agnes Scott...and she came and sat right down there, and she just loved it.
BK (who has been hearing and watching Brenda Bynum "do" Frances Pauley): Of course, she did.
BB: And she was so generous. She and those Cabbagetown ladies...everybody I've done, just about, has seen me do them and it's amazing to me, the generosity...not only the generosity of letting me do the roles and not censoring me or anything, but also, ultimately, the joy they were able to take in seeing themselves portrayed. They just loved it, took pleasure in it. And she was no exception. There are very few real women, Southern, Georgia women...well, she was from Ohio, but she grew up here...that I admire more than Frances. She was a pistol. She did remarkable things.
And to me, what higher calling could there be, if you are a theater artist, than to bring her back for people to know her that didn't know her or know about her? She's somebody who had a certain degree of notoriety, and then there are others, the Cabbagetown ladies, who had no notoriety. I love to read the obituaries because I think, God! what a fantastic person, living here all the time, in this same city, and I didn't know. People living out remarkable lives among us.
So part of my work was bringing out those kinds of lives for people to see and hear and be reminded of what miracles are taking place around us all the time, which I think is, for theater, a high calling. You can only do that kind of theater in a live situation, and you can take it to places where you couldn't take other plays. That's what Notional Women was about.
BK: I'm glad you said all that. It begins to answer the question of what is important about the theater. To me, even though I love all forms of the arts, theater is the most exciting art form. It has something to do with what you just described. That's a very God-like position to be in, to be able to bring a person to life.
BB: Yes, it is. It feels like that. Yes, it does.
BK: It is, maybe, the ultimate creativity.
BB: One thing about oral history, the way I feel about plays...If the plays are well written, if the words on the paper are true, then I can hear in my head, I can look at the words and then hear in my head the way they are supposed to sound. That's the way it works for me.
BK: That's such a wonderful, clear statement about your particular art form. I just watched for about the tenth time a film on Georgia O'Keeffe, and in it she says, "I see shapes, and I have to paint them."
BB: Yes. Yes. I understand that, exactly. When I read Beckett, I see pictures. And I have to make those pictures big, in front of my eyes.
BK: You have had a long marital and theater partnership with R. Cary Bynum. In the O'Keeffe film she was talking about her marriage to Alfred Stieglitz. She said people would ask her what was it that attracted them to each other, and she said that they liked each other, but also important was that each liked what the other was doing, they liked each other's work. That mutual respect was also built into their marriage. It seems to have been true with you and Cary as well, not just having children and rearing them, but both of you working as artists and showing a great deal of respect for each other's work. Cary has said many times how he ranks you at the top among actors in Atlanta, showing how much respect he has for what you do. Would you talk about that, what it's been like to collaborate, and tie it in with the Cabbagetown project?
BB: I think it has worked best on our collaborative projects. Let's face it. When I was working on plays, many times, with me being gone every night and him being left with the kids, that made it not always seem like the best idea in the world. Sometimes real life would seem to say, wait a minute, what's this theater crap? But yes, working together on Cabbagetown and Ponce de Leon, what we shared...well, our little Southern Poets Theatre was what we called the two of us working together. We both love the sound and the ethos of the South, especially in the cities, and what that is: the special quality of lives lived in the South, the voices and the sounds. Working together on oral history documents...that's where we have done our best work together. We both have the same kind of appreciation and passion for it. We've done that on our own. All of those projects were done for the best possible reasons: we ran across material that we just didn't want to put down. None of it has been done in a big, commercial way. Cabbagetown we did off and on for 20 years. It had the longest life.
BK: You did get that filmed....
BB: Yes, one of the performances was filmed by public television. And every six months they would show it a bunch of times during the fund-raising drives, so it got a lot of life in that way, too. And those ladies all saw it, so that has been for us a way together to share our love of the South, of the language...the atmosphere and ethos of our own heritage. None of that would have happened if we both hadn't been willing to jump in and do it together. So that's really been a terrific situation. My acting and his writing many times boils down to "O. K. Who's cooking dinner?" It was two jobs that had to be managed just like any two jobs have got to be managed, I guess. I mean it's like, "Yeah, yeah, yeah, you can act, BUT...Yeah, yeah, yeah, you can write, BUT...Who's cooking dinner? Who's gonna mow the lawn?" (Laughter)
BK: It's remarkable either way. I loved the Cabbagetown project. I saw it and appreciated it particularly because it's about the Fulton Bag and Cotton Mill area of Atlanta where my mother, during one period when the Aragon Mill was on strike, drove the 60 miles from Aragon to Cabbagetown to work on the third shift which, you may remember, was the night shift. That would have been in the 1950s, I think. She and two or three others rode together, night after night, until the local strike was over.
BB: That was a long way, especially in those days, with little two-lane roads. I don't think I ever knew that she worked there.
BK: She did, for several months. One of the things I like about the projects you and Cary work on together has to do with valuing this city, the state, the region. I think it's so important for people who live in it and love it to write about it and bring it to life.
BB: I do, too, absolutely, yes.
BK: And it is bringing it to life, the way you do it, as we were talking about earlier, the Notional Women and the Cabbagetown projects. They bring the region to life in all kinds of ways: sensorially, through the accents...
BB: And thank goodness, people still have accents. We thought they would all go away with television, but they haven't, not really. It's amazing how strong regional accents have remained.
BK: Yes, it is. That brings us to something else I wanted to ask you about. We've already talked some about the city of Atlanta, a place we both love. What do you think is happening in Atlanta theater now that's good, and where do you think the trends are leading?
BB: I'm not sure I'm that well qualified to answer that question. One thing I can say wholeheartedly that's good, is that the integrity of people who do theater is very, very strong. Like I said earlier, I've never known an actor not to do his or her very best. And coming back to work in this last play with people, some of whom I've worked with for years in the olden days, like Chris Kayser...I think our first play together was Candida. That was years ago at the Academy Theater. And then all these young people I have not worked with before that I got to meet. The level of skill and integrity with which they approach what they do...that is absolutely the strongest component of Atlanta theater. There's an embarrassment of riches in this city. I don't think any of us have any idea of just how strong and deep that is. I mean these people live here and do theater here knowing they're not going to get rich...shoot, rich!...I mean, hoping they can make a living because...it is a place to live. You can work with top-of-the-line people here and also have a life and be in touch with a community and have a home, have a family. Put all that together, and it's an amazing thing that Atlanta has going for it. And it is that ability to live here that keeps our talent pool so strong.
Where it's going? Whether or not the money that is required to keep the theater doors open can continue to be generated...You know, government support of the arts is so much less than it used to be. It has to come from the private sector and from corporations. I know that theaters in Atlanta always need more funding than they have. And it's a constant battle to develop that necessary funding.
The situation calls up a simple set of questions: how long can they keep going? Will the money keep coming? From where? How? What do you have to do? Can that level be maintained? With everything else going to hell in a handbasket, it's kind of amazing that theater is still getting enough to stay alive. And, of course, it stays alive because people's passion is there. You know, I always have to laugh when people talk about having to pay a CEO $3,000,000 because he might go somewhere else...I don't know an actor in Atlanta who isn't essentially worth more than any corporate executive in the country. They work harder, they have more integrity, they have more knowledge of their craft, they care more, and they give you everything they've got. I'm sure there's not a CEO that you can say all that about. So we're in the peculiar position of having the absolute best you can have and not paying for it. That's because actors want to do what they are doing...they love to do what they are doing, and that will continue. You can't beat actors off with a stick if they really want to act. You cannot make them quit. You can't do that. They are going to be there. They're going to want to do those roles. And that's our good fortune, that they care so much. When that equation will finally break down, I don't know. I don't know how it works now.
BK: I don't either. I am aware that funding has gone down. Because I've donated small amounts from time to time, I'm constantly being invited to donate more. Some theaters have gotten a lot of their money this past year simply by writing to people who've donated before, and amazingly, they often get what they ask for to meet the expenses that they outline in their e-mail petitions. I hope they can continue that, and that something can take hold to keep them funded.
BB: But the notion that theater will ever be comfortably funded is probably wrong. I foresee that it will always be a struggle to keep the doors of theaters open. I don't see what kind of boom could happen.
BK: It would have to be a change of consciousness. In Greece, the climate of the government had a lot to do with making theater possible, and in our government we don't have enough people who are interested in that.
BB: I guess there are people who would argue that you don't want the state to be the be-all and end-all of sponsorship because it's the freedom...if the state made theaters comfortable financially, theaters would have to do what the state wanted them to do. It's a matter of ethics. And I don't think you could escape that, even with the best intentions.
BK: I agree with you. What I was referring to was how in Greece, the whole culture came together out of great respect for the arts, and that's what made it possible for theater's position not to erode. There were always patrons.
BB: And you'd like to think it would be possible to have lots of exposure, through education...trips to plays...that sort of thing is not done nearly as much as it used to be done. It's hard to imagine having time for anything now except practicing for tests.
BK: And yet, several of the theaters in town have vigorous education programs. The other night I went to the Shakespeare Tavern to see Taming of the Shrew, and actor Tony Brown was mingling with the audience, talking about his involvement with the education program and how much he was enjoying it.
BB: And I think right now, that's a really good job for a lot of theater artists. Theaters can get separate funding, discrete funding for school programs...I think we call it outreach now. You can get federal funding for outreach programs. You can't apply that to putting on your plays. But it's a wonderful thing to do, and it's a great way for a lot of young people, young actors especially, to get some work and some experience under their belts. And you'd like to think that those kids who see those plays or participate in those workshops as children, that that memory will linger and resonate when they are older.
BK: Did that happen to you? Were you in a dramatics club or something like that?
BB: Not to speak of. I was, on a personal level...at the tobacco farm up in Virginia where I have cousins...they love to tell stories to this day of how much they loved it when we would come to visit every summer because the youngest ones would be allowed not to work in the fields all day so they could keep me entertained. And what I did with them was force them to put on plays. I would dress them...one summer we re-enacted the coronation of Queen Elizabeth. You remember that.
BK: I do.
BB: I know there was always that kind of thing. When I was in grammar school, my teachers would have me tell stories or read to the class while they graded papers, but there were almost no organized dramatic activities. Where I really encountered theater was at college, at Mercer, a small Southern college, in 1958 when I first went there.
BK: Who were your mentors? Did you have any?
BB: I have thought about that. There is only one person in my life who would qualify as a mentor. That was the drama teacher at Mercer University, Audrey Needles. She was supervisor of the Mercer Players, and she taught the theater courses in the Speech and Drama Department. How she ended up there, I don't know. But I have some exhibitionist tendencies, I think....
BK: Nooo! (Laughter)
BB: I tried out for plays...when you are a freshman, you try out for everything. I was cast in a play, and I pulled every cheap exhibitionist trick of somebody who was completely ignorant, who had never had any theater experience or who, in my case, had never even seen a real play. So I played this part, thinking how much they loved me, and by golly, she did not cast me again for a year. I know I was insufferable. I was just up there performing. It was a play called Blithe Spirit by Noel Coward and I was playing Madame Arcati. I am sure I was outrageously bad, but I thought I was wonderful, brilliant. So I went sashaying back into the next audition and, Nothing! I didn't get cast. So I'm backstage shaking pieces of metal to make thunder, and I'm sweeping up the stage. For a solid dadgum year I'm trying to get back in a play. She's got me doing everything but that. Finally, I think she perceived that I had learned my lesson. She put me back in, and by then, I had observed enough, because she was a profoundly gifted teacher of acting, and there were some really good people there in that place at that time, and I really learned a lot by watching. I learned how to take direction and pay attention. So she gave me another chance. From then on, she was my chief encourager.
She made me believe in my ability to do it and do it well and do it the way it should be done. And she insisted on professional demeanor. Our rules were strict. She treated us as if she expected professional level work and behavior out of us at all times. It was a remarkable experience.
It was the middle or the end of my sophomore year when I got back into her good graces. Then I was fortunate enough...we did five plays a year in that little place, and I was in all of them and played everything. We were all college students, so I played old people, young people. And had to take it seriously and would get my butt kicked if I didn't. And she was a true mentor in every sense of the word. She's the one who taught me just what theater was and what it could be. I was really lucky.
And I know there are kids who go to big universities with big theater departments. I've seen some of them who came to audition for the Alliance intern program. They go to big universities with recognized theater departments, and they major in acting for four years, and they come to post-graduate audition, and their resume shows that they've done two bit parts in the major works. The departments are so big. They don't get to do plays. They take a lot of classes and they do a lot of workshops, and they play the second spear carrier in the spring Shakespeare. And it's not that they are not good. It's that there's so many of them. There are not enough parts to go around.
And Charles Love, this same young professor at Mercer who came in and had us reading Beckett, started doing avant garde plays...we are still talking about Macon, Georgia. Now we are both Southern girls and we know what it was like. I mean, the 50s weren't over until about 1972. And we did The Bald Sopranoin chapel, which is where mostly you went to hear people preach. I was so lucky. I was exposed to Ionesco and to Godot in Macon, Georgia.
In my senior year, I signed up to do five plays, and the woman who did the speech classes called me in and said, "I need you on the debate team." We had a good university debate team. She said, "You either do debate or you don't do the plays." You couldn't get away with that now: no debate, no plays. I immediately signed up for debate. I was on the university debate team my senior year. And we went to tournaments all about Georgia and Florida. It scared the hell out of me. I have never had sweatier palms. It's like gladiator stuff to me.
BK: So different from acting.
BB: So different. But my partner and I...we didn't have much research, but we had a lot of show business...we did a lot of intimidation. I used a lot of vocal intimidation, and we did really well. We finally got into finals of a debate tournament at the University of Florida, and we got in the absolute finals. We thought we were...ffffft! We walked in and put out our little metal box with index cards in it, a pad, a pen, and in walked our opponents: two guys, two little pasty guys with big spectacles, with their assistants wheeling a dolly full of file cabinets of information. And I'm looking at my little box, my recipe box...and they wiped the floor with us. They just wiped the floor with us. Because they knew what they were doing. It turns out they were on full, four-year debate scholarships to the University of Miami. You want to talk about vanquished, destroyed, ruined, smeared, obliterated? But that was a great learning experience! And I was really, really grateful that I was forced to do it. Because I think that experience doing debate made me stronger.
But you know who was on the debate team at the same time I was? Nathan Deal, our governor. He was a year behind me there, and he was on the debate team.
BK: Do you know each other?
BB: We do know each other. He had a daughter who went to the same college our son went to...of course, we knew each other there, but twenty-something years ago, his daughter was interested in theater, so Nathan and his wife came to see me in a couple of plays, and they wanted me to meet their daughter and vice versa, and I had some chats with her about...in a general way...what show business was like. We were not close friends and are not now, but there was that.
BK: That's too bad. I was thinking you might have some influence on his attitude toward the arts....
BB: I fear that our political...that we are at opposite ends of the spectrum. Back then, I think that every person in Georgia was a conservative Democrat.
BK: Small world.
BB: Yes, it is a small world.
BK: Do you have anything left undone in your theater experience that you are looking forward to?
BB: No, in theater, no. I am totally retired again, like I was before, which means that if some role like Violet Weston came along...not like it, but something equally compelling came along, I would be open to it, but the likelihood of that is just profoundly remote. I am 70 years old, and the number of roles for people my age range, especially women...I don't even know what they are. It would have to be something I believed in enough to take me away from my regular life, so I don't have any sense of anything being undone. If I never do anything else, I'm okay with that.
BK: It certainly feels as if you've had a complete work life, in all kinds of ways.
BB: Oh, yeah.
BK: One thing I would always like to see you do is the kind of thing you did with the letters of Flannery O'Connor and Betty Hester.
BB: Those kinds of things I just love. That was a wonderful project for me. One thing I'm doing right now is putting together the program for the launch of Volume II of the Beckett letters. I'm arranging excerpts from the letters. I'll be a part of it, but the primary reader will be Barry McGovern. He is an Irish actor who does a lot of Beckett. He'll be here for that, and a couple of other actors.
BK: When will that likely happen?
BB: I think it's October 21...it's a Friday night, and it'll be at Glenn Memorial at Emory. You saw the other one, I think, with Albee and Rushdie.
BK: Yes, I loved it.
BB: This one won't be Salman Rushdie. It will be less starstruck. But it will be that same type of occasion. I love doing that sort of thing. It's what I call one-night stands. Stuff where you put together something and present it and illuminate this or that or deal with a particular kind of material. With the Flannery O'Connor project...there were two of those, and I just loved every minute of it. And again, if those opportunities arise, I will do them. I've always been inclined to generate things like that in the past. I don't want to generate them now, but if opportunities like that arose, it would be my pleasure to do them, but if they don't, I am content to be done, as far as I can examine my heart. I never expected to do...I didn't expect August: Osage County to come up, and I hadn't expected Sandra's play to come up. They did, and they were good, but I didn't see that coming. I don't see anything coming now.
BK: But the door is still open.
BB: Yes. If something comes up that I want to do, I'm certainly open to it. I had some conversations with people after I agreed to do August: Osage County and that was made public...people who had projects and were wondering if I was going to be back doing more and really, actually, I responded that this was a one-time thing, that I didn't have the intention of it being a return to work or show biz, that it was a one-off, and I still feel that way.
BK: So you're not looking for something....
BB: Oh, no! I haven't been looking for anything for l5 years. I'm not looking for anything, not planning anything.
BK: Except to watch the hummingbirds....
BB: Exactly.
BK: And play with your grandchildren.
BB: And play with my grandchildren, while they're still little and will still give me the time of day. (Laughter)
*********
For more reading on Brenda Bynum and on Cary Bynum, see the following:

Copyright, 2011 Barbara Knott. All Rights Reserved