The Grapevine Art & Soul Salon
Views and Reviews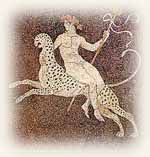 Art and Soul in Nursing: a review of Anne Webster's A History of Nursing by Barbara Knott
A History of Nursing is hardly the academic historical study you might expect from the title. It is instead the history of a life lived as a multi-talented person, as a nurse by vocation and later as a patient experiencing the nursing care of others. It is told not in prose but in poetry. I am enthralled by this personal history of a woman who was steered by her mother into nursing school instead of the more sought-after academic education that simply was not economically possible at the time. There must have been an inner call to nursing as well, because her work gave her experience of the body and a body of experience, together with the extended metaphor she would mine throughout her life for poetry. And Anne Webster has been able, in this book, to see her life in terms of vocation. I will give you an example.
In "On a Roll" she writes about the night she woke to see her husband: "in a halo of bathroom light./He dances a jig by the bed,/his voice a faint metallic whistle." He is choking; from what, she doesn't yet know or need to know to go into nurse motion: on her feet, hugging him with Heimlich squeezes again and again, against the time when he will go into "that domino cascade: the breath, the heart, then the brain." Already a longtime nurse, she says, "I know how easy it is to die." And as he "begins to float away to join/patients who've died despite my skill," she shoves him "facedown over a chair back" and jerks her "fists into his gut hard enough/to massage his backbone," whereupon "A cough drop,/sucked down with a snore, flies/into a corner" and he "lies down/already asleep, a burped baby," while she trembles beside him, "thinking/how, like the pale blue contact lens/that swirled down the drain,/he could have been lost to me forever." The lens reminds us of the beginning of the poem where she has spoken of having mislaid a lot of stuff lately, including the contact lens.
Anne Webster's poetry lives and breathes with the same vigorous energy and unflagging spirit and fierce looking into the face of human life and death that she and others like her put into their medical caretaking of the ailing and the suffering. She, however, is a poet. She combines the poet's eye for image and irony with the nurse's refusal to flinch at the most grotesque betrayals of the human body. Her first poem is a catalogue of "Stuff I learned in Nursing School," like these examples: "which hole for the enema, which for the catheter," "to keep arm distance from old men's/pinching paws," "to stifle gags at clouds of stink,/wiping shit ooze from a withered butt," "to hold my face flat,/even smile and pat an arm/while I'm screaming inside/at guts throbbing in an open belly."
She describes her first death and her reason for bolting as soon as she can, failing to comfort a waiting loved one: "I am as green to death/as the jonquils coming up on the hospital lawn." Still early in her career, while a student nurse working at Central State Hospital, a psychiatric facility, she describes how some days she leads "muttering women/shuffling like Mother after her shock/treatments, to have their brains fried." And, "When the doctor turns on the juices/I feel like a Jew herding loved ones/to the ovens at a death camp, holding down/a bucking arm or leg." The reference to her mother, who eventually committed suicide by swallowing a bottleful of pills, is a motif that haunts the volume of poems.
Nursing is about more than stifling revulsion, of course, and there is much beauty in the poet's life, even as she is aware of the grotesque, as in a poem "True Colors" where a coronary bypass patient reminds her of her own "pulsing lava/the hidden rainbow/palate ... goldenrod fat, damson spleen/lilac intestine" and the price of opening/this thin skin sack to my own scalding beauty." But the reader has to get used to this descent into the fundamentals of human life before discovering that nursing offers a goldmine of experience and imagery out of which to make poems.
To me, all poetry is about soul-making, in that it shapes the concrete life of the body-in-the-world through imagery and mindfulness and emotion, to make an event into an experience. Experience feeds the soul. We know more or less what we mean when we speak of profound or deep experience. Depth is the direction of soul, and an "in-depth" experience--when that descriptor means real depth and is not just a cliche for something that scratches the surface of a moment in time--has soul.
Poet Walt Whitman suggests that the soul is to be found in all that is down and earthy, imperfect and rejected, dark and erotic. Whitman was also a nurse, for a time, during the Civil War. He wrote a letter to friends in New York, saying: "These thousands, and tens and twenties of thousands of American young men, badly wounded, all sorts of wounds, operated on, pallid with diarrhea, languishing, dying with fever, pneumonia, ... open a new world somehow to me, giving closer insights, new things, exploring deeper mines than any yet, showing our humanity... ."* Whitman would agree with me that soul thrives in the presence of death, and the nurse knows, as Anne Webster says, that "the tiger death is always stalking."
Besides her profession, motifs in her poetry include ancestral images, among them a native American strain in her father's bloodline (she thinks of her birthmark, a "small brown island on her ribs," as her "bit of Indian"). She refers in several poems to her father's alcoholism (the "white man's poison") and her mother's madness that brought threats of lobotomy and actual shock treatments followed by suicide at age 60). She writes about her initiation into sexual force and clumsiness as a girl and the eventual blooming of her own eroticism. There are poems about her marriage, her motherhood. There is also the motif of re-writing some parts of the past in revised portraits of her mother and father. In other poems, she savors her glimpses of children and grandchildren and friends. She knows and writes about a full life.
So far I've described in her poems an emotional heaviness that is only one color on her palette. Another is humor: she writes about a doctor the nurses called "Molest Me Gillespie" and a teacher she remembers with a girl's viciousness in the image of "that fleshy mole at the corner/of your mouth, the three bristles/that quiver when you grin." There is a funny poem called "Eating" which is, she begins, "the only bodily function/we can do in polite company." And other bodily functions give rise to a poem called "Peepee Poopoo" about her grandchildren, two toddler brothers, in the bath. Amidst sounds of splashing and gurgling water, "giggles creep under/the closed door. Forbidden/words float to the kitchen where/I chop onions. 'Hiney, doodoo teetee.'" Another poem, "Getting Even," contains a series of punishments inflicted on her by her sister, five years older: "You took revenge by/vacuuming my toes, dosing me/with vanilla and pepper, reading to me/--stories about children who die in flames--/any torture that didn't leave marks." The funniest, and perhaps the most popular of her poems to be read aloud, is "The Woman My Husband Should Have Married," from which I quote the middle stanza:
He cannot hurt her feelings. His sexist jokes
make her laugh until tears run. She squeezes
a dollar until it stretches like rubber, never
runs up the credit cards, not her. She dresses
like a queen in last year's clothes, always
wearing the four-inch heels he loves. She won't
let him help in the kitchen and rubs his back
when the dishes are done. She hates foreplay:
she lies back, wet and ready in ten seconds flat,
unless, of course, he prefers a blow job.
Did I mention that her poems are also sexy? Sexual awareness is present at a cardiac arrest where "Sparked by the curls on Gordon's nape/as he leans over the patient, a warm honey oozes/across my belly." Cursing her "traitor's body," she concentrates on assisting this intern Gordon as he tries and fails to prevent her "first death." In the title poem, "A History of Nursing," she refers to men patients, on hearing her "long skirts rustle/between cots," move hands to cover/soft hearts of sex,/leave open the grin of wounds." Church is not exempt from her sexual fantasies where,
She alone looks up
to see the song leader,
a hot-rod hero saved by
the Call. Her eyes glide up
legs skimmed with Sunday
white, brushing his secret
bulge, to arms hung from
dark half moons. She stops
at his mouth, now moist
with amens, and her lips
move in silent prayer
as his eyes meet hers.
There are several poems in which she appreciates her husband's appeal ("Husband Shaving," "An Irish Stroll," "Thirty-six Years") and one extraordinary experience from "When in Paris" where she is more or less invited to perform a rite of passage with her host's son.
Anne turns directly back to the subject of nursing in the final grouping of poems, where she gives many and minute details of herself as a patient suffering with Crohn's disease. I will quote from just one of them, "Gutshot," where she identifies with the first woman ever nominated for the Medal of Honor, Captain Karen Walden, who, after being shot in Iraq, "orders her men/to retreat, fires her M16 at attacking Iraquis." Even as a girl playing cowgirls and Indians, Anne knew, she says, "nothing could make a hero like staying behind/with a belly full of lead, holding off the redskins/to save the women and children." In a dream, she reaches "for my toy six-shooter," whereupon "glory fades./I'm a woman sick with Crohn's, no hero, my family/won't cut and run, and the bullet holes in my bowel/are here to stay. I learn what Walden knew./Dying is easy. Living hurts, and it takes a long time."
Soul appears in vales, in lowly places of sorrow and failure and old age and wretchedness of all kinds, where humans are challenged and defeated, fearful and forced to endure, aware of their mortality and yet full of love, and longing to live forever. We are all subject to these events, emotions, and thoughts about them ... nurses, perhaps more than others. But it takes a poet's patience and craft to make something out of the raw materials of life.
In "Song of Myself," Whitman says, "I loafe and invite my soul." The idea that soul does not appear in anything done in haste or without patience is very important. I appreciate and honor Anne Webster for having stolen from her busy life as a nurse, wife, mother, daughter, sister, athlete, and traveler, enough time to "loafe" and invite her soul to make these poems.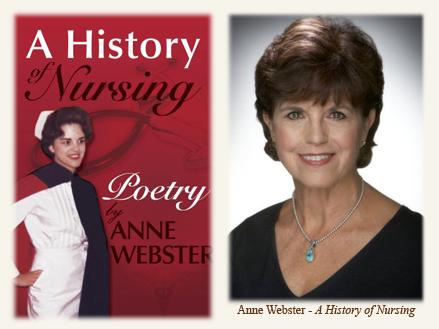 A History of Nursing: Poetry by Anne Webster. Kennesaw State University Press, 2008. See amazon.com for ordering information or contact Kennesaw State University Press, Kennesaw State University, Building 27, Suite 220, Mailbox 2701, 1000 Chastain Road, Kennesaw, GA 30144.
www.ahistoryofnursing.com
* (http://washingtonart.com/beltway/whitman.html).
Copyright 2010, Barbara Knott. All Rights Reserved.
Contact the
Webmaster