The Grapevine Art & Soul Salon
Museum: Place of the Muses
A salon chamber dedicated to Ivan Edwin Lester, 12/29/48--03/14/07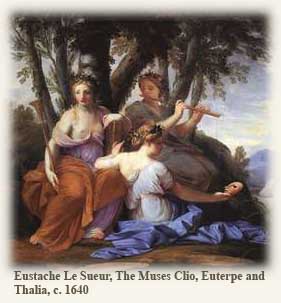 Ivan's Ashes
by Christopher Blake
In his 1926 novel Paris Peasant the French Surrealist writer Louis Aragon wrote, "Storied places are for the most part sacred settings. Part of some great soul cleaved to these heights and to these depths." Aragon refers to the ageless awareness of spirit of place, of sacred space inhabited by gods, angels, daemons, spirits, elementals, ancestors, devas and fairies; it is one of the great overarching archetypal constants in human affairs, knowing no distinction between East and West, civilized and primitive, nor even science and poetry. My friend Ivan Lester was acutely attuned to this dimension of experience, this "world ensoulled," and was forever reminding me that "the outer is the inner; psyche extends beyond your skin." We shared a belief in the magical universe and I was glad to bring Ivan to my sacred space in the western North Carolina mountains one summer late in the 1980s. The place is the Linville Gorge Wilderness Area in Burke County, about an hour's drive from Asheville and some four hours from Atlanta, where he and I were then living.
I'd first encountered this primordial wilderness in 1967 as a high school student attending the newly opened North Carolina Outward Bound School. Two years later I was back for Green Beret radio operator training in the challenging terrain of the "grand canyon of the East." Since then I had often returned for heartsease from the stress of urban living in New York, Charleston, and Atlanta.
We went camping at a place called Lettered Rock Ridge, thus called for a legend of Indian markings on the rocks of the area. The ridge lies at the base of Hawksbill Mountain, a dramatic granite peak on the Gorge's rim offering a spectacular vista of other famed North Carolina peaks, Grandfather Mountain, Roan Mountain, and Mount Mitchell, the highest peak east of the Mississippi. A thousand feet below sprawls the Carolina Piedmont and the cities of Morganton, Lenoir, and, farther off, Charlotte. Another legend holds that the sister peak to Hawksbill, Table Rock Mountain, was a "mystic altar of the Cherokees" known by them as Attacoa. Six miles to the south of these twins lies the bread-loaf shaped Brown Mountain, source of the eerie and still unexplained Brown Mountain Lights. These drifting multicolored spheres of light appear at night, most often in Fall after a rainy day, racing up and down the mountainside, congregating in groups and dispersing, then vanishing as rapidly as they have appeared. Legends about these lights have proliferated over the centuries, most often involving ghosts and spirits, but on occasion, even extraterrestrial aliens. Such landscape is well suited to attract minds like Ivan's; his scientific curiosity was only matched by his intrigue with the mythical and mysterious. He read both Science and Gnosis magazines.
So we set up camp in a rhododendron glade on this ridge and had a hearty campfire going in the evening. Earlier, at dusk, Ivan and I sat out on a bluff overlooking a broad panorama of rolling hills and distant mountains. I remember a sudden drop in the temperature, which often happens in Blue Ridge summers and Ivan fetching me a spare jacket out of his car trunk. I'd brought along a brass penny whistle and Ivan said he liked hearing my aimless piping borne off on the cool breezes. The mood was sylvan and calm; we were outside the wilderness area with its cascading, roaring, white-capped river and its craggy haunts of hawk and falcon, its dens of rattlesnakes and bear. We didn't see the strange colored lights that night. Nor did time permit us a foray into the gorge; we stayed overnight, ate in Marion, and headed back to Atlanta the next day.
Ivan died in 2007, aged 59. His companion, Barbara, approached me with the idea of performing a simple memorial service for Ivan at the gorge and scattering the portion of his ashes that she took from a small sanctuary at their home. Struck with the fittingness of her request I took the ashes and on June 9, 2009, performed the ceremony at the same bluff where Ivan and I had spent a sunset. Let my diary entry for that mild clear Tuesday afternoon tell the story.
Left home at 2:15 for Ivan's ceremony. Out to Gingercake [a neighborhood of summer homes on the road along the Gorge's east side with stunning views of the lowlands] and to the parking lot behind Hawksbill. No cars. At the camping area shortly down Lettered Rock Ridge I saw a camp set up at the big rock but no one there. I looked around farther back towards the parking lot but the path out to the bluff is right behind that rock. So on out to the shelf where Ivan and I sat many years ago. Lit two sticks of Pete's Indian joss at 3 pm and stuck them in the bark of a Table Mountain Pine [a hardy, fire-adapted pine that clings to the rocks roundabout like bonsai, twisted into weird shapes by gusts]. Performed the Lesser Banishing Ritual of the Pentagram [a magical ceremony to prepare an area for some work such as meditation; it focuses thought]. I then read aloud from a favorite work of Ivan's, Aleister Crowley's Liber Stellae Rubae. Afterwards I scattered Ivan's ashes from the edge of the cliff, quoting Prospero's line to Ariel, "To the elements be free and fare thou well." Seating myself on a mossy stone, I closed my eyes, settled my breathing into a regular pattern, and thought back on Ivan's and my times together. By now loud thunder was booming high overhead. I got up after 10 minutes and took three photos of the place, including Turkey Beard plants in full bloom. [These plants are round clumps of a thin-bladed grass that send up a thick stalk waist high in summer. On top is a big pod clustered with hundreds of delicate white flowerets.] 15 minute rite. Left 3:35. Climbed Hawks-bill. Rain showers.
To the story of the campout is added the story of the ashes, both narratives conferring a sacramental quality on that narrow ledge of rock at the base of the mountain. Yeats felt that all our minds communed with a great mind, the mind and memory of Nature. Ivan's voice reached me again that day, saying, in effect, I live in your memories no less than I live now in this sacred place, this place called Lettered Rock Ridge.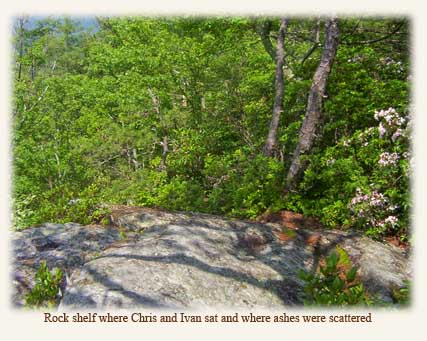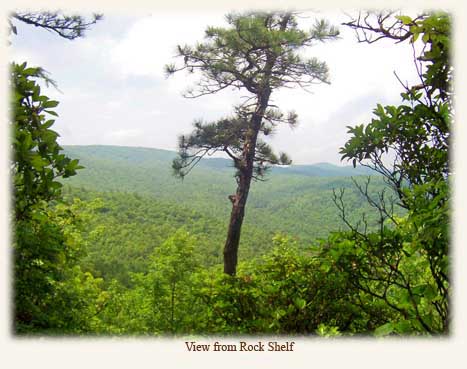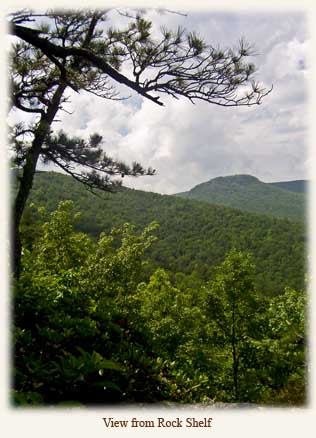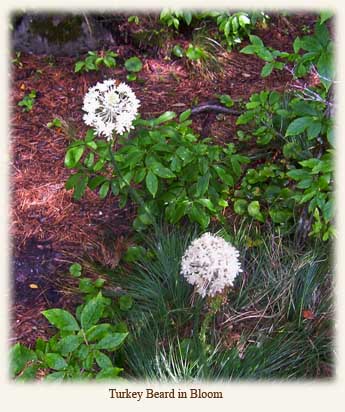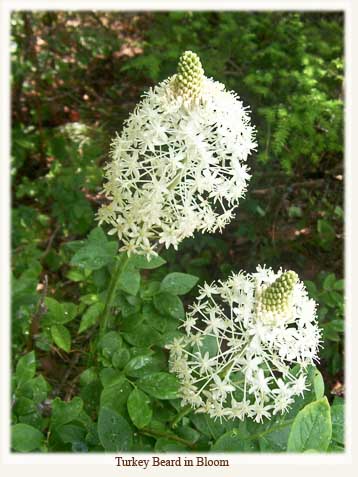 Copyright ©2009 Barbara Knott. All Rights Reserved
Contact the
Webmaster