The Grapevine Art & Soul Salon
Views and Reviews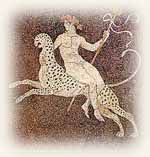 Cavalia: A Contextual Note
CAVALIA is what Aristotle called spectacle, elevated to the highest artistic and soulful values I have ever seen.
So much of what we write for The Grapevine focuses on what it means to be human, as if humanity were separate from the animal kingdom, when, of course, it is not. Down deep, in our very bodies, we are animals and lucky to be linked with such beautiful kin as horses. At least part of the charm of this theatrical adventure is that humans are shown in secondary roles: the horses lead the field, and humans follow, developing their own skills and charms in tandem with the horses.
Cavalia does not draw on the Greek mythology of the centaur, half horse and half man, crudely human at best, full of appetite and sometimes violent. These horses have appetite, of course, and they are capable of violence (all male, geldings and stallions together). But they choose to behave well on this stage under the white big top that lends to any cityscape a fanciful suggestion that "magic lives here." The mythology they evoke comes mainly from the Middle Ages in Europe, the age of knights and ladies, of rough riding and gentility combined, of flowing silk garments and the romance of gestures.
The stage is 160 feet wide and filled with 2,500 tons of sand and dirt. A 210-foot-wide screen serves as a backdrop for the projections and special effects. Throughout the pageantry and performances, something equivalent to the history of horses in art is projected onto the screen, alternating with field and forest scenes to create realistic settings.
There are 58 horses (in the show I saw) and 32 artists, riders, acrobats, aerialists, dancers, musicians, a vocalist. Vignettes range from ethereal playing-in-a-pond scenes to astonishing choreographed dances and Roman riding (in front of a projection of the Coliseum) where horses gallop at high speed across the stage in pairs with a rider standing one foot on the back of either horse, then assuming control of four horses when the rider in front leaps away.
My party was seated on the front row of the 2004-seat auditorium inside the performance tent. Our tickets included a short trip through the portable stables after the show. CAVALIA is expensive at $120 for the horselovers' circle tickets, but the show is unforgettable.
See Charles Knott's piece on Cavalia in Views and Reviews and Jonathan Knott's historical sketch of horses in Tracking History.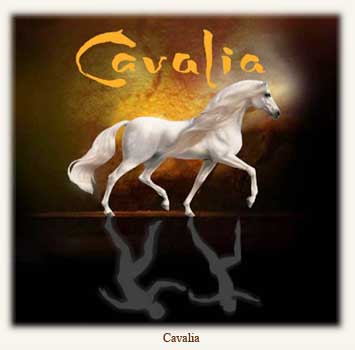 Copyright 2010, Barbara Knott. All Rights Reserved.
Contact the
Webmaster