The Grapevine Art & Soul Salon: Around Town with Nancy Rose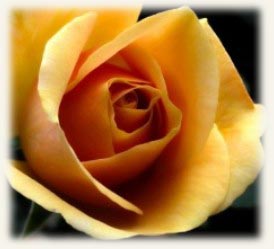 A Closer Look at the Booth Western Art Museum
I have previously written of my love for the Booth Western Art Museum in Cartersville, Georgia. Ten years ago, I was introduced to their annual cowboy festival and symposium by my neighbor, Barbara Stringer, who was a real cowgirl in her youth in Ft. Worth, Texas. Barbara passed away in December 2013. Thanks to Barbara, I am a member of the Booth and have continued through the years to attend lectures, art exhibits, the summer entertainment series and a photography workshop.
I recommend that if you haven't already become a regular visitor to the Booth Western Art Museum, do so at your first opportunity, and mark your calendars for October 2015 to attend their annual cowboy festival and symposium. If you are unable to attend all of the activities, pick and choose what interests you or entertains you from the many programs offered on different days. As you can see from my account below of the events in October 2014, there are plenty of choices.
At the Twelfth Annual Southeastern Cowboy Festival and Symposium, events ranged from school programs in the mornings on Thursday and Friday to include art exhibits, receptions, lectures, panel discussions, a writer's workshop sponsored by the Booth Writer's Guild and a one-day oil painting workshop hosted by the featured artist Krystii Melaine. In addition, festivities such as traditional Native American dancing, re-enactments of the Gunfight at O.K. Corral, living history encampments and live music performances take place on the Booth grounds. Saturday night always ends with a concert at the Grand Theater. The performer on this occasion was country music singer and songwriter Suzy Bogguss. On Sunday both the museum and festival grounds were open, and a nondenominational Cowboy Church featured cowboy prayers and Western spiritual music.
The Gallery Walk and Exhibition of Prevailing Winds: American Women Artists opened at that time and featured 70 works of art by members of American Women Artists organization (AWA) and guest artist Krystii Melaine. According to their mission statement, American Women Artists organization is "dedicated to the inspiration, celebration, and encouragement of women in the visual fine arts." Women artists from the United States, Canada and Mexico, who work in the arts of drawing, painting and sculpture, are eligible to join. AWA's first exhibit was held in Tucson, Arizona, in 1990.
AWA members have been described as "some of the best painters and sculptors working today." The works on display at the Booth certainly exemplified that statement. One sculpture that I wanted to reach out and touch was a bronze female figure standing on a globe holding the sun high above her head with the wind blowing her hair and water flowing from her extended hand. By Karen E. Crain, it was called Spirit of Energy and represented natural energy resources. Sculptures were only one art form on exhibit. A variety of oil paintings was displayed, including portrait paintings as well as representations of still life, wildlife, cowboys and horses, and Native American life. Artists were available to discuss their works and pose for photographs. This exhibit created two firsts for the Booth: first exhibit of women-only artists and first time art works were available for purchase.
After the Gallery Walk, guests were invited to a reception in the Atrium to meet the artists and enjoy refreshments. We were treated to finger food, tastefully displayed on a round tiered table, and a choice of beer, wine or nonalcoholic beverages at the bar. The Atrium looked beautiful with its tables draped in white tablecloths and lights twinkling off of huge glass panes. Very Fancy! I have been to receptions there in a small back room where everyone was standing, so this was quite a contrast.
I sat with Peri and Phil, who recently moved to Cartersville from Hawaii, and I met their friends Suzanne and Mike. Peri and Phil couldn't stop talking about the virtues of living in Cartersville as opposed to Hawaii. To a girl born and raised in Rockmart, about 20 miles west of Cartersville (me), that was surprising. In my youth, I would have thought everyone would choose Hawaii over Cartersville.
Also on hand was Seth Hopkins, Executive Director of the Booth, who wore his signature cowboy hat. Filling the air were sounds of laughter and conversations among old friends saying hello to each other and new friends meeting for the first time, comments about the food, praise for the art and the artists. I find the Booth to be a very welcoming place.
After the reception it was time to move to the Bergman Theater to hear the presentation by featured artist Krystii Melaine. On several occasions I have heard Seth introduce lecturers and works of art, always without notes and with a thorough knowledge of the subject. He is a scholar well versed in Western art. He introduced the artists and other VIPs, announced the purchase of Nancy Boren's painting Aloft in the Western Sky for the Booth Museum's collection, and declared that over $30,000 worth of art had been purchased that evening.
He usually introduces the speaker with background information about the person's life and work. Instead, he said that Krystii Melaine would introduce herself to the audience through a slide presentation. This technique was very effective. She showed the slides and discussed each one. She is originally from Australia and currently lives in Spokane, Washington, where she moved to be closer to the American West because her passion is painting cowboys and Native Americans and early settlers. She wanted to be an artist from the time she was four years old, she said, and showed us slides of her earliest works, including a stick figure drawing. She studied art in college but did not always pursue her career as an artist/painter. For several years she was a very successful wedding dress designer but never gave up her dream of painting as a fulltime job and of actually making a living doing what she loved. She pursued her dream and is now an award-winning artist, considered one of the best in Australia and the United States. Hanging in the permanent collection of the Booth Western Art Museum is her painting titled War and Peace, which is a portrait of a Native American warrior.
Following the presentation, everyone was invited to visit the gift shop where Ms. Melaine would autograph the official event poster. I love museum gift shops and always find something that seems to say to me, "I've been waiting for you." This was no exception. I purchased a beautiful silk scarf designed by artist Mary Dunlop Cawdrey depicting horses, one of her favorite subjects. The combination of colors is breathtaking: different shades of reds, blues, greens, and browns. I wanted to know how the scarf was designed, so later I went to her website and found this information:
These scarves are all digitally printed from a hi-resolution scan of the original artwork that was painted on silk. The scarves are printed on a heavy jacquard silk woven with a unique pattern. The final touch is that the edges are hand rolled and stitched.
When I wrap the scarf around my neck, I like feeling that I'm wearing a piece of her art.
Today, I agree with Peri and Phil: Cartersville is one of the great places to live in the South, not just because of its close proximity to the Metro Atlanta area but also for its unique cultural offerings like the Etowah Mounds, the nearby Tellus Museum of Science, and the Booth Western Art Museum.
Interview with Seth Hopkins, Executive Director of the Booth Western Art Museum in Cartersville, Georgia.
NL: Tell me about your background. Where are you from?
SH: I'm originally from Maine.
NL: Education?
SH: I have an undergrad degree in Broadcast Journalism from Syracuse and a Master's from University of Oklahoma in Museum Studies.
NL: Museum experience?
SH: None prior to Booth.
NL: How long have you been at the Booth?
SH: I was the first employee, hired 7/1/2000.
NL: As the executive director, what is the hardest part of your job?
SH: Convincing people it's worth coming out to Cartersville to visit the first time; the easiest thing is getting them back a second time.
NL: Best part?
SH: Seeing Western art collectors in the South, who feel isolated, meeting other collectors through the Museum and becoming friends.
NL: What do you consider your greatest achievement at the Booth Museum?
SH: Guiding the Booth to become a Smithsonian Affiliate in 2007 and to become a member of the Museums West Consortium in 2008.
NL: What is one thing that you are driven to do at the Museum but so far haven't accomplished?
SH: Host exhibitions for the Western art of Andy Warhol, Georgia O'Keeffe and Frederic Remington.
NL: What's on the horizon for the Booth that you can share with us?
SH: We have been chosen to host the 50th Anniversary Reunion for the Cowboy Artists of America, June 25 - 28.
NL: What do you enjoy in your spare time away from the Museum?
SH: What spare time? If I find any, I enjoy most forms of live music.
NL: Who is your favorite fictional western hero?
SH: Rooster Cogburn.
NL: What question would you like to answer that I did not ask?
SH: Q. What's not to love about the Booth? A. Nothing!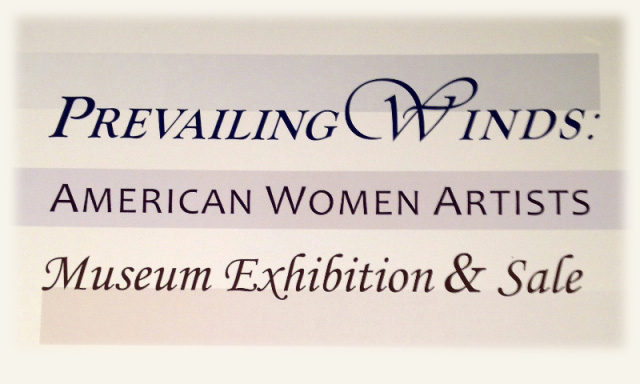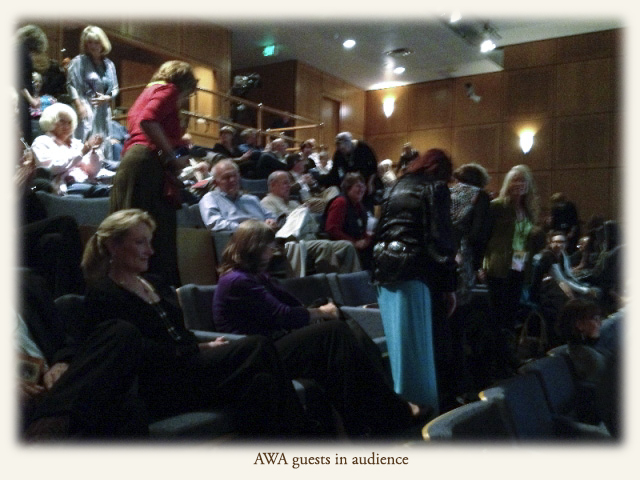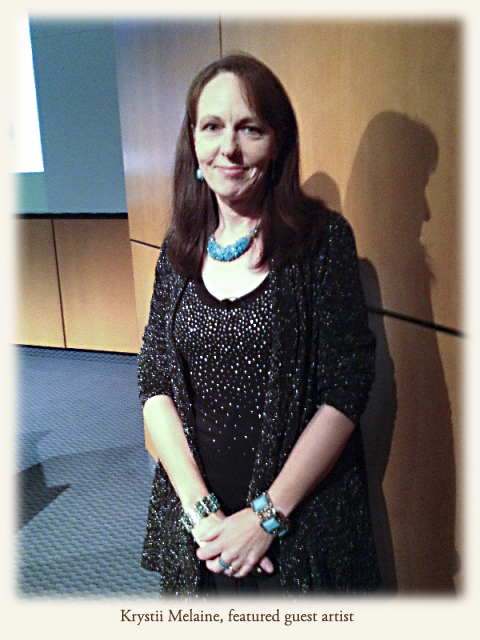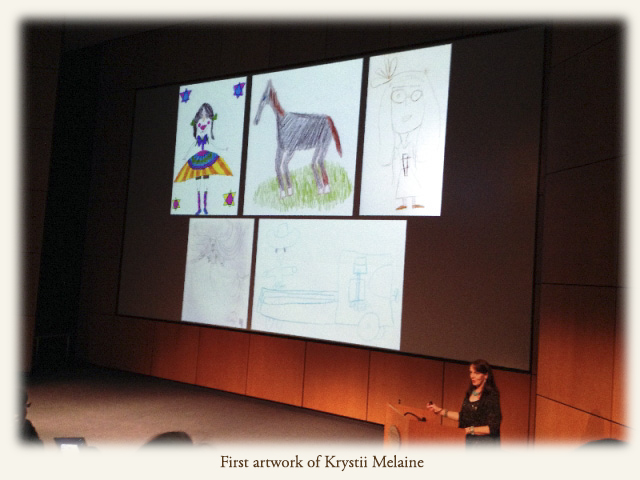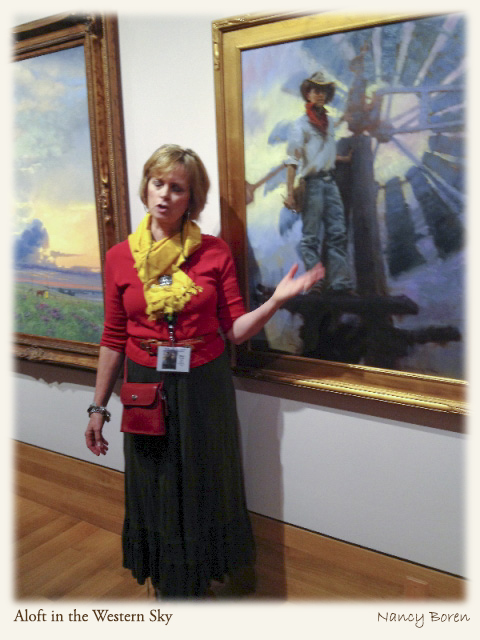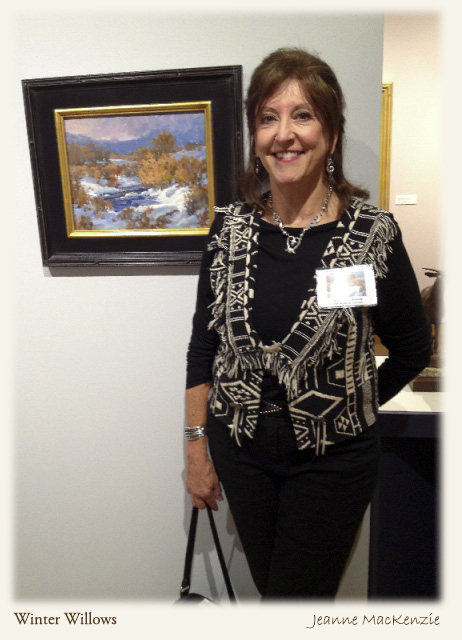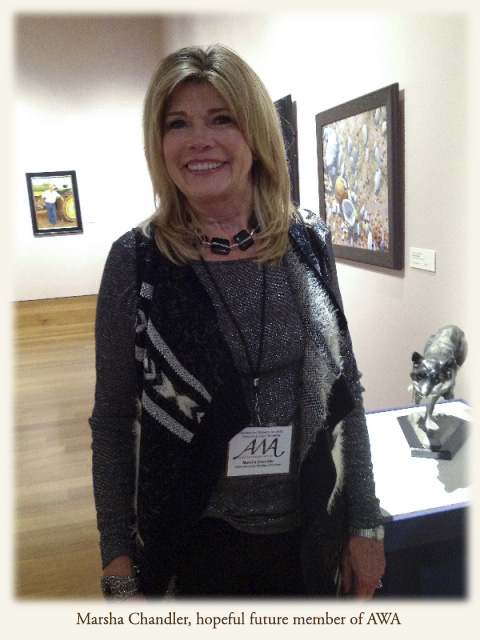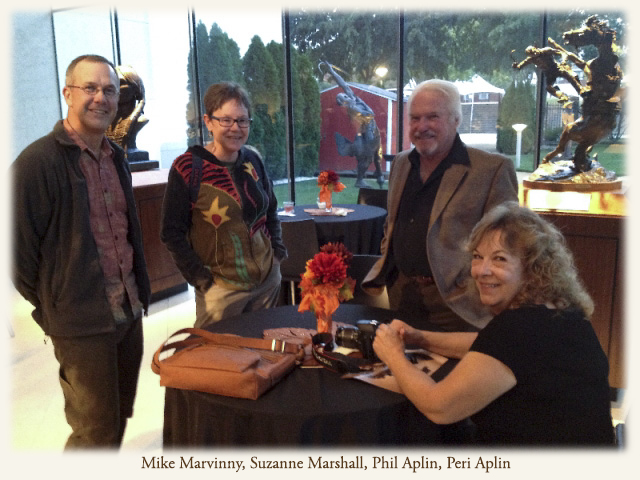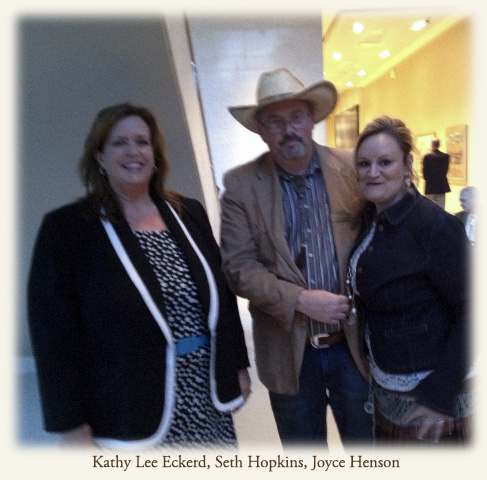 Copyright, 2015. Barbara Knott. All Rights Reserved.