The Grapevine Art & Soul Salon
WorldVoices: Ravi Kumar, Host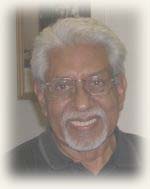 My India and My USA
When I was about to leave for India in October 2012, my daughter Rima questioned me, "Why are you going to India"? I could not come up with a satisfactory answer, at least not satisfactory for her. I was in my own mind not clear. I had planned this trip many months back. My parents, whom I had promised to visit once a year when I migrated to the USA in 1995, were no more. My parents had built a house in Meerut and had willed it their five sons. That house had been my home for 50 years until 2003 when my father died. But since their demise, I do not feel it to be my home. So why was I going to India where I had no home?
I arrived at Delhi airport on the night of October 24. I have a "man Friday" in Delhi who brought a car to pick me up. I had no cell phone. But I was accompanied by a porter who took care of my luggage, and he borrowed a cell phone from a passenger to let me call my brother, who lives just outside Delhi, where I was going to stay. He is a retired Brigadier from the Indian Army. His wife passed away many years back, and he now lives with his son in a fifth floor apartment. I was affectionately received there, and my room and dinner with a drink were all ready for me.
My brother has a housekeeper working for him about eight hours day, seven days a week. She cooks all three meals a la carte, cleans bathrooms, does laundry, shops for groceries, makes beds, sweeps the floors, cleans dishes and does any work that he or his son needs, including connecting the cord to the outlet in the wall for his laptop, and opening the front door when the bell rings. He pays her the equivalent of $100 for a whole month. There is a man who irons clothes for five cents apiece downstairs and is on call whenever needed. These amenities are much more costly in the USA.
Delhi (for that matter, all of India) is a driving nightmare for anybody used to driving in the USA. Drivers break road rules all the time, traffic police are non-existent and if they arrive, it is to ask for bribes and bully you. City roads are filled with people walking, biking, cycling, driving, hand carts selling all sorts of goods, stray dogs, pigs, cattle strolling or lying down on roads, pot holes, horns blowing. If another vehicle hits your car, it's better to drive on instead of stopping and waiting for the police. There are some highways. But one cannot be sure when suddenly the highway will end and a road full of pot holes will begin. Infrastructure has no meaning in India.
In spite of all this, I feel a part of India, where I grew up, got into the Air Force and served for 38 years. Why would I be able to or want to forget that? I feel that I belong there. I am recognized there for what my life and background say about me. People can relate to me as soon as they come to know me. My sense of belonging received an unexpected boost when two of my ex-Air Force colleagues asked me to join them on a trip to some of the Air Force stations in Punjab where we had been posted as young officers together 40-54 years back. I immediately agreed. Shekhar flew in from Bombay and S.N. lives in Delhi. I arranged a vehicle, and the three of us met at Delhi airport, from where we set course to the first Air Force station about 120 miles away.
We had earlier informed the bases that we were coming to visit. On the way we talked and talked about our lives in the Air Force, the personalities we had come across, and the war with Pakistan. When we reached the first Air Force station, we were eagerly awaited. Bearers took our luggage and put us up in three well-furnished rooms. The Air Officer Commanding (AOC) sent for us his official car with a driver. His principal staff officers were in attendance. An Air Force emblem T-shirt was presented to us, followed by a visitor's book. We were then escorted in a drive around the Air Force station. Shekhar was very keen to visit the house of the AOC. In 1963 he had got married to the sister of the then-AOC in that house. We were invited for drinks. Unfortunately, Shekhar developed high blood pressure that evening. I called the AOC, cancelling our visit. Within minutes, the senior medical officer and attendants with their equipment were in our rooms to check on Shekhar. His EEG was taken and blood pressure monitored. The AOC arrived with his wife. We were being treated as very important people.
Next morning, we left Shekhar in good care, and the remaining two of us drove on to our next destination, a more remote air base, where I spent my bachelor days, from 1958 to 1963. Playing squash, billiards, flying, and drinking at the mess bar had been our routine. On arrival, we first looked for the old billiard room and the squash court. They were still there and had not changed, except that the marker, who had been a bit deaf but an excellent billiards player, was no more. Once again, our reception was terrific, and we were escorted around the airfield by an officer in the AOC's car. There were so many memories associated with that base that I was overcome with excitement. Finally, we drove past my old squadron buildings and the airplane parking area. I got out of the car and walked while recollections flooded in. The temporary buildings were now abandoned. The tarmac area, where we had parked our airplanes after flying from there, had a new taxi track, but it was still recognizable. I could not believe that I was walking on the same ground that I had walked on 54 years ago.
When we came back to the officer's mess, we surveyed our surroundings and located some of old structures still standing. In the evening we were wined and dined in our rooms, and next morning before our departure, the AOC came to say good-bye. We left the Air Force base with heavy hearts. As Shekhar was not with us, we decided to cancel our visit to the third Air Force base. We got back to Ambala, picked up Shekhar, who had had a full rest, and came back to Delhi. My brother Chaitanya (the retired Brigadier) and I flew from Delhi to Bangalore and met up with another brother, Anil, and his family. Anil is a scientist and has traveled to the USA a number of times. Bangalore used to be known as the Garden City of India. When we were there, it had acquired the name of "garbage city" of India. The garbage collectors were on strike. Ankur, Anil's son, drove us around the city. It was a nightmare. The roads are full of potholes, garbage everywhere along with unruly, heavy traffic. The only redeeming feature was the company of the family members.
Chaitanya and I had made a package deal with a travel agent to tour several places in South India: Kanya Kumari on the southern tip of India, where there is an offshore temple; Kovalam Beach, where we would cruise and stay for 24 hours in a house boat in the backwaters of Kerala; and Cochin, the main city in Kerala. At Kanya Kumari, there is a temple dedicated to the memory of virgin goddess Kanyakumari. Vivekananda was a Hindu monk who worshipped her and decided to do missionary work. He is best known for introducing Hinduism at the Parliament of World Religions in Chicago in 1893. We stayed the night at Kanya Kumari and went to visit the temple, expecting it to be lit up as a tourist attraction. But there was no light there, and a nearby bazaar, lit gaudily, was dirty, selling cheap stuff.
We had heard of the beauty of Kovalam Beach. But it was filthy and messy. Fortunately, the hotel we were staying in had its own private beach. They put up tables and chairs next to the beach and served hot seafood, beer and wine. In Kerala, we hired a small boat to take us to backwaters and the Golden Beach. The beach is beautiful and unspoiled. The approach is only through expensive boats. Next to the beach is a resort, with honeymoon cottages and a Christian symbol of cross and statue that resembles Michelangelo's Pieta, of Mary holding the crucified Jesus. Kerala has a large Christian population.
Also in Kerala, many houseboats ply the backwaters. The two of us hired a two-bedroom boat with three servers for about 24 hours. The boats have air conditioning and modern toilets. All three meals were cooked and served on the boat, which cruised around for about 5 hours and then anchored for the night. Next morning after breakfast it sailed again for about an hour before terminating our trip.
Cochin is big port/harbor city. It has an ancient synagogue and Jewish market. The market was full of tourists who had presumably come from Israel. Fishermen had rigged up Chinese fishing nets. We hired a boat which took us around the harbor. From Cochin we flew back to Delhi via Ahmadabad in Gujarat where our sisters Madhu and Meera live. Ahmadabad is a big city of the very progressive state of Gujarat. Mahatma Gandhi, who was from Gujarat, stayed here for some time. On the bank of the river Sabarmati is his ashram, where one can see the Gandhi's glasses and sandals that he used daily, among many other things.
India is a country of great contrasts. It is not divided simply into rich, middle and poor classes. It has many more shades of division, including the very rich, the rich, upper middle class, middle, lower middle, the poor, and the very poor. Then there is a further division by caste, which plays a very important part in politics and personal lives. Marriages are generally arranged (yes, marriages are still arranged) within caste and/or region from which many languages come. Marriages rarely go out of caste or region. It is quite common to find matrimonial websites ads called, for example, gujrati matrimony, punjabi matrimony, and so on.
The social system of dowry is an unfortunate cultural practice. When marriages are arranged, dowry in the form of cash, jewelry and goods is demanded by the boy's family and is more or less obligatory on the part of girl's family. There is law against it, but compulsions of culture override the law. In many communities, boys are preferred to girls, leading to infanticide or abortion of female fetuses.
In India, the very poor often die of neglect and malnutrition, while the rich gorge themselves on costly food. There are clean, beautiful, well-stocked malls with expensive goods, but these are isolated islands in the middle of general chaos. India has state-of-the-art hospitals for those who can afford them, while the common person has to depend upon quack doctors and on government hospitals, which are very dirty, overcrowded, poorly equipped, with incompetent staff. In Bombay every year, almost 500 people die falling off the crowded metro and 6,000 die on rail tracks. Women are afraid to travel alone at night, particularly in public transports. They can be robbed, raped and murdered, and police are not only callous, a woman's plight is often perceived as cause for further harassment of the victim.
The very rich live in billion dollar houses and the very poor, in large numbers, are homeless, sleeping on footpaths, railway platforms and such places. Politicians are corrupt and in some cases known criminals. The nexus between politicians, bureaucrats, builders and the police is so strong that decision-making is a comic story. Laws exist but are not implemented, and the judicial system is a joke. The population of India is increasing at a rapid rate. It is already four times that of the USA. The result is that India suffers.
Ironically, my position in India is enhanced by the fact that now I am living in America. For Indians, America is a dream. I am supposed to be rich, which I know is an illusion. I am supposed to be fortunate, which for me is a mixed blessing. I have to tell you why the USA and India are such different experiences for me. Some of it has to do with my personal relationships. But that is not all.
In India, I lived a disciplined life in Air Force camps where security was never a concern. We never locked our doors and had no alarm systems. Anybody could ring the bell, and we would open the door and then ask questions of the person ringing the bell. We had servants who could walk into the house anytime of the day or night. We had double security: that of the Air Force camps and that of severe restrictions on owning and manufacture of guns in India.
In the USA, I have learned never to open the door when the bell rings, to ask through the glass door who it is and what they want, and to be sure that it is a friend or friendly person before opening the door, and to set the alarm system when out of the house and at night. I have been car-jacked, and my bedroom has been robbed, with the intruder breaking the door and ransacking the room to steal cash, laptops and jewelry. My neighbor was awakened from sleep, robbed at gunpoint and his son tied up in the basement. Several robberies have taken place in my subdivision. Some years back there was a gruesome murder, as well. Now, since I returned from the October trip, a madman has shot elementary school children in the northeast USA. There are more guns here than people. The NRA representative says that all teachers should be armed! What?! A hundred thousand people signed a petition to deport Piers Morgan of CNN because he advocated stricter gun control laws. In the aftermath of the shooting of children in Newtown, Connecticut, gun sales have skyrocketed. People are lining up to buy assault rifles. This violence appalls me.
But some very positive things are unique to the USA. What makes me happy here? The ease with which I was able to enroll in a two-year college at my age to pursue an associate's degree in addition to the master's degree I already have. The friends I have made. The orderliness and discipline on roads, in libraries and post offices, the ease of obtaining a business license, or a driver's license if you are a legal immigrant, and the passport, which lets you travel to most countries without a visa. The effortlessness of travel, availability of hotels, and location of clean restrooms. The systematic way of doing things. My background as a fighter pilot helps me appreciate such discipline in my surroundings. I feel good here. I can walk on the road with nobody in sight for miles. In India you cannot be alone unless you are in a wilderness. And the USA has many wonderful places for sightseeing, both urban and rural. India has always had a claim on me. And now the USA has a claim on me.
I have become truly a dual citizen, and yet I am not able to call either country my home. It is as if I am an observer of a play being enacted on two separate stages simultaneously. While in India I feel good that I am recognized for my background and achievements, here in the USA I have a less chaotic life. I am lucky to have friends in the USA, both Indians and native-born Americans. But there is a great cultural gap between these two communities, not to mention Koreans, Chinese and Hispanics (amongst the many ethnic communities here). This gap disorientates me further. The disorientation prevents me from settling comfortably into one or the other community, and I remain, not unhappily, a man of two cultures.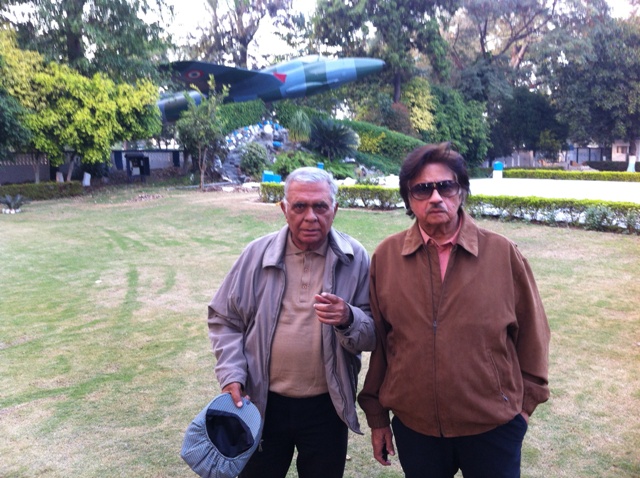 S. N. (left) and Shekhar (right) in front of Officers' Mess at first Air Force station where Shekhar fell ill. Hunter Aircraft mounted on pedastal.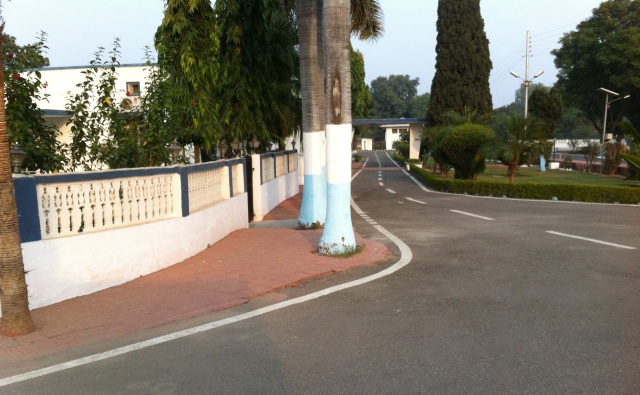 Second Air Force base. Street leads to Officers' Mess on the left where the billiard room is located. Squash court where Ravi spent many years playing squash is at back right of the picture.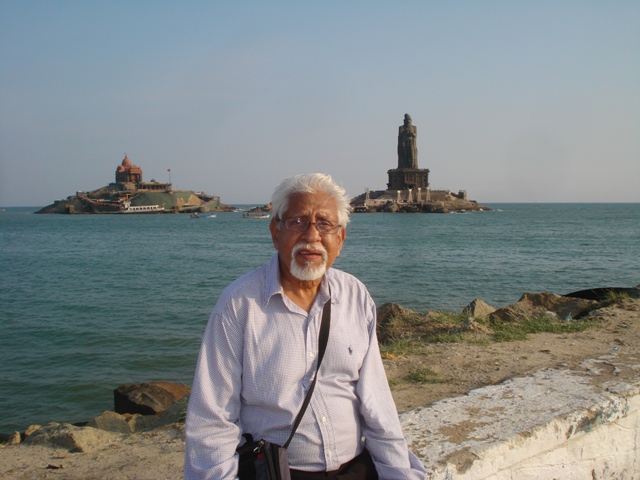 Ravi at Kanya Kumari Temple.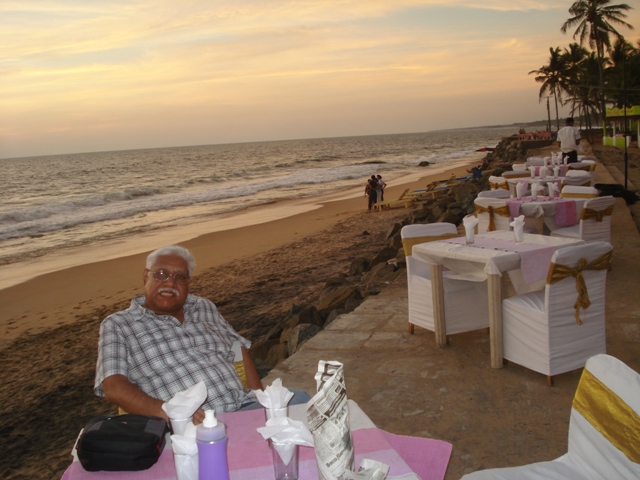 Ravi's brother Chaitanya seated among tables set at Kovlam Beach.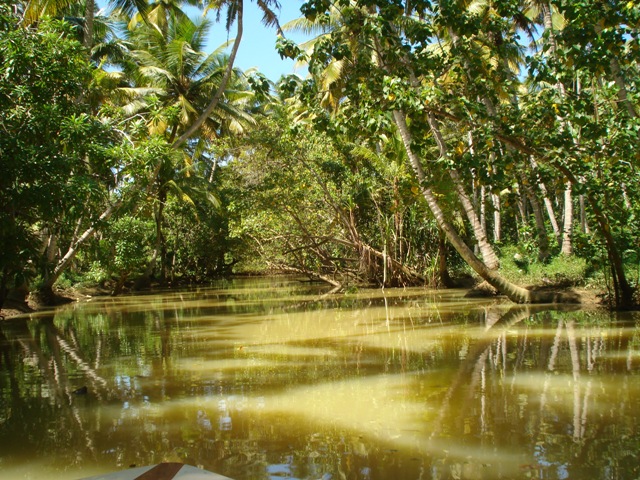 Back Waters of Kerala.
TRACKING HISTORY ARCHIVES