The Grapevine Art & Soul Salon
Musings on Being and Becoming Human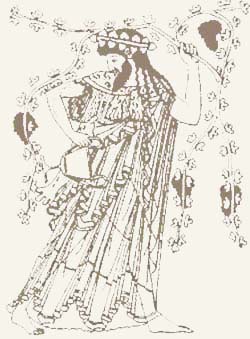 Issue 14
An Ardor for the Depths
The more I work in the field of poetry, as Georgia poet (and farmer) Byron Herbert Reece used to call his profession, the more I become absorbed in the world of imagination and in musings about interiority and depth. And the more I read, the more new and interesting reading falls into my hands. Books have been coming to me unexpectedly, like gifts from Hermes, for several months now, and I am delighted and gratified by their participation in a rich, long conversation already going on in my mind among some of my favorite writers: D. H. Lawrence, Rainer Maria Rilke, C. G. Jung, Joseph Campbell, James Hillman, David Miller, Diane Ackerman, and more recently, Gaston Bachelard, whose entire opus (as given in the Dallas Institute series of translations) I have completed with my reading of The Earth and Reveries of Repose.
What draws me to these authors again and again is their interest in images and experiences of interior life and the value they place on imagination. The subject is everywhere in the works of Lawrence and Rilke, Jung, Campbell, Hillman and Miller. I mention Ackerman not only because she is a poet of some depth but because she has written a remarkable book called Deep Play in which she says that all language is poetry and where she describes how we struggle to find the right words to tell us what we think, how we feel, what we want and who we are, words that consist, she says, of submerged metaphors, images, actions, personalities, jokes. I will add Leonard Cohen to this list, the songwriter and poet who has topped the charts with his album, released at age 77, called "Old Ideas." Cohen's charisma as a musician is based in large part on his ability to venture into the depths and come up with images that have aura, images that set the listener dreaming, like this one from his current album: a broken banjo bobbing on a dark infested sea. And how well Cohen knows that if you go deep enough, you find the place where profane meets sacred, where sensuality and spirituality merge, where other apparently oppositional forces find kinship.
These writers have in common what Bachelard calls an ardor for the depths. He makes this observation: We are beings who are deep. We hide beneath surfaces, beneath appearances, beneath masks, but we are not just hidden from others, we are hidden from ourselves. This quality in human nature calls us to a life of exploration, not only of the world we live in but also of our interior world. Going deep into an image means engaging the very depths of our being. Bachelard declares that all knowledge of the interiority of things is immediately a poem. He adds, All the great images that tell of human depths, the depths of which human beings are aware in themselves, in things, or in the universe, are isomorphic. That is to say that they are closely related in ways that may not be apparent at first glance. He suggests that in the depths, images live already in metaphorical participation with each other, in these isomorphic structures, so that if we go deep enough, we will find the poetry in ourselves.
Issue 14 of The Grapevine features four pieces on David L. Miller, author, lecturer, and retired professor of religion who has throughout his career (in his own words) "worked at the intersections of religions and mythologies, literature and literary theory, and depth psychology." My ardor for the depths led me over two decades ago to review some of Miller's work in an article "Deep Calls Unto Deep" that was published in Pilgrimage: a Journal of Psychotherapy and Personal Exploration (summer 1991). The title of the article is a haunting phrase from the Psalms that fit my notion of call and response in the act of reading and responding to his work. Nearly ten years later (2000), I published an interview with him, also in Pilgrimage. My interest in these two experiences was renewed in the reading of Bachelard, and in looking over the Miller material, I found that much of what the review and interview are about is still resonant. So it gives me pleasure to publish the pieces here, with slight modifications (mainly in biographical updates), for readers of The Grapevine.
This issue's intensive focus on David Miller's work pays tribute to a remarkable man of our time whose insights help us reflect on the timeless. Under Presentations you can read "Deep Calls Unto Deep" and the interview given in two parts as it occurred, as well as a review of Disturbances in the Field, a festschrift book of essays on David Miller, that appeared in an earlier issue of The Grapevine. These pieces are full of themes and images for the kind of conversations we want to encourage.
In our Views and Reviews chamber you'll find links to some fascinating websites as well as to comments published by Don Williams, Editor of New Millennium Writings and award-winning journalist, whose political commentary feels right for presentation here. In this issue's column Tracking History, Jonathan Knott covers 5,000 years of history in a few stark images that evoke reveries about what it means to be human. In World Voices, Ravi Kumar gives us a playful and serious look at some differences in cultural values as he introduces us to a new term, ABCDs. And in Reflections, there is David Price's poem, as brief as his subject is swift, about some Habersham waxwings, superbly photographed and presented there, along with other interesting visual images that reflect motifs to be found in the David Miller reviews and interview. Our Museum contains an elegy for Ivan Lester on the fifth anniversary of his death date. Open the Poetry Reading door to see pictures from our series of collaborative programs as well as an invitation to the next one: Cafe Medusa scheduled for June 30 at Seven Stages Theatre in Little Five Points, Atlanta.
May your visit to our salon set you dreaming and thinking, feeling and expressing insights from your own inward places.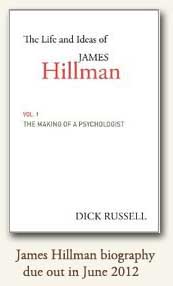 James Hillman, whose intellect was so keen that he could find the depths in surfaces, died last October and was recently the subject of a tribute at Pacifica Graduate Institute in Santa Barbara, California, where he and David Miller were associated in teaching and in friendship. They were also fellow members of the Eranos Conferences, along with Jung and Campbell. May James Hillman find repose among his profound reveries of soul. Here are links to obituaries:
There are a number of YouTube clips you can view as well by Googling his name.
REFERENCES
Ackerman, Diane. Deep Play. New York: Random House, 1999, pages 121-2.
Bachelard, Gaston. Earth and Reveries of Repose: An Essay on Images of Interiority. Dallas, Texas: Dallas Institute Publications, 2011, pages 21, 126, 190.
AT HOME here are writers speaking in a style more conversational than studied for an audience who might be seated on a front porch at night watching fireflies create random small rays to light up the listening, or in the dining room of an ancient inn with lamps and perhaps a hearth fire to kindle community.
It takes only one or two steps of the imagination to move through the dusk to the dining room at the inn or the porch of a house or, by daylight, to a backyard garden for picking grapes and for gossiping, a verbal mode associated with the term grapevine. We say I heard it on the grapevine, referring to rumor, advance news of interest to the community, sometimes scandal, always a dramatic story or piece of a story, circulating, making the rounds, lingering on the surface even when it suggests hidden things.
The SALON presents a variety of storytellers and image makers and thinkers, from promising beginners to seasoned artists of mature and full-bodied talents.
The Grapevine Art & Soul Salon welcomes comments from visitors. Use the Contact button to send e-mails that will be forwarded to appropriate persons. If your computer is not configured for Outlook Express, simply copy and paste the webmaster's address into your e-mail system. All our regular contributing writers can be e-mailed directly (click on Presentations page and scroll down for links and e-mail addresses).
Opinions expressed on this site are the opinions of the authors themselves, not necessarily of The Grapevine Art & Soul Salon. Each page on this website should be read in conjunction with this disclaimer.
Editor: Barbara Knott
Associate Editor: Jonathan Knott
Image Design: Bill Kennedy
Contributing Writers: Ravi Kumar, Bill Kennedy, Nancy Law, Anne Lovett, Charles Knott, Anne Webster, David Price

Copyright 2012, Barbara Knott. All rights reserved.