The Grapevine Art Salon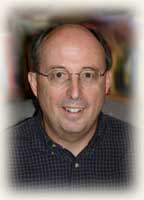 Bill Kennedy
presented one of his experiences as a high school science teacher in the first
Grapevine.
Retirement has given him time to write and to cultivate some of his leisurely interests in travel, photography, astronomy, and studying the habits of hawks. He lives in Lawrenceville, Georgia.
The One
The only paddling I got in the sixth grade came because I mentioned Mama P in the company of Hoyt Ott and Johnny Martin. The thing is, I knew better than to do that. Yet when Hoyt pushed me backwards over Johnny who was on his knees, his body a trip-log behind me, I sprang to my feet, pointing at my chest, and yelled, "Mama P made this shirt!" She'd given it to me the day before and now the pocket was torn.
"Who?" Hoyt asked, leaning into my face, a dollop of green sliding from one nostril. We sometimes called him "Hoyt Snot," but none of us said it to his face. He'd not been promoted for two years in a row and black hair grew on his arms.
"Mama P!" I said.
"Who in the hell is that?" said Johnny.
"My grandmother... Mama P," I said, looking down at my feet. The backs of my legs were shaking and I wanted to disappear.
"Mama P?" said Hoyt. "What kind of name is that? What's she do, pee all the time?" Howling and pleased with himself, he looked at Johnny who also laughed. Hoyt had tortured me with impunity all the school year long and had no way of knowing that his foul breath had now uttered the wrong words about the wrong person. He had not even registered the change in me before my fist found the pit of his stomach and his lunch found Johnny's shoes.
Even as the paddle stung, I regretted nothing. Then I was spun around and made to say the right words, that I was sorry, that I wouldn't hit again, but my eyes shut the teacher out and saw instead Mama P's front porch where I would be that very afternoon.
Late afternoon was my favorite time at Mama P's house. On the porch we rocked together, she in her large chair with arms, me in a little chair with no arms. Beyond the cedars in the front yard was the road where each minute or two a car, truck or tractor would pass. The game we played had no strategy, depended on no skill and no one kept score. There was no winning or losing. We took turns and each vehicle that passed belonged to one of us. "You go first," she said, and we immediately heard the sound of tires on pavement. Then Mr. Tribble sailed by in his new fifty-six Plymouth; his arm hung out the window. "Oh, good, you got a good one," she said. A few minutes later a truck came by with no fenders and a missing tailgate. "Aw, I got an old rattletrap," she said. And so it went for an hour or more.
As I usually did when the sun was getting low, I asked for a story. "Tell me about when you and your sisters were little girls," I said.
"Oh, I've already told you all I remember," she said.
"Well, tell me again...please." I said.
She took a deep breath and said, "Okay, here it is again." Then, ten breaths later it was all over. Mama P didn't like to talk about herself.
Instead she talked about me. "What are you going to do tomorrow?" she said.
"Build some new shelves for the tool room," I said. My favorite thing at her house was to rebuild parts of her old storage building, replacing doors or adding new shelves with scrap lumber. I couldn't saw a straight line in a piece of wood or drive a nail without bending it, but she let me do it anyway.
She patted me on the arm. "That's good," she said, "you're going to be a carpenter one day."
The next morning we sat down for breakfast at a metal kitchen table painted white with black trim so that it looked just like porcelain. Mama P and I bowed our heads as she said, "Lord make us thankful for these and all our many blessings. Amen."
Mama P had made grits, eggs, toast, and coffee. I was sure my brother and parents were back home eating cornflakes and drinking orangeade.
I took a sip of my coffee (Carnation condensed milk with a dollop of coffee). "Mama P," I said, holding the cup before my lips. I'd seen Burt Lancaster in a gangster movie talking over his coffee like that and it was something I needed to practice. "Could I fix that lamp for you after breakfast?"
"You remembered!" she said. A lamp cord in the bedroom had shot fire and sputtered when I tried to turn the lamp on the night before.
After putting away the dishes, Mama P checked my progress with the lamp. I'd finished everything but the taping. As I wrapped the wire round and round, she said, "You know I almost wasn't your grandmother."
"What!" I said. I'd never heard anything about this.
"You never heard about how I met your grandfather?"
I told her no, I 'd heard no such story. My grandfather had died twelve years before I was born and I'd never thought about him at all.
Then, with no begging from me, she began the longest story she ever told me–way beyond her ten-breath maximum.
I don't remember her exact words, but here's the gist of it. My grandfather lost his first wife to influenza when he was thirty-seven years old. She must have been a good one, for he wasted little time in looking for another. Friends and relatives introduced him to all the local prospects–some were women his own age who'd never been married. Some were widows whose men had died in accidents of farming or because of the inadequacies of medicine or both. There were school teachers and secretaries and store clerks. Some lived alone and some lived at home with their parents. My grandfather didn't want to live with any of them. They were too eager, too old or too plain.
And maybe he'd been trying too hard. As anyone can tell you, trying too much for some things–for happiness, say, or in falling asleep or in being clever–is a sure way to fail. And with nothing is this more certain than in finding love. So, my grandfather gave up for awhile and rode a train five hours to visit relatives in Philomath, Georgia. His cousin Joseph fetched him at the station, and on the buggy ride down the clay and chert road by the feed mill, the cotton gin and a general store, they caught up on politics and farming.
"Wait a minute," said Joseph, pulling to a stop in front of a clapboard farmhouse fronted with a low, broad porch. "Are you still in the business of looking? For a mate, that is? If so, the man who lives here," he said, nodding toward the house, "has a daughter he's a wanting to marry off. She's a nice gal, too. You could pay them a visit tomorrow after church." Well, of course, my grandfather was still in the business and yes, he was interested. So, at church the next day the visit was arranged.
Shortly after his arrival, Mr. Strozier introduced his family to my grandfather. There were actually five daughters, Lizzie, Hattie, Willie, Liza and Ollie, and their father's relationship with them was jovial. "Stand up straight, girls," he said, chuckling. "Ollie," he said to his youngest, "what you looking at? You keep looking at the floor." After greeting my grandfather, all the daughters withdrew except Lizzie who served the men tea on the front porch.
I would think my grandfather looked her over pretty good while she poured cream in his cup. When she left for some tea cakes he listened earnestly as her father explained that she had herself made the tea they drank, and the fetching dress she wore had been nothing but a heap of discarded rags before Lizzie had seized upon them with a blur of scissors, needle and thread. "And she made these tea cakes this morning before breakfast," he said, slapping the arm of his rocker and smacking his lips. "Wait 'til you bite into one of them."
A speckled hen, perhaps lured by the promise of a crumb of tea cake, approached the porch and tilted one eye up at my grandfather. It must have seemed to him the bird was in grave peril, as this Lizzie might at any moment snatch it by the neck and ring it with her left hand even as she served tea with her right
Two days later my grandfather sat at his kitchen table and wrote a letter to Mr. Strozier. He thanked him for his hospitality. He made note of the tea and the tea cakes and the splendid Strozier home flanked by straight rows of corn and stout peach trees. He thanked him especially, of course, for introducing him to his eldest daughter Lizzie, so lovely and bright, so obviously capable in every way that any man would be blessed to have her by his side. "But," my grandfather scratched with his pen, "I experienced a robust affinity to Ollie. I'll take her, if you don't mind." He was not sure he'd said this right, was not sure whether to acknowledge that, at seventeen, she was twenty years younger than he. Saying too much, he remembered, makes clear that you don't know what to say. What he did know was that he was taken by Ollie in a fashion he would not set to paper. She'd been a bit shy when he'd seen her appear briefly behind the older sisters as they were introduced. He liked that. He also liked the way she waited for his eyes to meet hers before she looked away and then looked right back at him.
When the letter arrived, the sisters were taking a wash of sheets and underclothes from the line. They were summoned to hear their father read the letter and with hands trembling they hurried. Apparently Mr. Strozier changed his mind about a formal reading, for just as the last piece of wash came off the line he stepped onto the back porch. "Lizzie, for the time being you're off the hook," he called. "Better give Ollie those new step-ins of yours though. Ollie! You're the one."
When she finished the story, Mama P laughed. "I can't believe I told that," she said. Then, pointing to the lamp, she said, "Now try it." I plugged it in and the lamp popped on, casting her face in its light and reflecting in her glasses. She leaned from her chair, touched the lamp shade with her fingertips and looked back at me again. "Wonderful, that's wonderful," she said, "you're going to make an electrician some day."
My grandfather had been right–she was the one. She still was. And that danged Hoyt Snot, wherever he was that morning, was lucky to be alive.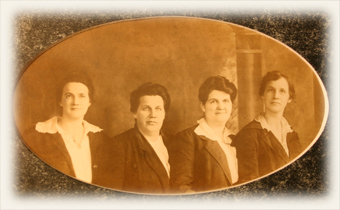 The Strozier Sisters with Mama P at right
Copyright ©2005 Barbara Knott · All Rights Reserved
Contact the Webmaster