The Grapevine Art Salon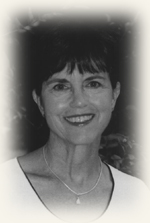 Anne Webster
writes poetry, fiction, and creative non-fiction. Her poems have appeared in a number of journals and anthologies, and most recently in
Intensive Care
; an essay was a finalist at a recent Faulkner competition. This year she will have publications in
The Poetry of Nurses
and
Stories of Illness and Healing.
Now retired from a career in nursing, she lives not far from her Grandmother Annie's house.
A String of Beads
For Annie, my Grandmother
I hang from a tram strap in Prague, look
down on a seated woman. Amber beads,
clear as honey, lie on fine white skin.
Floral lawn drapes her lap, hangs to the floor.
I stare at the wide brimmed straw hat,
the same hat you wore, Annie, shoulders squared,
your head thrown back. The feather boa
frames, defines your jaw as the shadow of brim
veils your face in the picture I like best.

I rock on my heels, remember trolley rides,
my hand in yours. I could have learned more
from you than how to crochet, how to win at
Chinese checkers. You survived far worse
than the problems today's women carry, heavy
in their briefcases—two wars, a dead baby,
a husband gasping and blue by the kitchen stove.
You forced your life, Annie, like paper whites
in January, your shape defined by the pot.

This Czech woman lived the Velvet Revolution.
Her life is molded as Prague evolves: barnacles
of new growth on ancient houses, wedding cakes
iced with statuary. The tram window flashes on
street musicians, Marlboro signs, tourist mobs.
A careful woman, she looks straight ahead,
contained by beads, a proper summer dress;
the shade of her hat barely covers her smile.
If only I could ask her secret, your secret,
Annie, how to live in a world flying apart.