The Grapevine Art Salon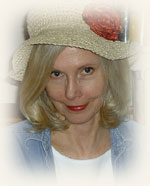 Anne Lovett
Atlantan, expatriate of Dublin, Georgia, began her writing career with a humor column for her high school newspaper. She returned to writing in l991. She has studied with Kent Nelson among others and has attended many writing conferences including the Sewanee Writer's Conference. She is a member of the Midtown Writers group. Her short work has appeared in
Aethlon:Journal of Sport Literature
and
Woman's World.
Stories are forthcoming in
The Distillery,
The Jewish Women's Literary Annual
and
The Red Wheelbarrow.
She has also written four and a half novels, which get rave remarks from agents and editors but as yet no cash.
Love, Grandmothers, and Choices
I have a picture of my grandmother Mamie Baird in her courtin' days: a big-eyed girl in a big-bowed hat; a comely lass with a Grecian nose and a flirtatious smile that hints of a joke. This is the larger-than-life grandmother, the one in charge. I see her tall, raw-boned, walking in a polka-dot dress, straining blackberry juice for jam in the summer, handing out bourbon-and-ginger ale on Christmas night, sitting, smiling, a cigarette trailing from her fingers. She was made for World War II, for a red velvet sofa, for a house with a goldfish pond. My grandfather was shorter, rounder, the quiet, determined one, who went about his business of farming and cotton ginning. He gave his Mamie a white Cadillac, which suited her, and he drove around their small south Georgia town in a '49 Ford he'd taken in payment for a debt.
Nana was full of life—her bridge games, her cocktail parties. She kept a spotless house and a secret garden with tall trees made for climbing. Yet there was some problem hidden from the grandchildren—some nervous condition, they said. Was there talk of shock treatments? I heard scraps, and knew enough not to ask for details. "I don't know," was a standard answer to my questions, which in most cases was code for "none of your business." The only option in my family, if you wanted to find out things, was to keep your ears open, preferably while sitting in Nana's breakfast nook with a big slice of her coconut cake. My cousin even ate it for breakfast. "Why not?" he asked. "It's got eggs, flour, butter—sweet? Yeah. You eat jelly, don't you?"
Occasionally I would visit her in the summertime for a week or so. It was on those jaunts we would pick blackberries along dusty country lanes for the jelly, and I always went home with jelly in pint jars that had paraffin seals. She was also an avid fisherwoman. Once, after one of those visits, my ten-year-old self rode the Greyhound bus home—75 miles—with a gift for my mother, a large frozen bass wrapped in newspaper, on my lap. This was a source of amusement to my fellow passengers.
My other grandmother, Louise, was the diffident one in her marriage. Wed at seventeen to her older, ambitious cousin, she seemed born for a genteel era where not much happened—the kind people look on with nostalgia—the year 1908, perhaps, or the year 1955. Gentle, kind, fond of flowers, she was a talented painter who gave it up when she married. She never explained why. A frivolous pursuit, wasteful of time and money, perhaps, art was not an occupation for a busy homemaker and young mother in the World War I years. I wonder if my grandfather did not approve of her painting. As I grew up, I came to realize that there were many things of which my grandfather did not approve. For me, it was painted nails, bare feet, dancing on stage. What must it have been for her?
Granny's teenage paintings have been scattered among her grandchildren like so many talismans and are good enough to hang on the wall in anybody's house. We are chagrined to think what she might have accomplished with her painting had she continued, had she taken lessons from a master. In later life, after my grandfather bought her the house of her dreams, she expressed her artistic yearnings in her riotous gardens, where Kurume azaleas blossomed in magenta and red and white and rare lavender, where redbuds and tall pecan trees shared ground space with banana shrubs and tulip magnolias, with boxwood and dogwoods, with camellias in every shade and color—peppermint stripes and blowsy red blossoms, and my favorite—a delicate pink with shell-like petals. She had a piano in the parlor, and if we begged her, she would reluctantly sit down, smile shyly, and then pound out a melody that would have us all rocking. She delighted in her grandchildren, her "little chickadees," buying toys that would make us laugh. She made the best chocolate-chip cookies in the world.
Still, married to a six-foot-four man driven to succeed in life, deprived of her art, early in her marriage she took to drink to ease her loneliness. I do not know how this was manifested, or how it was discovered. Those are questions I dared not ask then and hesitate to ask my aged father now. Yet I can imagine a nip of blackberry wine in the kitchen to take the edge off the day—what must it have been like to be seventeen and in charge of the household of a man of thirty? She was one of ten children; perhaps one Christmas day she found the bourbon-laced eggnog put a brightness on life, and continued to do so when she found herself home alone, missing her large family. I can see her later, perhaps, dipping into whisky kept for guests. I imagine that for a time she successfully hid it from my preoccupied grandfather, whose mind was fixed on getting ahead. I can imagine her sisters hitching up the mule and wagon and driving the fifteen miles or so to visit one day and becoming alarmed at her lack of balance, her slurred tongue. Perhaps they told their father. Those were days long before I was born, and by the time I knew my grandmother, the drinking question had passed into family mythology, to be resurrected from time to time as a warning: if this evil thing could happen to your grandmother, it could happen to you. She was sent to a sanitorium, as a treatment center was called then, and was cured. So cured that in her later years the doctor insisted she have a beer every afternoon to relax her and give her extra calories.
My memories of my grandmothers are comforting and happy, but how much was kept hidden from us? Nana's nerves, Granny's alcohol? I find myself feeling uneasy when people get too nostalgic about family life in the past. That illusion of perfection came at a tremendous cost to women. Today women have choices—and some choices, such as meaningful jobs and divorce, come under criticism. Still, the choices have been hard won. Too often, people look back on cookies and holidays—and forget the dark side of our grandmothers' worlds.
Copyright ©2005 Barbara Knott · All Rights Reserved
Contact the
Webmaster