Presentations: Barbara Knott
On Becoming Human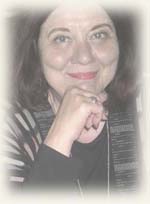 A few years ago I saw an announcement of a conference in London whose theme was the question, What makes us human? I was surprised and moved at this public acknowledgement of our need more than ever to learn who we are, while there is still a possibility that we can contain and protect and use our potential for creativity even as the dance of destruction goes on around us, coming in now from remote places as well as up from our own familiar streets and dwellings and, of course, from our own internal strife.
In my humanities classes, students spend considerable time at the beginning of each quarter pondering with me what it means to be human. In random responses they isolate traits such as rational thought, problem-solving, emotions, spiritual life, and language, each attempt to pin something down followed by rejoinders concerning the mental capacities of apes and dolphins and crows, the emotional complexities of dogs and ocelots, the apparent spiritual awareness of grieving elephants, and the languages of chimps and whales. We finally settle into an agreement that the traits mentioned are not exclusive to humans. It is more precisely the complexity of thought, emotion, technology, and speech that distinguishes humans from other animals. We go on to discuss facets of human nature that are more exclusive: imagination, art, science, preoccupation with past and future time, and something we perhaps inadequately define as "awareness of self and others." If they do not mention it, I usually confess that my personal favorite human trait is humor, the means by which we defuse some of our tendencies toward the destruction of self and others. Then we talk about the complexity of human dreams in which whole worlds are envisioned and broken down and reconstructed, and about the narrative impulse, that facet of human nature that holds intact our history and that rehearses all the possible futures of the world.
My interest in the conference advertised in the London Review of Books increased with the notice that scheduled speakers included not only philosophers and scientists and theologians but artists like actress Dame Judi Dench, creator of memorable portrayals of women who mattered, such as Queen Victoria in Mrs. Brown and novelist Iris Murdoch in Iris. In Dame Judi's roles she deepens character by showing an ambiguous mixture of strengths and weaknesses. For self-reflection to matter, it needs the mirror in which artists embody and reveal to us the ambiguities of human nature.
Self-awareness is inextricably tied to self-location. The locale of the person engaging in efforts at consciousness either inhibits or enhances the result. I have no doubt that being located in London enhanced Judi Dench's artistic potential. It is tempting to assume that a provincial location would have the opposite effect. But we know from the work of writers like O'Connor and Faulkner that it is not so. Both moved away from the homeplace from time to time, but only briefly; by far the greater portion of their lives was spent in the provinces they lived in and wrote about. Nevertheless, artists, particularly writers, seem to swing on a pendulum that includes location, dislocation, relocation. Those who pursue higher consciousness often do so by changing locales, in search of the otherness required for seeing ourselves. So it is for many people, at least in the first part of life, at least in the past century.
My own life has included a considerable stretch, to use an acting metaphor, from the identity given me at birth to the many roles I sought for myself afterwards. The opportunities for changing roles emerged as I moved from one locale to many others and back. It satisfies me now to see my life as a parabola, with a long thrust outward and upward until the trajectory bends to return along an inward and downward path.
I was born in Aragon, Georgia, a mill village three miles north of Rockmart, the nearest town. Aragon and Rockmart are connected by Highway 101 that runs twenty miles north to Rome and sixty miles south to Atlanta. The area was populated by Scots-Irish, some English, and a few Welsh who had been enticed to Rockmart for their expertise in quarrying slate. By mid-twentieth century, the cultures had amalgamated until it was impossible to tell who came from which part of Great Britain. The people had no written tradition, and in the habit of passing information orally, much was lost. None of my people talked of having ancestors who came across the ocean or down the great Wagon Trail to settle in these parts. Asked where they came from, they gave answers like Fish Creek or Collard Valley, Seney or Lindale, all settlements in Polk County or Floyd County to the north. My father's kin came in from Paulding County, adjacent to Polk on the south side.
African-Americans, whose houses were scattered through the piney woods and along the same rural roads where the Scots-Irish people lived, had arrived three or four generations back as well, and they were now "from" that landscape where our families had dwelt long enough to blur the hard edges of difference that once identified them as travelers, willing or unwilling, from other lands. Absent from the local population were all exotic folks, from Catholics to Jews to Hindus, Buddhists, Muslims or pagans. Well, there were plenty of pagans, but they didn't know it or think about it. The archetypes that people acknowledged were furnished by Protestant Christian mythology and morality as expressed in the King James version of the Bible. More specifically, the Baptist and Methodist interpretations of that biblical material shaped and sustained the culture.
Respectable people were nearly all church-goers. There were others like my father, whose habits were pagan, though he never questioned the rightness of the Christian Church. He simply didn't participate. He held his own revels in his own wilderness, and he created in me, alongside a sense of shame at being the daughter of the whiskey man, a passionate interest in all that is unconventional, poetic, and mad.
My mother was his opposite: she went into service at the mill as a spinner in order to keep us fed; she was hardworking, hardheaded and determined to keep one foot in the door of respectability. As a result of her tenaciousness, I was able to attach myself to the Methodist Church in which there was a thin pipeline of culture coming in from Rome and Atlanta, and where the matter of education was front and center, a happy conjunction of need and opportunity in my case, for I made education my way out of a locale so insular that today, half a century later, its inhabitants remain relatively unaware of the larger world.
At the time I left my birthplace, wondering what whim of fate had set me down there, I did not have eyes to see its colors. To me it was dull, flat, and uninteresting at best, and at worst, stifling of my desire to see and feel and taste the unknown world. Get away, I said to myself, and fled to Atlanta where I wrote reports for a firm of private detectives while reading literature at Georgia State College (now University). My cultural star was on the rise. I put Hank Williams behind me and went through a Mantovani phase of easy-listening music and eventually had a seat on the stage with Van Cliburn when attendance at his Tchaikovsky performance in Atlanta overflowed. These changes in taste mattered a lot then. I had already come a long way, I thought, from being provincial.
Then I married Charles with whom, for the next twenty-five years, I would experience increase of knowledge and expansion of experience. The period of expansion took me on a six-weeks' trip around the United States and into Mexico. This was partly a literary pilgrimage that included finding the bronze statue of Hemingway standing in a stream outside Ketchum, Idaho, and spending time at D. H. Lawrence's ranch in Taos where I made friends and began a long correspondence with Dorothy Brett, an artist who had accompanied the Lawrences to America in the l920's and who had remained nearby the Peublo Indians to paint them and their ceremonies. Equally interesting, I had a quiet half hour's talk with the aging Pueblo chief Ochway Biano, known as Mountain Lake. Fifty years earlier he had described to another visitor how he and members of his tribe, by their morning prayers on the pueblo rooftop, made it possible for the sun to rise each day. That visitor, Swiss psychologist Carl Jung, reports that he went away feeling spiritually down at the heels by comparison.
In Mexico, I had my first vivid experience of cultural otherness. I had never been surrounded by voices speaking a language I did not know, had never seen anything like the sight of children begging coins at the border, of men making no attempt to hide themselves when they stopped to urinate on roadsides near where my car was passing. In a plaza in Monterrey I watched diminutive men walking, each with an arm spread wide around the waist of a large, desirable senorita. In the Yucatan, I climbed the Temple of the Warriors at Chichen-Itza and made the mistake of looking down across the narrow steps dissolving into a frightening verticality that caused me to drop on my rear end and sit my way, step by step, back down to the ground.
That trip was the beginning of a series of movements outward, to New York and then to Europe. In Paris I sat in the Cathedral of Notre Dame and listened to E. Power Biggs fill the vast holy place with organ music. I walked the avenues rich in literary associations with Hemingway, Gertrude Stein, Picasso, Fitzgerald, Henry Miller, Anais Nin. I went to the Folies Bergere where I thought of Josephine Baker, an American whose animated derriere had made an impression even on the Parisians who thought they had seen everything.
In Verona I saw the civic statue of Juliet Capulet, a character invented by Shakespeare, a testimony to the notion that fiction is often more real than history. In that city's amphitheater, built on a Roman ruin, I took my seat amid whispers that Princess Grace and Prince Albert of Monoco had arrived. The grand production of Aida featured besides Franco Corelli (known as "golden thighs" among the cognoscente), a complement of live elephants on stage.
In Salzberg I marveled at the smallness of Mozart's harpsichord inside a tiny room of the apartment where he had begun early in his short life to conceive music on a grand scale. I visited the grave of Paracelsus, Renaissance physician and alchemist who gave the world laudanum and whose idea of becoming human was to beget spirit out of imagination. My companion was a Swiss photographer named Ernst whose boots clicking on the stone walk reminded me of El Topo, the wonderfully exotic film I'd seen earlier that year, a cross-cultural piece of art made by the Russian Jodorowsky in Mexico. At an afternoon performance of Yedermann, Everyman, full of wine from a long conversational lunch, I dozed with my head first on the shoulder and then in the lap of a stranger, a man who, when my husband started to retrieve me, asked that I not be disturbed. On one of the streets during the summer music festival, I encountered men playing handsaws, a sudden reminder of James Joyce's observation that the longest way round is the shortest way home.
At a villa near Lugano, Switzerland, where I spent a summer studying C. G. Jung and Herman Hesse with a faculty that included David Miller, Huston Smith, Jean Houston and Gene Nameche, I listened to Fred Haines, who had already brought Joyce's Ulysses to the screen, read from the script of his current project, a film of Hesse's Steppenwolf. Ernst of the clicking heels, whose preoccupations were art and hookers and dope (in that order), was his chief photographer. They had recently finished filming a documentary of Muhammed Ali in Europe. We were invited to watch it. In one scene of the film, Ali leans toward his young daughter nestled beside him on a train and says, "You got the baddest daddy in the whole world." The film's title was taken from that line. Its odd play on the archetype of father and daughter touched me. My own bad daddy had died two years earlier and had become for me a dream figure still awaiting redemption, his and my own.
Harvey Cox, American theologian and writer, arrived to talk about the politicizing of sports. He was one of a hundred intellectuals who had been invited to the Olympics in Munich. This was the summer of l972 just before Palestinians, in September, stirred the world's anxiety about terrorism by taking out the Israeli athletes.
Above the city of Florence, spread over many acres, was a monastery dating from the Middle Ages whose grounds were presently being used to display some thirty large pieces by the English sculptor Henry Moore. Nearly a millennium of history was contained in that remarkable juxtaposition. I sat in one of the town squares admiring the replica of Michelangelo's David and then went to see the original, which had been moved inside its own chapel to protect it from weather. Now I was in an environment as different as could be from the locale of my coming of age. Here in full view was the flowering of the Renaissance in Europe. (An amused friend asked me if I was imagining this full flowering to be in David's naked splendor, and I answered with a Mona Lisa smile).
In my home town, there was not a single work of art on display anywhere unless one counted the stained glass portrait of Jesus praying in the Garden of Gethsemane, embedded in the wall behind the pulpit of the Methodist Church, that I used to light up by flicking a wall switch so that I could see it while I was vacuuming the church carpet. I had spent many hours in my youth absorbing the lines and colors and story of that copy of a copy of a copy. When I was assigned to play the role of Queen Esther in a church pageant, I learned that in my imagination and in my body were the latent fantasies and gestures of the complex person I wanted to become.
After acquiring a Master's Degree in English and teaching for several years at a college in North Georgia, where Jonathan was born, I spent a year training to direct a Montessori school. I went to New York with the intention of becoming a psychotherapist. The Montessori credential was a means of immediate income-producing work that would allow me also to remain close to my young son.
For the next ten years, I had an apartment in Nyack, a lovely town twenty miles north of Manhattan, from which I commuted to study at the Jung Institute, at New York University, and at the Herbert Berghof Studio.
Nyack is a lively theater community–Helen Hayes was a neighbor–and my husband and I had found at last an art form for which we were both well suited. We not only joined community theater there but opened our own theater company which produced fairy tales, festivals and plays. One project involved a collaboration among Broadway show people who lived in Nyack with local theater people in a mountainside production of A Midsummer Night's Dream. It was a fundraiser to save the Old Tappan Zee Theater, a place where many Broadway stars (Liza Minelli was one) had gotten their start.
Among the people we knew were Maeve Kincaid, a soap opera queen, and her husband Harry Streep, dancer brother of Meryl Streep. Their children were enrolled in our Montessori School along with two great-great-grandchildren of Leo Tolstoy, whose youngest and favorite daughter Alexandra had immigrated to New York after the Revolution, where she established the Tolstoy Foundation and eventually located it on a farm near Nyack.
My close friend was Michael Volin, also a member of the Russian community in exile. He had been born an aristocrat (his father was a diplomat for the Tsar), sent to live with his grandfather in Harbin on the Chinese border, and had, when he grew up, traveled across China, Tibet, and India by foot, mastering along the way the yogic disciplines of each tradition. In India he received the title Swami Karmananda and then went to Australia to teach yoga on television. Eventually, he chose to live in New York. He gave private yoga lessons to a number of notable people, among them anthropologist Margaret Mead and Dr. Mary Mercer, psychiatrist, friend and heir to Carson McCullars, who lived the last several years of her life in Nyack. He was also a poet with a deeply sensual relationship to the world and a great storyteller. It was not easy for him to hold poet and yogi in balance, but he had a rich life. I edited his book on yoga called Challenging the Years, published by Harper and Row in 1979. Michael ultimately went home to Australia so that he could live out his remaining years beside the water he loved.
Charles and I had moved to New York to be near the Volins and also to become Jungian analysts. We both went through Jungian analysis, but before we enrolled at the Jung Institute to begin our studies, Charles discovered the drama therapy program at New York University, with its compelling combination of courses in theater and therapy, and we modified our plans. For the next five years, we did our doctoral work at NYU. We continued to attend lectures and programs at the Jung Institute and at Joseph Campbell's Foundation for the Open Eye where Jonathan, age ten, took dancing lessons with Muna Tseng, one of Jean Erdman's dancers. When Muna was not teaching children to do the spider dance, she was performing for adult audiences the provocative myths of Hawaii, enacting female powers. From time to time, while whirling to the drumbeat, she would lift her skirt so that one could see the crotch mask she wore underneath it.
The curve in the parabola of my leaving and returning to the South appeared during the years I spent studying acting at the Herbert Berghof Studio in Greenwich Village near Washington Square where NYU is located. My mentor was William Hickey. I had arrived in his classroom with considerable experience playing leading ladies like Hesione Hushabye in Shaw's Heartbreak House, a role I'd just put behind me. I'd also had the role of Titania in the production of Midsummer that I mentioned earlier. I had even written and produced my own play called A Portrait of D. H. Lawrence in which I played Frieda Lawrence, as powerful a woman, perhaps, as can be found in life or fiction.
Bill Hickey liked what I had done and was continuing under his tutelage, but he was wise enough to know that somewhere inside my attraction to the grand dame was a Cinderella story. So he began to tease me out of the fairy tale and into finding the colors of ordinary people, first with the role of Serafina in The Rose Tattoo and then with the postmistress in Eudora Welty's "Why I Live at the P. O." I like to think that the postmistress brought me home to myself and prepared me for coming home.
I finished up my doctoral work at NYU, closed the Montessori school, moved back to Atlanta and nurtured what remained of my need for performance by storytelling at Zoo Atlanta. And I began, at last, to write.
I left the South to satisfy my appetite for the new and different. I went to live in New York so that I could fill out the lineaments of my character, which I thought had been scarcely possible in the insularity of my upbringing. I came back to chew my cud, to ruminate on the colors I had gathered into myself. What I had et, as my aunt used to say, was very satisfying, but it lacked the deep savor of the homegrown nourishment that had formed me half a century ago. So I wrote about the life I lived then–not as I had lived it, but as I now saw it with new eyes. I had acquired layers of experience, of thought and feeling, that influenced my memories, made them rise up from a bleak and bitter sense of poverty to declare a richness that I had not then suspected. In chewing my cud of memories I discovered the soulful side of a highly spirited life.
I had returned because in living away from the South, I learned to miss the details of home, its local color. I had a great need to be outdoors and present to vistas of sky, to set out on walking trails that would lead me again to wild ginger, honeysuckle, dogwood, and deer. I had a fit of longing for my Granny Motes's apple cake and tried to reconstruct it from memory, but the six buttery yellow layers lacked the heaviness of Granny's, perhaps because the butter was different then, as were the hands that mixed the batter. Still, once I had moistened the dried apples and cooked them with cinnamon and sugar and spread the dense mixture between layers and around the cake and let the cake rest several hours to seal the filling, I was overwhelmed with nostalgia.
In brooding over this nostalgia , I retrieved images, anecdotes, sketches and stories of my early life. Like my father, I began to practice the alchemy of distilling spirits--in my case, with words. Like my mother, I became occupied with spinning and weaving, but again, my medium was words. The dead matter of my youth quickened, and as Paracelsus taught, I was able to beget spirit out of imagination. That mean old lady who managed the mill company store, and who repossessed my brother's red wagon after my father failed to make a payment on it, found new life in my imagination as the only companion of a parrot who taught her some new things about God. The element of humor welled up from the alembic, mainly in my mother's voice, which had a strange kinship with Welty's postmistress, a fact that took me forty years to find.
I rejoiced that the years of expansion and increase had given me the dimension needed for rediscovering my life. I had left home ravenous for the world, with a desire to become "every man." Well, I missed what might have been a profound revelation when I had a chance to see the play by that name in one of its original settings and went to sleep in what felt like Everyman's lap.
Still, in all this journeying I learned a few things. I don't know how many people can appreciate what it meant to me to discover that George Washington supplemented his income by selling privately distilled spirits. If only someone had told me that when I was young and convinced by the culture that there was no redemption for the whiskey man. But no one in my locale could have told me: they didn't know it. And they didn't for the most part set out in search of information. In saying that, I don't mean to belittle what they did or did not do. Many in the isolated community of my young life realized in their lifetimes some soulful truths, and in coming to these, they were often lively and funny and touching. With each rediscovery of their stories, I found myself growing down from my high flying (high faluting, my brother used to say) ways, at first awkwardly, as I had descended the stairs at Chichen-Itza, and then more securely, as I was able to stand and step my way along.
It seems to me now that we are not born fully human, just as we are not born walking and talking. For much of our lives we play at being human, like the satyrs in ancient Greek plays. In our play-acting, we express thoughts and emotions through words and gestures, at first crudely and then with more complexity, so that eventually, if we are lucky, through curiosity, courage and insight, we find our full humanity.
I think my father found his, for I dreamed that he was standing near the top of a hill, hat in hand, serenely gazing at a gathering of animals who had come to be with him on the hillside; in fact, to study him. And I think that I am finding mine as I discover new ways to waste the time that used to absorb me (to loafe and invite my soul, as Whitman put it), ways to unfold myself and make something of the dimensions of self and world that I am able to see and describe, however imperfectly, through the art of writing.
I live in a world that has exceeded Harvey Cox's dire predictions back in l972 about global explosions and implosions, a world in which the Pueblo chief's solar consciousness seems no longer possible, a spiritually rigid world that D. H. Lawrence foresaw and fought against, a world that Carl Jung anticipated would destroy all who could not hold the tension of opposing forces. It is also a world in which Meryl Streep and Judi Dench can reveal to us the complexities of who we are. And where O'Connor and Faulkner in their very different ways have given us glimpses of how grace can still redeem us. It is a world that calls each of us to become an alembic, circulating the elements in us that quail with shame, that rage and torment us, until we can laugh and love and be fully human.
Copyright ©2006 Barbara Knott · All Rights Reserved
Contact the
Webmaster