The Grapevine Art & Soul Salon
Presentations: Jonathan Knott
A Review of A CRY OF ANGELS by JEFF FIELDS (2006). Athens: University of Georgia Press, reprint ed. Foreword by Terry Kay. Originally published 1975.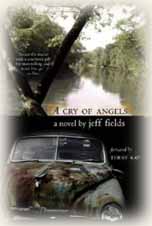 Jeff Fields' coming-of-age novel is set in the fictional Quarrytown, Georgia, during the nationally tumultuous year of 1953. It is the story of Earl Whitaker, a fourteen-year-old boy growing up in a boardinghouse located on the wrong side of town (known as the Ape Yard). The establishment, full of eccentric elderly people, is run by Earl's great aunt Esther, a fiery and rigid but caring woman who is determined to keep the old folks on their toes and prevent them from succumbing to their various infirmities and the despair of being abandoned by their families.
Earl is a troubled boy, tortured by the memory of being pulled from the housefire that consumed his parents. He gets a grip on himself with the help of a few close friends, among whom are Tio, an orphaned black boy about Earl's age (raised by a kindly white grocer named Mr. Teague), and Em Jojohn, a seven-foot-tall Lumbee Indian who lives in the garage loft of the boardinghouse and does maintenance work in exchange for board. As a white living among blacks, Earl is an outcast at school. He can identify with Tio, who is ostracized by the blacks because he lives with his white employer. Em JoJohn has taken on the task of showing Earl how to deal with his inner demons (as well as setting an example of how to live detached and carefree in the world); Earl returns the favor by keeping track of Em during his long and violent binge drunks and leading him home before he gets into too much trouble.
Fields weaves an interesting strand of East Coast Native American history into the story through the character of Em Jojohn, who says that he comes from the largest tribe of Indians east of the Mississippi, but, he says, "nobody knows their right name, even them." He says that they were speaking English when the first white man found them, that they were living in houses, had no language of their own, no religion, and that "some had curly hair, some blue eyes." He says people figured they must be Indians. "So we been called Croatans, the Indians of Robeson County, Cherokee Indians of Robeson County, and now they call us Lumbees. I never knowed who or what I was for sure. But down home they known what we was. We was trash. So I said, all right, I ain't Indian, I ain't white, I ain't black. I'll just be Em Jojohn. And I'll be free."
In the last two lines, JoJohn establishes his own theme and sets up a thematic echo that will come back to surround Earl later in the story.
Another friend is Jayell Crooms, a talented and irascible young architect. Jayell is a complex character, torn in feeling between his upscale new fiance (Gwen Burns, who will become his wife) and his wild and earthy ex-fiance (Phaedra Boggs). The two women play a formative role in Earl's exposure to the opposite sex. They're both physically beautiful but difficult to deal with in different ways. Gwen moves into the boarding house and has this exchange with Earl:
"It's just hard to picture someone like you coming all the way from Atlanta to marry Jayell, I guess. You know, a lot of folks figure old Jayell to be a little---looney."
"Oh, do they now?"
"You know, the way he is, and the houses he builds. People say, the houses are crazy, he's got to be a little crazy. 'Course, I don't think so at all."
"My, what a comfort to have your confidence in my fiance's sanity."
"No, I was talking about the houses. They're sound as a dollar. I help him build 'em sometimes. Jayell is a little crazy, and no doubt about it, but everyone thinks a lot of him."
Gwen teaches Earl's eighth-grade English class and does her best around the clock to "draw out the good that must be in there somewhere," much to his chagrin. Her own apparent superiority is challenged by the lingering presence of Phaedra Boggs.
Jayell's main conflict is between his desire to build interesting and affordable housing for the poor and the likelihood of his having to take a job with a huge development company he hates so that he can afford the high-society tastes of his new wife. Earl gets some part-time work from Jayell (which he needs to help him become independent), as well as a good bit of philosophical advice, for better or for worse. In one outburst when Jayell seems to be thinking out loud in front of Earl, he gives the image from which the title is taken: I have this notion that maybe this world is the hell of the angels. That maybe we're creatures with angels exiled in our souls, banished to this godawful existence, crying in despair.... Human dreams, he says, are the cries of angels.
The book is preoccupied with the theme of trying to overcome obstacles. For that, the setting is perfect: 1953 was a time when many changes were on the verge of taking place across the United States. The Korean War was ending, technology was expanding rapidly, the country was moving toward desegregation.
Quarrytown's "Ape Yard" is run by the nefarious Doc Bobo, a rich black undertaker who owns most of the property, as well as housing and the local mill, and who does his best to profit by keeping all the poor people poor and thus in his debt and under his control. He is by no means above violence to achieve his ends. He controls his territory through a posse of armed and dangerous young black men known as "Dog Boys." The town lives in fear of Bobo and the habit of "status quo" that he perpetuates. The presence there of a large, abandoned, dangerous sinkhole that permeates the town with its stench is an appropriate metaphor for the unavoidable, mounting tension in and around the Ape Yard.
All of the characters are embroiled in struggle. Earl and Tio strive to become responsible on their own, though their age limits them in both legal and emotional ways. Mr. Teague fights to keep his small-town family grocery store in business despite the threat of the new supermarket opening across town. Jayell is in turmoil over his decision to marry someone he doesn't really understand, and his desire to improve the housing of the poor puts him into direct conflict with Doc Bobo. The folks in the boardinghouse exert themselves against the helplessness of old age and the imminent prospect of death. JoJohn is torn between his desire to live completely unfettered and by his own rules versus his self-assumed role of guide and caretaker of the troubled young Earl. Everyone in the town (with the exception of Bobo) is struggling against poverty.
With all the struggling, this book could easily be depressing. However, Fields has a wonderful understanding of the pride, character and nobility that are shaped by overcoming adversity, as well as the comedy that downtrodden poor folk engage in as a necessary means of coping. The characters are rich and full, as is the prose that describes them, and the pathos of any situation is well-tempered with enjoyable comic dialogue.
The book is about more than overcoming hardship and embracing change; it also inspires the reader to look back in search of the simple joys and unique perspectives of the all-too-rapidly passing, carefree moments of youth, to capture and hold on to them for just a moment longer before they fade again, to be replaced always by the looming spectre of responsibility. We see the characters in moments of breaking through to some sort of freedom, when each takes a stand and when all together they support the values embraced by the author: of craft over shoddy work, of behavior that comes from genuine feeling rather than convention, of courage in the face of brutality, of refusal to be less than fully free to make their own decisions, live their own lives. The story is strong enough to put the reader in that position, not just to feel the emotions of Fields' characters, but to inspire empathy with them. This experience alone makes the novel well worth reading. And remembering.
A Cry of Angels can be purchased at Amazon.com, at local Atlanta bookstores, and at the University of Georgia Press, Athens, Georgia.
Click on Miscellany and scroll down the page to see photos of the booksigning event at The Palmetto Place.
If you search in the background of any serious writer, it isn't very long before you come upon a major deprivation of one sort or another--which the writer through the exercise of imagination tries to overcome or compensate for, or even make not have happened.--William Maxwell, Poets and Writers, May/June 1994.
When Jeff Fields was fourteen, nudging against fifteen, he left his home and moved into a boarding house in Elberton, Georgia.... By his own confession, writing the book was, for Fields, a "correcting," a way of creating the illusion of joy that he had missed in his own life. As Jeff Fields, he had had to survive the uncertainty of day-by-day existence essentially alone; as Earl Whitaker, he was embraced by a company of quaint yet caring people, an unexpected, gathered-up family offering membership and protection. In his correcting, Fields wrote a remarkable book ....Terry Kay, from the Foreword to A Cry of Angels
Editorial Reviews at initial publication:
Raleigh News and Observer, May 26, 1974
"A hell-raising, rib-tickling, page-turning triumph ...
[A] highly accomplished first novel."
Kirkus Reviews, May 1, 1974
"Fields is a generous, comic, genuine writer with a lot of humanity left over."
Christian Science Monitor, June 5, 1974
"Because Fields ... has compassion, has a touch of the poet in his singing prose,the book is a wonder and a joy."
Chicago Tribune, May 12, 1974
"Fields' writing can be comical as well as tender and biting. ... There are also passages of exceptionally beautiful descriptive writing."
New York Times Book Review, June 9, 1974
"A triumph ... The plot roars into high gear immediately."
Washington Post, June 12, 1974
"Thoroughly delightful and the best pure fun a novel has given me for some time."
See Amazon.com for reader reviews.
Copyright 2006 Barbara Knott All Rights Reserved
Contact the
Webmaster